William Higgins Czech Gay Porn Star, Stepan Tokaj
Known Aliases / aka:
Years Active: 2016
WILLIAM HIGGINS INFO:
Stepan Tokaj is a straight 19.y.o. He works as a waiter and likes sports, soccer and cycling. What a handsome guy he is, and he look so good as the bares his chest for his shoot. He gives us some nice poses, with a smile on his face. Then he turns, with underwear down, to show off a very sexy ass. Reaching back to part his ass cheeks he shows off his sexy hole, surrounded by soft, downy hair. We get a good look at that ass as, naked, Stepan kneels on the sofa. Then he shows off his cock, getting it rock hard. It is a big, fat, juicy cock that looks so good as he poses to show it off. Then he works through a series of great poses that give us more on his sexy and his big dick. He is very good indeed and is sure to give us a great video next week.
Model Name: Stepan Tokaj
Age: 21
Home Town: Brno
Height: 181cm/5'11"
Weight: 70kg/154lb
Foot Size: EU43/US8.7/UK8.2
Penis Size: 18cm/7.09″
Profession/Student of: Waiter
Hobbies: Sport
Favorite Sports: Soccer
Active Sports: Cycling
Movie/Music/Sport Stars: Antonio Banderas
Visited Coutries: England
Want to Visit Coutries: Canada
Dream of My Life: I don't know.
Zodiac Sign: Gemini (May 21 – June 20)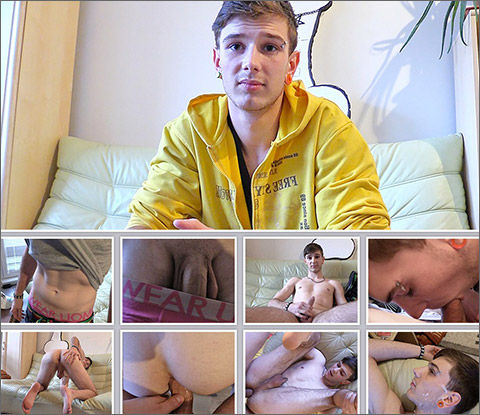 DEBT DANDY 121
This boy was a typical case of irresponsible spending. He lost his job, stopped paying the rent, and then he took two consumer loans because of Christmas. 38 000 Crowns put together. He looked very casual about his problems. But I saw though the facade. He was desperate not to end up homeless. He even had a girlfriend which made his situation much more difficult. He refused my naughty offer at first but I eventually made him see the light. It was such a pleasure to touch his young firm body and fuck his cute little face. His room was decorated with strange motives for some reason. So I assumed it's only appropriate to introduce his ass to my cock. I made him to work his ass off for my generous help.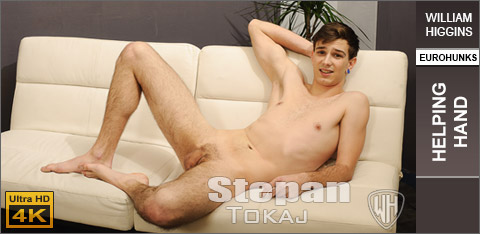 HELPING HAND: STEPAN TOKAJ
Stepan Tokaj is a straight 19.y.o. He works as a waiter and likes sports, soccer and cycling. He looks so good as he sits on the sofa for his interview. As he talks about himself he reveals that although he is straight he has had sex with another guy once. It was when they had been drinking and Stepan ended up back at his friend's apartment where they got it on. So he is an ideal candidate for a helping hand. Interview over Stepan removes his tee shirt to show off his sexy body. He is told to blindfold himself and he will get a surprise. Once his eyes are covered a helping hand arrives and begins to oil Stepan's chest. The hands roam all over the chest and then Stepan lays on the sofa and the hands undo his jeans. A lovely soft cock is revealed and the hands begin rubbing over it. With the hands rubbing over the cock it soon gets hard and is wanked. Cream is applied to the stiff cock and it glistens as the hands keep working on it. Stepan's balls are rubbed too, getting nice and tight. His jeans are removed and Stepan is turned, with his legs in the air, to show off his tight hole. Cream is rubbed over the ass and the hole. Fingers rub over his tight hole as his stiff cock is wanked some more. Taking more cream the hands apply a finger to that tight hole, slipping inside as the stiff cock is wanked. Stepan son laughs and says to be careful as he is about to cum. The finger goes deep into his hole fucking in and out as his cock is wanked. Then two fingers slide into the hole and Stepan immediately announces that he is going to cum. His cock erupts with his hot juice, as the two fingers stretch his hole. His big cream load runs down his cock and over his balls onto his ass as the fingers fuck his hole. The fingers scoop up some cum and then fuck into his ass again. Then more cum is rubbed over the sticky cock head before the fingers fuck into the ass again. Then the blindfold is removed and a smiling Stepan goes off to the shower to clean up are a very hot video.
CLICK HERE TO GO TO HIS WILLIAM HIGGINS BIO PAGE