William Higgins Czech Gay Porn Star, Vaclav Chovanec
Known Aliases:
Years Active: 2015 – 2016
WILLIAM HIGGINS INFO:
Model Name: Vaclav Chovanec
Age (2015): 19
Home Town: Brno
Height: 177cm/5'9″
Weight: 81kg/178.2lb
Foot Size: EU43/US8.7/UK8.2
Penis Size: 16cm/6.3″
Profession/Student of: University student
Hobbies: Sport
Favorite Sports: Soccer
Active Sports: Boxing
Movie/Music/Sport Stars: Ian McKellen
Visited Coutries: Germany
Want to Visit Coutries: Canada
Dream of My Life: I don't know.
Zodiac Sign: Taurus (April 20 – May 20)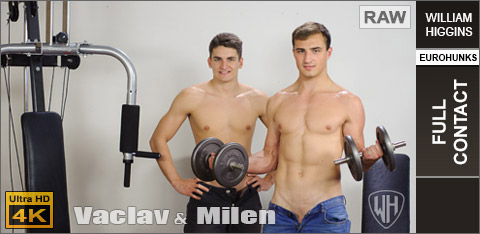 FULL CONTACT: VACLAV CHOVANEC & MILEN PETROF RAW
Vaclav Chovanec is in the fitness room doing some weights, with Milen Petrof. They take turns on the weight, spotting each other as well. As Vaclav finishes one set he comments on their muscles and feels Milen's biceps. Then they start to kiss, with Vaclav kissing down Milen's sexy chest until he reaches the pants. He opens the pants and Milen's massive cock flops out. Vaclav is quick to start sucking on that dick, with the big balls swinging as he works. His mouth wraps tightly around Milen's cock as he sucks it. Vaclav wanks the cock too and licks the head. He then stands and kisses Milen again. As Vaclav rests against the training bench Milen kisses him and pulls down his jeans to allow Vaclav's hard cock out. He sucks on that cock working it real well. Vaclav's balls are tight against the shaft of his thick cock as Milen sucks him. Vaclav then sits and leans back on the bench, with his legs up, for Milen to slide his big dick deep into the waiting ass. Milen fucks that sexy ass deep as Vaclav moans with pleasure. Vaclav wanks himself hard as Milen keeps up his pounding of that ass. Milen's cock really stretches Vaclav's hole, going all the way in. Vaclav then turns over, straddling the bench as he bends over for Milen to fuck him some more. Milen works that hot hole, holding on to Vaclav's wrists to pull himself deep into that ass. They move again, with Vaclav bent over, wanking himself hard and fast as Milen continues to fuck him. Vaclav keeps wanking his thick meat, until he cums with Milen's dick deep in his hole. Milen keeps up the hard fucking and then he pulls out to shoot his creamy load all over Vaclav's ass. Then they both go off to the shower and wash each other, still enjoying some hot kisses as they get clean.

MASSAGE: VACLAV CHOVANEC
Vaclav Chovanec is such a sexy guy. We invited him in for a massage, by Mattias Solich. Vaclav lays on the bed in just his underwear, waiting for Mattias to arrive. Mattias comes in and gets right to work, taking some oil and massaging Vaclav's back. He straddles Vaclav as he works his big, strong hands all over the back. Mattias' hands massage the shoulders and up and down the back. He lowers Valclav's underwear slightly so that he can really work the base of the spine. This shows some of Vaclav's beautiful, hairy, ass. Moving to the side Mattias then concentrates on the top of Vaclav's ass cheeks, before pulling the underwear off to show just how hot that ass is. His hands glide over the ass cheeks and on to the thighs. As they work the hands part the ass cheeks showing the hairy crack. Those hands work well on the thighs and the ass, pulling the cheeks wide apart and running a hand down the crack. Mattias' fingers rub against the cock and balls as he works on the ass. He then moves Vaclav onto his knees, so that the ass spreads nicely. Reaching between the legs Mattias' is able to wank of Vaclav's cock, which is nice and hard, and his balls too. He drips more oil onto the ass rubbing it in, and over the hot hole. One hand rubs over the ass as the other wanks on the stiff dick. Taking a vibrator Mattias pushes it into Vaclav's tight hole, continuing to wank him at the same time. The vibrator goes into the ass quite easily and stays in place, before sliding in further. Vaclav's cock is rock hard and Mattias makes sure to wank it as he plays with the ass. Vaclav's ass has taken the vibrator well so Mattias removes it and replaces it with a thicker one. He slides it into the hole, pushing it in nice and deep. The hole is stretched wide as the toy stays in that hole. Mattias keeps wanking on the cock as the vibrator is all the way in that ass, and stays in place when the hand is removed. The toy is removed and Vaclav turns over. His big cock stands proud as Mattias drips oil onto that sexy chest and rubs it in. Then he takes hold of the cock again, it has stayed hard and Mattias wanks it pulling the skin down to expose the big purple head. He leans over and sucks on the cock, his lips wrapped tight around the head and sliding it down his throat. Then he wanks it, harder and faster, keeping going until Vaclav release his cum, which lands on his belly. Mattias milks the cock dry before taking his leave. Vaclav turns over onto his belly to relax a little. Then he goes to the shower to clean up.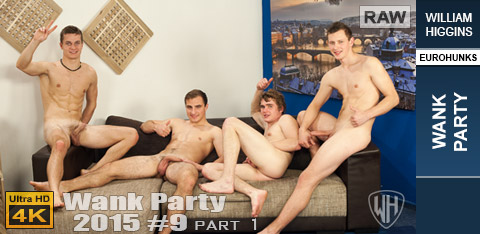 WANK PARTY 2015 #9 RAW
In Wank Party 2015 #9 we have a very good line-up, Laco Meido, Vaclav Chovanec, Patrik Maly and Denis Develo. In part one we find them enjoying a smoke from a Hookah, a Turkish pipe that is filled with a flavoured tobacco. Vaclav suggests that they should try to pass the smoke from mouth to mouth. Then Laco shows his skill at blowing smoke rings. They enjoy some more passing of smoke from mouth to mouth and then Vaclav begins to kiss Denis. He runs his hands over Denis too and then they kiss again. Laco and Patrik follow that lead and they kiss as well. Soon Denis and Patrik are barechested and Vaclav follows suit. They continue with the kissing and rubbing with Laco licking Patrik's nipples. Then it is time for everyone to lose their pants with Denis and Patrik being the first to do so. There cocks are already quite hard as we first see them. Vaclavs big thick cock is swelling too as his jeans come off. Laco returns to kissing Patrik and then starts sucking on his hard cock. Vaclav goes down on Denis'dick too sucking it real good. Denis and Patrik kiss as they feel the hot mouths working on their throbbing cocks. Vaclav and Laco keep up the sucking, with Laco licking Patrik's balls too. Then Denis sits up and kisses Vaclav again, taking hold of his cock and wanking. Laco kisses Patrik again and then returns to sucking on his cock. Denis lays on his side so that he can share Patrik's rock hard cock as his own is sucked by Vaclav. Denis then moves onto his knees, wanking Patrik and sucking on Laco's stiff dick as he also gets Vaclav's tongue in his ass. Denis'cock is in Patriks mouth, feeling so good as he continues sucking Laco. Then Denis puts Patrik's and Laco's dicks together and sucks on both of them while Vaclav continues to rim his hot hole, getting it ready for more in Part Two.
WILLIAM HIGGINS
STR8HELL
BADPUPPY
CLICK HERE TO GO TO HIS WILLIAM HIGGINS BIO PAGE