Czech Gay Porn Star, Peter Filo
Known Aliases: Czech Hunter 133, Marty, Derek
Years Active: 2014 – 2015
WILLIAM HIGGINS INFO:
Model Name: Peter Filo
Age: 19
Home Town: Vova Ves
Height: 180cm/5'10"
Weight: 80kg/176lb
Foot Size: EU44/US8.9/UK8.4
Penis Size: 16cm/6.3″
Profession/Student of: Unemployed
Hobbies: Friends
Favorite Sports: Ice-Hockey
Active Sports: Football
Movie/Music/Sport Stars: Ashton Kutcher
Visited Coutries: Ireland
Want to Visit Coutries: Germany
Dream of My Life: Traveling
Zodiac Sign: Libra (September 23 – October 22)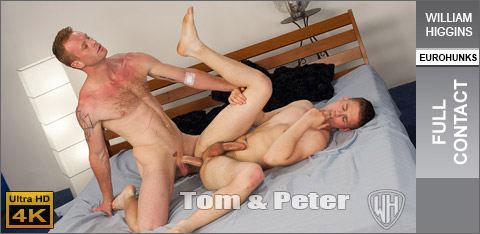 FULL CONTACT: PETER FILO & TOM VOJAK – SCREEN TEST
Peter Filo is paired with Tom Vojak in what was Tom's first scene with another guy, though we have already posted some other scenes with him. Both the guys are straight, but they are still ready to have a great time with each other. After a little chat they are soon watching some porn and wanking their rock hard cocks. Peter reaches over and wanks Tom's dick, which is so big and thick. He takes hold of Peter's too and they both wank each other. Peter is first to suggest something more, when he asks to suck on Tom's cock. He soon has his mouth wrapped tight around that big cock, licking and sucking on it. Tom has big, heavy balls too, that rest snuggly between his thighs as his cock is worked on by Peter's hot mouth. When Tom stands to remove his tee shirt, his cock is shown sideways and we see just how big it it. Peter is quickly back on that cock, as Tom holds the back of his head. Peter sucks on the balls too as he works on that cock. Then they both lay down and get into a hot 69, before Tom stands over Peter again, shoving his dick deep into his mouth. We get a great view of those big balls hanging down, and Tom's tight ass hole as Peter takes the cock deep into his throat. Then Peter offers his ass up, and Tom quickly lubes it with his spit and slips a finger into the hole. Peter wanks himself as his ass is played with. Then Tom climbs on, and slides his massive tool deep into Peter's ass. As he pulls in and out that hole stays open, wanting to be filled again. Peter turns over, onto his back, with his legs in the air as Tom fucks him nice and deep. Peter wanks hard on his throbbing cock as his hole gets poked. Then Peter moves again, standing, bent over, with Tom behind him and really pounding away at that eager ass. Then with Peter needing to cum he lays on his back and shoots his hot load. Tom kneels over him and wanks his cock until his unloads a big creamy cumshot all over Peter's hot chest. Peter takes hold of the cock and milks every last drop from it, sucking it again, to clean the sticky head.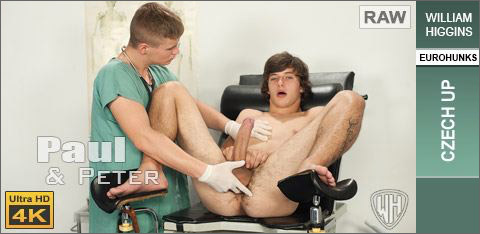 CZECH UP: DR PETER FILO & PAUL BELONEK RAW
Dr Peter Filo is in his office, waiting for Paul Belonek to arrive, for a Czech UP. Paul duly arrives and Peter gets straight to work. He has Paul raise his tee-shirt and listens to his chest, and then his back,with the stethoscope. Then he tell Paul to go and get undressed, down to his underwear. Paul goes behind the screen and strips, realising that he doesn't have any underwear on. His big, soft cock is cupped by his hands as he sits on the chair, for Peter to check everything. He starts with the feet and then Paul's thighs. Paul complains of some pain in his thighs. He moves his hands away and his massive cock comes into view, with his low hanging balls. Then Peter has to check the balls, so he puts on some gloves, lifts the cock and takes hold of the balls to feel them. Those balls are very big and Peter does a great job of checking them out. He then starts to check Paul's cock too, pulling the foreskin back. Satisfied that all is ok he then needs to look at the ass hole as well. Paul holds his balls up and scoots down a little so that his ass hole is available. Peter spread the ass cheeks and inserts a finger into the ass. He works the finger in and out as Paul leans back, fully relaxed. Peter's finger goes quite deep and he then slides a second one in as well. Paul's ass is getting stretched but he takes it well, as his ass gets an internal massage. His cock has grown very large indeed as his hole was opened. Peter takes hold of the cock and wanks it, leaning over to kiss Paul at the same time. That massive dick is just too good to only wank, and Peter leans over and sucks on it. He licks up and down the thick shaft and swallows the head. He takes the cock as deep in his mouth as he can, and still there is half on view. Paul has reached down and is wanking Peter's stiff cock too. Peter gets naked and leans over to kiss Paul again as he wanks on that huge pole. Then he moves around the other side of the chair and climbs up so that Paul can suck him. Paul wanks himself as he sucks on Peter's throbbing cock. His big balls bounce heavily as he wanks, all the while sucking on Peter's cock. Paul then gets off the chair and Peter is quickly on his knees, wanting more of that thick cock, sucking it deep. That cock is so big that Peter wants more than just sucking. He presents his hot hole and Paul starts rimming it. His tongue laps at the hole, getting it nice and wet. Then he stands up and shoves his huge tool deep inside. He fucks with long strokes, his huge balls swinging back and forth as Peter's hole gets stretched wide. Peter moans all the while as his hole gets a deep hard fucking. That big cock looks maginificent as it works in and out of Peter's ass, going in all the way, with the big balls slapping against his legs. Peter's cock stays so hard as his hole gets pounded and he moves to lay across the chair, with Paul wanking him as he fucks that ass. Then Peter starts wanking himself as Pauls cock continues to pound at his ass. Peter's moaning gets louder and his wanking faster until he dumps his hot cum. Then Paul pulls out of that hot ass and wanks his hot cum all over Peter's balls. Peter grabs Paul's cock and milks the remaining cum out of it, satisfied that he has given his patient a very good Czech up, finishing with a final kiss.
WILLIAM HIGGINS
STR8HELL
BADPUPPY
CZECH HUNTER
GAY WAR GAMES
MILE HIGH MEDIA / MALE REALITY
BIG DADDY
BIG DADDY / OUT IN PUBLIC