American Gay Porn Star, Topher DiMaggio
Known Aliases: Romeo at Chaos Men
Years Active: 2007 – 2020
CHAOS MEN INFO:
Age: 21
Topher is a confident and together guy. At 21 he's already got a solid career and he seems like he knows himself pretty well. His video is airing alongside Silas, another half Irish, half Italian mix. It's amazing to watch genetics playout in completely different looks.
The shoot was something Topher thought about for a long while, in fact I think I first had contact with him about 6 months ago before gracing my studio.
He plays on our team, and I think he has a bit of Top guy attitude. And with his amazingly perfect cock, who wouldn't want to sit on it?
He's one of the few guys I know (gay or straight) who doesn't really watch a lot of porn. He says he is more of a "hands on" type of guy or uses his imagination.
So when we shot the video, he just got lost in the moment. But during the cumshot sequence, you can probably tell that he is focusing on uh…me. I'm normally focusing my camera right on their crotch, so I seldom get to see their facial expression, but I realized he was checking me out instead of the porn. I realized this and I think my hands started shaking!
I think he's smokin hot, and hope he comes back to do more!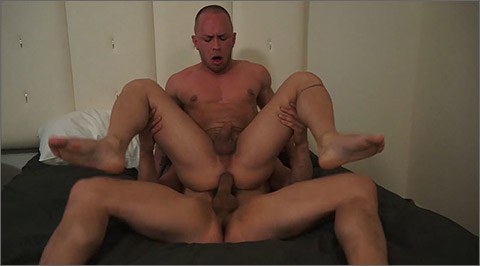 GAPE: Topher Dimaggio, Brodie Ramirez
BRODIE RAMIREZ offers up his holes for TOPHER DIMAGGIO to fuck and breed. Brodie is all in, willing to get fucked any way Topher wants to. Topher fucks the bottom on his belly and then stops to let him taste his own ass. Brodie then gets on top and rides that cock, milking it with his ass trying to get the alpha man's milk.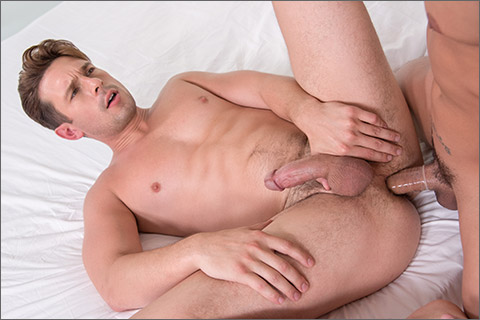 HIDDEN PALMS: Topher DiMaggio fucks Casey Jacks
Topher DiMaggio is getting horny laying out in the sun and decides to head inside to take care of business. Luckily for him, on the way inside, he passes hunky and nearly naked Casey Jacks in nothing but a swim suit. The two give a knowing nod to each other as Topher continues on his way to get naked on his bed. Casey follows him inside and plops on his knees in front of the hard and ready Topher. The cock-hungry Casey savors every inch of the smooth muscle stud with an eager blowjob that gets Topher ready to fuck. Before Topher goes all the way, he wants to sample Casey's hairy butt. Topher laps it up, getting it nice and opened up and ready for his giant pole that he's about to slip inside. Topher can no longer hold back and rolls Casey onto his back to slide his dick into the begging jock. Topher doesn't hold back and works up a frenzied pace right from the start. Casey moans out with every push from behind, demanding that Topher go deeper and harder. The studs switch up their positions and finally settle on Casey taking it hard from behind. As Topher drills Casey, he pulls out and covers Casey's muscled up butt cheeks with a nice warm load. With his back covered and sticky, Casey rolls over and gets his own release when he jacks his rod and covers his stomach with pure white satisfaction.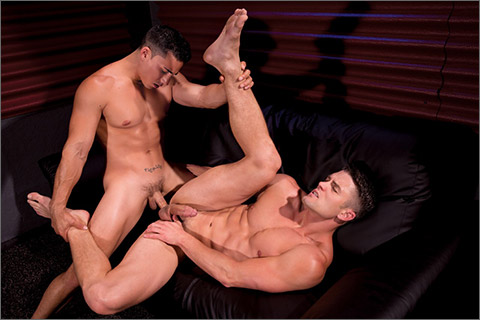 ABOUT LAST NIGHT: Ryan Rose & Topher DiMaggio
Ryan Rose hired go-go dancer Topher DiMaggio for his friend's bachelor party, and Topher's so good that Ryan can't keep his hands off him. Ryan is turnt up with Topher, and the action starts getting extra heavy! As the music bumps, Topher grinds his massive bulge against Ryan's ripped body, and Ryan figures why not go with it since he's footing the bill. Ryan leans back and enjoys the thrilling sensation of Topher's tongue running up and down his chest. Unleashing Ryan's cock from his white briefs, Topher goes down for a deepthroating blow job. Ryan thrusts excitedly as Topher wraps his thick lips around Ryan's tool. Pulling Topher close, Ryan returns the favor by impaling his face on Topher's hard tool. Eager to go all the way, Ryan turns around, giving Topher full access to his perfectly firm ass. Topher lubes Ryan up with a slick rim job, then moves in for a deep dicking. Mounting Ryan doggy style, Topher delivers a full-throttle pounding that hits Ryan in all the right places. Moving to the black leather couch, Topher sits down and Ryan moves into position to sit on Topher's meat. With Ryan's powerful legs suspending him in midair, Topher thrusts up into Ryan's hole. Rolling over and assuming missionary position, Topher drives home his meat as Ryan busts his nut. Pulling out, Topher jerks his cock until his white hot load explodes over Ryan's rippling abs.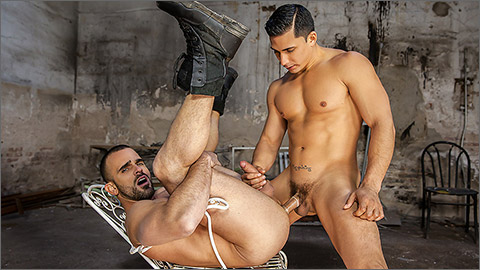 PART 1: Damien Crosse, Topher Di Maggio
Reporter Clark Kent believes Batman is a vigilante who is not doing the city any favors. Clark believes that Superman's superpowers make him the city's true protector. Of course, he is probably biased being that he is the one and only man of steel. Watch Topher Di Maggio rescue Damien Crosse by fending off his attackers and then drill his hole with his fat Superman cock.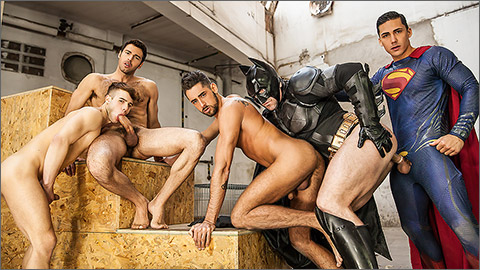 PART 3: Allen King, Dario Beck, Massimo Piano, Topher Di Maggio, Trenton Ducati
The series finale has Superman and Batman joining forces to rescue three cock hungry studs. Watch as Superman and Batman cum together with Dario Beck, Massimo Piano, and Allen King, in this extraordinary orgy finale.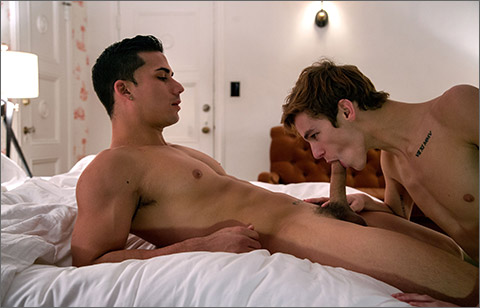 TOPHER DIMAGGIO FUCKS KODY STEWART
Topher DiMaggio told Kody Stewart to meet him at Muscle Beach in California for a workout in the sun. The thought of Topher's muscular body shirtless at the beach gets Kody all excited so of course he shows up early and patiently waits for Topher to arrive so he can show him some tricks at the slings. The chemistry between them turns into a playful bromance that turns into an undeniable tension and need for explore further so after some fun in the water the guys decide to go back to Kody's place and really let loose. As soon as they walk in, Topher wastes no time. He drops his shorts and asks Kody ìIs this what you were waiting for?î Kody just looks down at Topher's massive dick and with a grin on his face admits that it's all he really wants and then gets down on his knees to suck it.
   After some deepthroat action in the bathroom it's time for Topher to return the favor so he starts sucking on Kody's rock hard dick while also fingering his hole to get it ready and opened for his big dick. Topher's dick nearly splits Kody in half as he starts to fuck Kody's tight hole. The sensation is overwhelming and almost too much for Kody so he begs Topher to let him get on his back which of course he's more than happy to do. Clearly Topher's dick hits Kody's spot immediately because it's not long before Kody can't help himself but to shoot his load while still getting fucked. As Kody shoots his load Topher pulls out and shoots his massive load right into Kody's face covering him entirely with cum. You can tell by the grin on Kody's face that he got what he was waiting for all day and he couldn't be happier about it!
VIDEO ON-DEMAND: *Topher DiMaggio @ AEBN SMUTJUNKIES THEATER
DVDs & ON-DEMAND: Topher DiMaggio @ TLA VIDEO