Big Cock with PA American Gay Porn Star, Dean Rogers
Known Aliases:
Years Active: 2010 – 2020
DIRTY TONY INFO:
Age: 39
Height: 6′
Weight: 162
Orientation: GAY
Dean is a very sweet, in shape, and quite demure new-comer onto the scene. He is a little more mature than most of my stable of hotties. But, with his handsome rugged facial hair and striking brown eyes, I thought I might as well give him a chance. Dean is a bit shy, but under that cloak of innocence and sexy face fuzz I knew lay a cum-hungry sex pig that loves to suck dick and get covered in jizz from head to toe. Do I know how to pick 'em or what? As soon as I mention that bukakke was a special treat we might have in store for him, his big brown eyes lit right up and he practically begged me to get some dicks in his mouth now! I can't wait to see this hunk covered and smothered. Now, being a late bloomer, Dean has never fucked on film, he was an underwear model and rationalized that one thing would obviously lead to another dick in ass on film. In his private life having a little dry spell lately, and with a huge white smile, he gave me the green flag to get him laid more often. Look at the good I do! Dean starts stroking his impressive package cased in tight, tight blue jeans. A huge cock begins emerging under its wraps until he unbuttons and reveals a big thick schlong right under a big beautiful huge natural pubic bush. He plays with his dick piercing and comes to full attention. Dean pulls off his shirt; exposing a sleek man coat of chest hair, perky nipples that he cant stop touching, and a rock hard working man's stomach. He then slips off his jeans so he can wrap his hand around his sack and give his balls a good tugging. All the while flopping his big ol' sausage around and slapping himself in the thigh. His hairy chest and broad shoulders look so good as Dean beats his meat, I again start to wonder how good they will look with load dripping off of them. Already at the edge, Dean cranks a giant jizz rocket onto his hairy six pack, and before I can even get close, Dean starts eating it like he is at a holiday buffet. I hope he is hungry in a few days, I just might have the meal of his life for him.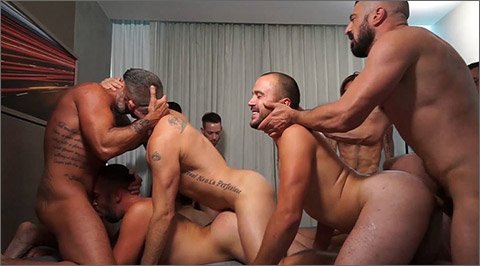 GAPE: Jason Morgan, Justin Morgan, Joel Someone, Josh Hunter, Marco Napoli, Eddy Sterling, Dean Rogers, Aaron Reese, Robert Rexton, T Willcox, Dayton O'Connor, Christian Matthews, Cesar Xes, Adrian Silver, Ryan Jamison, Diego Tovar, Giovanni Bangmore, Jaime Brazil, Jack Dyer
17 men and 2 bottoms. The kind of gangbang that only Treasure Island could make. The Morgan Twins – Jason and Justin – two holes no waiting. File in, line up, and fuck till you cum. And in some cases – cum twice for the twins. Featuring JOEL SOMEONE, JOSH HUNTER, MARCO NAPOLI, EDDY STERLING, DEAN ROGERS, AARON REESE, ROBERT REXTON, T WILLCOX, DAYTON O'CONNOR, CHRISTIAN MATTHEWS, CESAR XES, ADRIAN SILVER, RYAN JAMISON, DIEGO TOVAR, GIOVANNI BANGMORE, JAIME BRAZIL and JACK DYER.
CLICK HERE TO GO TO HIS TREASURE ISLAND DETAILS
VIDEO ON-DEMAND: Dean Rogers @ AEBN SMUTJUNKIES THEATER
DVDs & ON-DEMAND: Dean Rogers @ TLA VIDEO
ENDLESS STREAMING MEMBERSHIP: TREASURE ISLAND MEDIA @ NAKEDSWORD