Handsome Furry Muscle American Gay Porn Star, Tom Wolfe
Known Aliases: Tom @ Corbin Fisher, Tom Wolf
Years Active: 2009 – 2014
AEBN INFO:
This hot, hairy stud shares a name with a famous writer, and we think it might be because he's got The Right Stuff. Tom Wolfe (aka Tom Wolf, Tom W.) boasts a 7.5″ cut cock that he loves to plunge into tight male ass! His body-builder physique and close-cut dark blond hair give him an all-American studliness that viewers can't resist. Tom grew up in the rural Midwest on a family-owned farm, running cattle and horses. He describes himself as a simple country boy, which makes us dream up all sorts of sexy scenarios involving hot cowboy-on-cowboy action.
   Unlike the stereotypical cowboy, however, this country dude doesn't hide his kinky side! Tom was discovered while sauntering past a group of adult industry big-wigs at the Grabby Awards in 2009, wearing a Nasty Pig Jock under his strategically ripped jeans. This vision of earthy kink caught the attention of Massive Studios director John Bruno, who flew Tom out to his first shoot for the studio a couple of weeks later. Thus Tom rocketed out of amateur porndom and into the big leagues, joining the Falcon/Raging Stallion stable as a Mustang/Massive exclusive.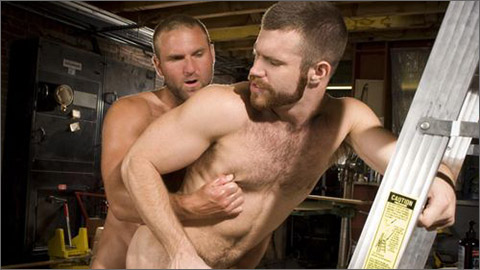 WOODSHOP: Tom Wolfe fucks Trent Locke
Tom Wolfe doesn't waste any time getting Trent Locke out of his shirt. Tom liked making out, but he wanted to work Trent's nipples and hairy chest. He nibbles and licks with his mouth and slaps and punches Trent's torso to show how into it he is. As soon as Tom has his shirt off, Trent mouths his way from Tom's pit to his fur-covered chest to his waist. Trent undoes Tom's belt and goes right for Tom's huge, veined tool. Holding on to Trent's head, Tom guides the mouth down to his balls and proceeds to fuck the bearded face of Trent. Trent looks up for approval and Tom tweaks his nipple to show appreciation for the hot blow job he's receiving. Trent, only in jock strap, climbs the shop ladder and squats down to give Tom a perfect view of his tight, hairy hole. Tom buries his face in for a taste, tonguing the stud and sending moans out his body. Holding onto the ladder, Trent steps down to let Tom fuck him right. They take turns driving, Tom thrusting forward deep into Trent and then Trent backing up onto Tom's shaft. This ride gets really blazing when Tom lays back and Trent hops on for some reverse cowboy, sliding up and down on Tom's rock-hard cock while Tom pinches Trent's nips. Trent's pace accelerates as the riding gets hotter, and he grabs on his cock to milk a long stream of cum from is piss slit. After Trent dismounts, Tom straddles him and jerks a load onto his torso.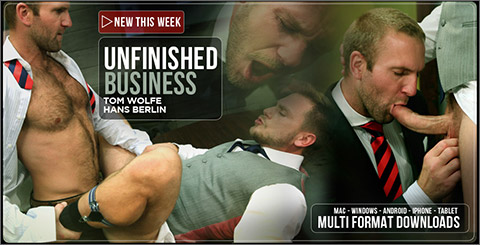 UNFINISHED BUSINESS
There's always that hot guy at work that you just wish you had the balls to come-on to. You're never quite sure how he'll react and so you never find out just how good it could have been. If you've ever been in that shoulda woulda coulda situation then you'll appreciate the dilemma for Hans Berlin in "UNFINISHED BUSINESS". Hans is leaving the company and with his boxed up belongings in hand he calls in on his buddy Tom who's preparing a presentation in the Boardroom. Hans has always, understandably , had the horn for suited stud Tom Wolfe and with the final goodbye man-hug Hans takes the plunge and moves in for the deep throat kiss he's wanted for so long. Tom is taken aback but he's the kind of sexual beast that is always up for a good fuck anytime of the day. So after servicing Hans' juicy cock he pushes him over the boardroom table and rims him deep while milking his dick and wrapping his own tie around hans' cock using it like a cock ring. Then as he fucks Hans , Tom opens up his shirt to reveal those amazing fur covered pecs and abs of his, changing him from slick office exec to the shirtless cowboy beneath, riding Hans long and hard before shooting his load all over Hans. Tom really knows how to make the most of this UNFINISHED BUSINESS.
KRISTOFER WESTON'S BOUND JOCKS
CLICK HERE TO GO TO HIS MEN AT PLAY DETAILS
VIDEO ON-DEMAND: Tom Wolfe @ AEBN SMUTJUNKIES THEATER
ENDLESS UNLIMITED STREAMING: Tom Wolfe @ NAKEDSWORD