Handsome Hung Blond Kristen Bjorn Gay Porn Star, Apolo Adri
Known Aliases:
Years Active: 2020 – 2021
KRISTEN BJORN INFO:
Nationality: Spain
Height: 5'8
Weight: 160 lbs
Dick: 8" (20.32 cms) uncut
Position: Top
Zodiac: Gemini
Apolo Adri hails from the Basque Country in Spain. He has a handsome face, a defined, athletic body, and a big, thick cock. There is nothing that Apolo enjoys more that sticking his fat dick into a warm, wet hole.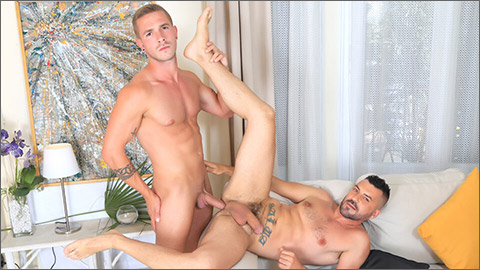 THE SKATER: APOLO ADRI & SALVATORE EXPOSITO
On a beautiful, warm spring day Apolo Adri is out in the park skating around when he passes Salvatore Exposito, the glance is exchanged and then the turn of the head to see if he noticed and the cruise is on! Apolo makes a few passes to be sure of Salvatore's interest before he stops and strikes up a conversation with the sexy man. Small talk turns into a kiss and they are off to Salvatore's flat, on the way both men are checking each other out, eyeing up what is to be their treats. The guys waste no time in stripping down and Salvatore is immediately on top of Apolo's sumptuous cock, feeling every centimeter glide across his wet tongue and down his voracious  throat. The downward curve of Apolo's cock makes it that much easier to slip down Salvatore's throat, although his hunger to suck cock assures both men lots of pleasure. Salvatore stands upon the sofa and Apolo begins servicing his rock-hard cock, while precariously balancing on his blades. As with all afternoon delights, time is of the essence and with Apolo's wet cock and Salvatore's deep yearning, Apolo slips his throbbing cock inside of Salvatore's hairy hole. As Apolo balances on his skates, it gives him a leverage that allows him to rock back and forth, almost like having Salvatore in a sling. Salvatore is flipped onto all 4's and Apolo continues with his onslaught of deep, raw ass fucking. Another flip and Apolo gets off of his skates as he takes a seat and Salvatore takes a seat on this raging-hard cock. With each downward thrust, Salvatore's cock comes that much closer to the optimum of hardness and his balls are drawing up quickly, preparing for an explosion. One last thrust and Salvatore grabs his cock and spays his thick load of cum all over Apolo's muscular thighs. Just as Salvatore begins spraying his load, Apolo goes into overdrive, ramming his cock deep and hard inside of Salvatore, demanding his cum to spay that much further. Just as Apolo is about to shoot his load, Salvatore jumps off and is there to catch the thick, creamy load of cum gushing from his throbbing, uncut cock. Licking and sucking every delicious morsel. Time to head to the park and see who is skating around!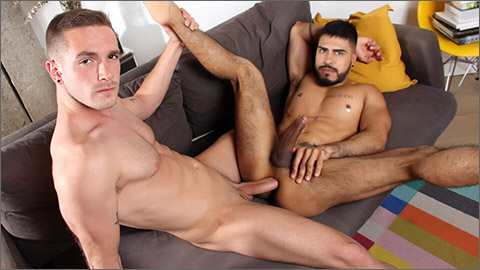 KRISTEN BJORN'S CASTING COUCH #445: APOLO ADRI & VALENTINO SISTOR
Valentino Sistor is proud to share and introduce us to the newest member to the Kristen Bjorn Society of Select Men, Apolo Adri. Waiting with great expectations, Apolo is thrilled when Valentino enters the room. The guys immediately begin with passionate kissing that leads them to quickly ditch their constraining underwear. Once Valentino catches the sight of Apolo's thickly curved, uncut cock his level of hunger skyrockets as he leans in and begins to consume the entire cock shaft down his throat. Valentino is an expert cock sucker and Apolo is overjoyed that he is the recipient of such talents. Apolo's cock is worshipped and given a thorough sucking before he flips Valentino and begins eating his magnificent ass. Kissing, lapping and biting at Valentino's ass, Apolo can sense that Valentino is ready to receive. Apolo places the head of his cock against Valentino's ass and with a little nudge it slips inside and pleasure has reached a new level. Apolo quickly picks up his pace as Valentino reaches around and spreads his ass cheeks open for Apolo. Apolo rises up onto his feet, giving him better leverage and a greater angle to penetrate as deeply as he pleases. Slamming his ass deep, Valentino begs for more as Apolo continues his onslaught of deep dick fucking. The guys flip and this time Valentino is on his back with he legs spread wide for Apolo to fuck him harder and deeper. Both men's cocks are throbbing with great anticipation of what is yet to come. Another flip and Valentino is grinding his ass down hard onto Apolo's rock-hard cock. Valentino's cock is equally hard, as each downward plunge not only pleasures his ass, but sends shivers of passion throughout his entire body. The pounding of Valentino's ass on Apolo's cock has driven him wild with pleasure as Apolo jumps up and explodes his thick, creamy load of cum all over Valentino's awaiting tongue. As Valentino sucks the remainder of cum from Apolo's cock, he shoots his own succulent load of cum. Thank you Valentino for this amazing introduction of Apolo.
CLICK HERE TO GO TO HIS KRISTEN BJORN DETAILS
VIDEO ON-DEMAND: Kristen Bjorn Productions @ AEBN SMUTJUNKIES THEATER
NOW STREAMING: Kristen Bjorn Productions @ NAKEDSWORD