American Gay Porn Star, Toby Springs
Known Aliases / aka:
Years Active: 2013 – 2016
TWITTER @tobysprings
TWITTER INFO:
I'm a porn star and I just like to have fun, I am big in the fetish industry as well and yes that personal life and film. Also photographer / videographer / editor
GIO CARUSO'S BAIT BUDDIES INFO:
Height: 5'8″
Weight: 150
Hair: Brown
Eyes: Brown
Cock: 6″ cut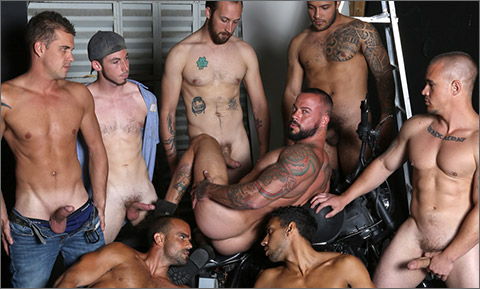 HOG WILD: SEAN DURAN GANG BANG
One insatiable cock fiend, starved for dick, pounded senseless and left covered in loads of hot jizz. Thick cocks are blown greedily and shoved into Duran's eager hairy hole!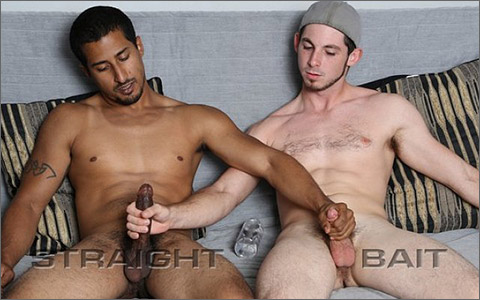 TOBY SPRINGS & STEVE
Toby Springs returns this week as our bait boy and this time he decided to bring a friend! Toby has always been a popular on BaitBuddies.com and he has the perfect bubble butt for taking straight cock! He's an expert at sucking dick and has great bottoming skills as well.
   Steve is Toby's friend and coworker. Both guys work construction and even though Steve knew that Toby did porn on the side, he had no clue it was gay porn! Steve is built, hot, and has a big cock!
   After explaining that the girl can't make it and the only option to make money would be to have sex with each other, Steve started to freak out. Of course when Caruso tells them it will be double the money he changed his tune and decided to give it a shot.
   Caruso tells both guys to help a buddy out so both Toby and Steve grabbed each other's cocks and started stroking. Toby couldn't wait to get Steve's fat cock in his mouth so Steve stood up and Toby went to work. When it came time to return the favor, Steve was not having it and flat out said no. Toby moved in for a kiss and Steve pulled away but when Toby came back for another, Steve caved in. The kissing didn't last long because Steve was ready to fuck so he lubed up, put on a condom, and fucked Toby's tight hard ass!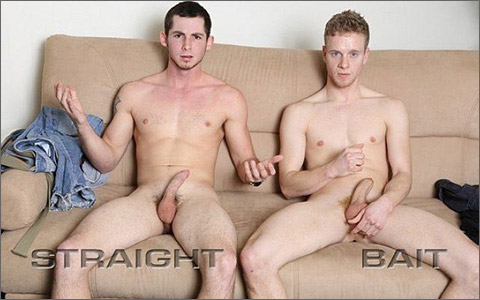 LIAM HARKMOORE BAITS TOBY SPRINGS
"Wait, what am I doing???" asks Toby, as he becomes very conscious that he's making out with a dude for the first time in his life… and it's on camera! Toby started out his day thinking he was going to be taking part in his very FIRST pussy porn video. On set, he tells Caruso that he's not really nervous about doing his video. Toby also says that lots of people tell him that he has the body for porn – and as soon as he strips of his clothes, there is no doubt about it. His perfect proportions, beautiful pecs, hot bubble butt and great legs make one great porn star body. As far as the dick department, we can at least say it's a pretty one. Whatever he may lack in cock size, our experienced porno boy and this week's Bait, Liam, makes up for with a big, thick, pink 8.5" cock – and he too sports a porn star quality body with everything in the right amounts in the right place. If only Toby knew that Liam is an experienced gay porn star and go-go dancer from L.A., he would've been up and out of the studio before removing a stitch of clothing. Both boys jack their cocks and prove that they can get hard in front of each other and the camera. So, Caruso goes to get the 'female talent'…

DADDY'S BOY
Toby Springs is enjoying an afternoon swim in the pool while Bryce Evans is making a snack for him and his boy in the kitchen. When Toby comes in from his swim, they bite into some peanut butter and jelly, eyeing each other up while they do. Once fed, Bryce grabs the boy by the neck and does to him what he's been thinking about all day – bending him over the counter and taking care of that cute boy ass. Take a look and enjoy for yourself!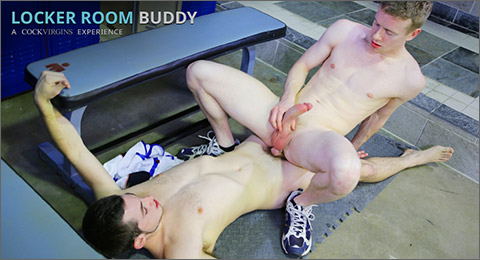 LOCKER ROOM BUDDY
Liam just got back from a long intensive run and he has sweat dripping all down his body. He notices that the tip of his cock is poking out from his jogging shorts and he begins to rub himself. Slowly he pulls out his massive cock and begins to stroke it with both hands feeling himself becoming harder and harder. Liam has his head kicked back eyes closed enjoying himself when Toby walks in and startles Liam. Liam who isn't shy at all invites Toby over to play and lucky for him Toby is down on his knees gulping his dick. Toby just finished wrestling and this was the last thing he thought would happen to him. They both strip fully naked and Toby gets the privilege of fucking Liam's sexy ass in any position he wants. Liam who is up for anything and everything gets the final blast of hot cum all over his face.
CHANNEL 1 / RASCAL
PRIDE STUDIOS
GIO CARUSO'S BAIT BUDDIES
CLICK HERE TO GO TO HIS PRIDE STUDIOS DETAILS
CLICK HERE TO GO TO HIS GIO CARUSO'S BAIT BUDDIES DETAILS