American Gay Porn Star, Dustin Steele
Known Aliases: Dustin Steel
Years Active: 2009 – 2016
Height: 5′ 11″
Weight: 180 lbs
Cock: 8″
Position: Versatile
RANDY BLUE: DUSTIN STEELE
added: 05/17/09
Dustin Steele is a good old boy from down south. From the moment he opens his mouth you can picture him with his signature cowboy hat and a stalk of wheat hanging from his sexy lips. He has already been on Randy Blue once before as a hunk of Fresh Meat on Randy Blue Live and the response was overwhelming. He's tall with an amazing build. And his sweet, laid back personality just serves to warm you up before he shows off his hot body and really gets you going. I have to admit, his accent makes me melt. That slow southern drawl of his grabs your attention regardless if he's cracking a joke or whispering all the things he wants to do to you in your ear. He's such a horny guy and loves his cock. He was so comfortable in front of the camera when we did the live show as well as shooting his first solo with us. I can already tell we're going to be seeing a lot more of Dustin Steele and I can't wait.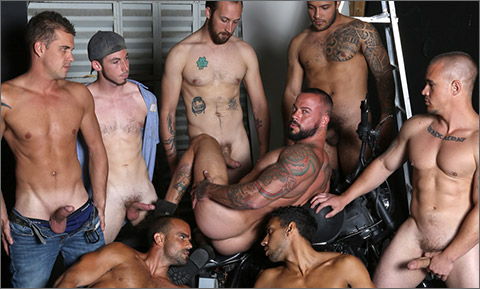 HOG WILD: SEAN DURAN GANG BANG
One insatiable cock fiend, starved for dick, pounded senseless and left covered in loads of hot jizz. Thick cocks are blown greedily and shoved into Duran's eager hairy hole!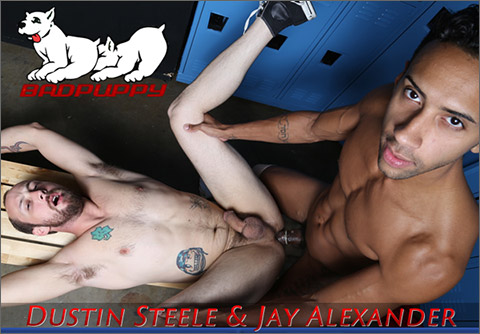 JAY ALEXANDER & DUSTIN STEELE FLIP-FUCK
Dustin Steele had just completed his workout when he ran into Jay Alexander in the locker room. The attraction was immediate and it was only moments after these two started kissing when Dustin's shirt goes flying off and Jay is reaching for the contents of Dustin's shorts. Jay is immediately surprised to see the growing manhood that pops out of the top of Dustin's shorts and he swallows every inch of it. Dustin motions for Jay to lie back on the bench where he pulls off Jay's shorts and his mouth begins working Jay's thick, long cock. After some intense mutual blowjobs, Dustin is ready to get his ass filled. He stands against the lockers and Jay comes in from behind and buries his tongue deep in Dustin's hole where he goes to work loosening it up. Lying back on the bench, Dustin can't wait anymore and both of his feet go up in the air with his ass exposed just waiting on Jay to load it with his cock. Slowly at first, Jay pushes his thick cock deep inside Dustin; but, once Dustin is used to the size Jay begins pounding Dustin's hole with long, deep thrusts. After three different positions of Jay fucking Dustin's ass, Jay tells Dustin that it's time for Dustin to shove his cock up Jay's ass. Dustin goes slowly at first, letting Jay get used to his size. With a few ass slaps, Jay's ass loosens more and Dustin begins fucking faster and faster. Dustin continues to fuck the shit out of Jay and as the tension builds you can tell they are both close. Jay takes his cock in hand, begins jerking with the rhythm of Dustin's thrust and he shoots a thick load of his jizz all over his sculpted chest and stomach. Dustin keeps pumping and just before he cums, he pulls his cock out and sprays his cum all over Jay. With an exhausted and gentle kiss our two studs head off for the showers to clean up the mess.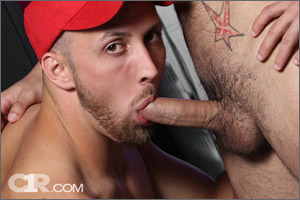 EVERYBODY FUCKS
SCENE 3: Dustin Steele & Nick Cross
Apart from the hot blowjob this scene starts with, you MUST hear Dustin Steele's moaning while Nick Cross rims the living asshole out of him. Now that's genuine pleasure… Gets us going each time we watch it. See it for yourself. Flip fucking, rimming, hardcore doggystyle sex, and an epic secret cumshot finale, you can't ask for much more from hot guys with huge cocks.

THAT 70'S GAY PORN MOVIE
The 1970's were a time for horny college students getting it on, fratboys' homoerotic hazing rituals, and student/teacher sex fantasies. In That 70's Gay Porn Movie, Randy Blue spoofs the 70's as we show you what a Randy Blue movie would have looked like had we been around in the era of Lava Lamps and Bell Bottoms. This erotic comedy centers around Brock Wopat (Christian Sharp), a horny college student who wants nothing more than to be a member of the infamous Delta Iota Kappa fraternity. Not that he has anything to worry about, his grandfather started DIK and being a legacy he's a shoo-in. But that very fact has outraged frat President, Skip Deuche (Xander Scott), and along with his two studly sidekicks, Crank Shaft (Vincent DeSalvo) and Boner (Brandon Kent), he's out to sabotage Brock's every move. But never fear, Brock's fellow pledges, played by Ethan Parker, Dustin Steel and Mike West, all have his back. Along for the r ide is Leo Giamani as the hunky Professor Ben Davidson who feeds an eager Mike West a mouthfull of huge cock, as well as rams his ass with a dildo. And don't miss Reese Rideout as Puff, the perpetually stoned fratboy. Will the pledges each complete their pledge tasks? Will Brock's skillful cocksucking and passionate bottoming to Skip help him make it as a DIK. Will he make his mom, the effervescent Edna Wopat, proud? Find out next week in part two of That 70's Gay Porn Movie!
BADPUPPY
CHANNEL 1 / RASCAL
PRIDE STUDIOS
BAIT BUDDIES
JAKE CRUISE'S COCK SURE MEN
RANDY BLUE
CHAOS MEN