Hung Uncut masculine Dutch Gay Porn Star, Toby Dutch
Known Aliases: Steve Amsterdam (Kristen Bjorn)
Years Active: 2013 – 2015
TWITTER @tobydutch
LUCAS ENTERTAINMENT INFO:
Toby Dutch is young, blond, handsome, and ready to have fun! Toby is a horny son of a bitch who is always ready to have sex and he's up for anything. Whether it is sucking dick, fucking ass, stroking cock, whatever it may be, Toby is ready to have a good time on and off of the camera! And when he strips off his clothes and you see that body of his, you'll want to see him do as much as possible!
Height: 5'10
Weight: 170 lbs
Dick Size: 7″
Position: Versatile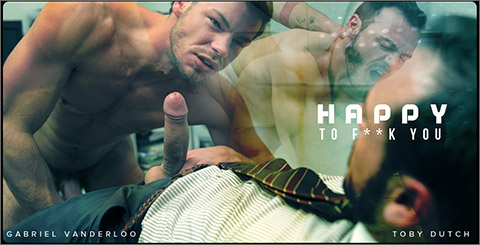 HAPPY TO F**K YOU
Sultry Scandanavian Toby Dutch and his hungry ass obviously got him the job because he's back again this week working in the Menatplay offices. His attempts to introduce himself to collegue Gabriel Vanderloo fall on deaf ears as the cocky Spaniard just wants to get right down to it and instead of shaking Toby's hand he flops a heavy dick in to it, leaving no doubt as to how happy he is to meet him. This time its Toby who strips Gabriel and fucks him so deep and hard over his desk that young Vanderloo screams for mercy.. or is he screaming for more?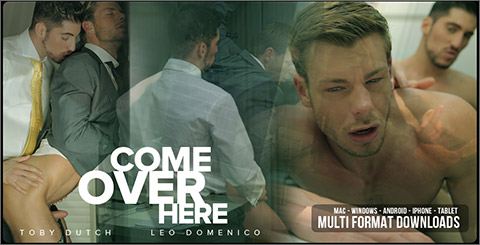 COME OVER HERE
Toby Dutch makes his MENATPLAY debut this week, and he's right on time for his interview at the MAP Headquarters. Although clearly receptionist Leo Domenico has his own plans and decides to have a taste of the dashing, blond hunk before anyone else. As Toby sits patiently waiting for his interview, Leo tries to get his attention. At first he's discrete – rubbing his package behind the reception desk and turning his chair to show off his hardening bulge. But once he knows he has his attention Leo goes all the way and takes out his hard dick, stroking it behind the privacy of his desk and getting Toby all horned up and gagging to get a mouthful of Leo's tasty looking meat. And thats not all he gets, with the coast clear Leo gives the newcomer a deep and intense pounding, ramming him against his desk until he spunks all over him. RED HOT Office XXX Action as only MENATPLAY know how!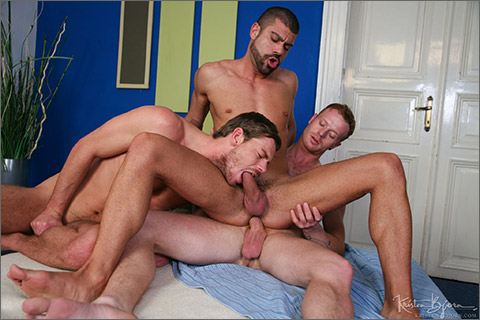 RAW ADVENTURES #16 – HOT WINTER: ARNAU VILA, TOBY DUTCH & TOM VOJAK
Arnau and Toby meet up after leaving the gym and Arnau tempts Toby with pictures of his sexy boyfriend Tom. This cold winter day just got a lot hotter. Tom takes his huge cock out and begins feeding it to the boys. Arnau and Toby are hot cock suckers and more than eager to get a taste of this hot cock. Toby and Arnau take turns on Tom's cock until Arnau is put in the middle and Toby eats his ass as Tom forces his hard cock down his throat. Toby is so hot from eating Arnau's tight ass that he blows his load. He then coats his fingers with his cum and probes Arnau's pink hole with his lubed up fingers. Toby is then put in the middle as Arnau feeds him his cock and Tom plunges his long, raw cock deep inside of his hot hole. Tom switches things up and has Arnau ride his bare cock as Toby sucks Arnau's throbbing cock. Tom then again switches things up and starts a raw fuck train with Arnau in the middle. Arnau fucks Toby as Tom fucks Arnau. The first to blow his load is Arnau and he sprays it all over Toby's wet hole. Tom strokes out his huge, creamy load all over both Arnau and Toby's cock and balls before shoving his cum soaked cock back into Arnau's dripping hole and Arnau plants his wet cock back inside of Toby's drenched hole. Now that is how you heat up a cold winter day!
KRISTEN BJORN PRODUCTIONS
RAGING STALLION
LUCAS ENTERTAINMENT
CLICK HERE TO GO TO HIS MEN AT PLAY DETAILS
VIDEO ON-DEMAND: AEBN SMUTJUNKIES THEATER
VIDEO ON-DEMAND: MALEFLIXXX
DVD / DOWNLOAD / VOD: GAY DVD EMPIRE