Staxus European Twink Gay Porn Star, Johny Cruz
Known Aliases: Johnny Cruz
Years Active: 2012 – 2015
TWITTER @JohnyCruzXXX
International Freelance Model and Adult Performer, Porn Actor, Dancer & Escort ? Based in London, UK
STAXUS INFO:
Date of birth: 4th July 1989
Height: 5'11" / 180 cm
Cock size: 7″ / 17.8 cm
Ethnicity: German
Role: Versatile
Interesting Fact:
The most flexible model we ever had!
Training to be a professional ballet dancer in Holland, Johnny needed help with his fees so he approached us for a scene. His training proved very useful.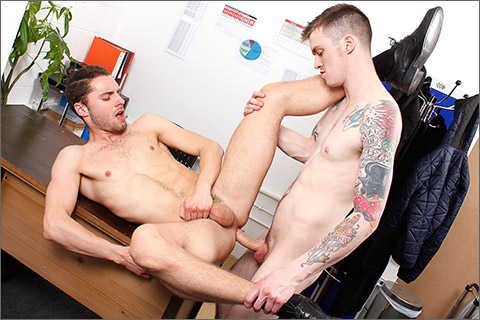 OFFICER INITIATION: AJ ALEXANDER FUCKS JOHNY CRUZ
Young rookie Johny Cruz is working late in the office when tall and handsome AJ comes in saying they should head off, leaving the paperwork for later. Eager to impress but keen not to look a loser, sexy Johny tries to explain his position, but AJ is all about another position, and wants to be the first to really welcome the young recruit to the force! Letting him in on a station secret, AJ decides to then show him exactly what the prisoners are used for here, and Johny is as always happy to learn the ropes! Propped up on the table, uniformed AJ soon strips his colleague down and plunges his giant bare dick straight up into Johny's peachy and perfectly willing butt! Fucking the young man over and over, AJ's beautiful raw dick disappears time and again inside Johny who happily bounces on top of it from tip to balls and works it hard, so much so that AJ struggles not to shoot deep inside him, preferring to pull out and coat the freshly fucked hole in spunk before pushing back deep, fucking his sperm into Johny, showing him exactly how it's done here!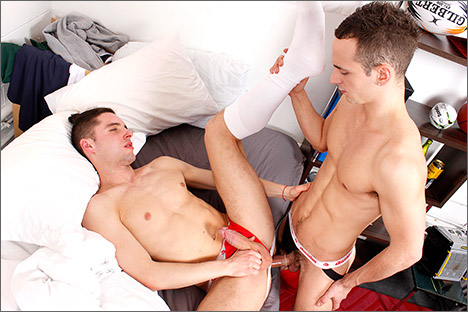 JOCKS, SOCKS AND COCKS!: LUKE DESMOND FUCKS JOHNY CRUZ
Still super horny from fucking his new roomie, Luke Desmond is still sporting a huge hard-on under his sweatpants, especially when telling fellow housemate Johny about his latest conquest. Eager to show his own worth, Johny is another lover of big dicks, and wants to try Luke's one after hearing how he fucks hard and deep! Taking Luke back to his room, Johny wastes no time in getting his knees in front of Luke, Johny's ass framed and pushing back as he rests on his socked feet and gobbling down dick like no tomorrow! After a taste of his mates dick, Luke gets up and throws Johny to the bed, plunging his dick over and over into Johny's hole, opening it up for us nicely, gaping wide and beckoning Luke's shaft deep inside! Fucked hard and pushing his dick straight down into Johny who's upside on the floor presenting that awesome ass hole to his top fucker mate, there's no position these frats won't try and won't love! Shooting his load first, Johny's g-spot was definitely tickled and Luke's own massive meat empties again all over himself as Johny laps at his balls, newly empty but already recharging!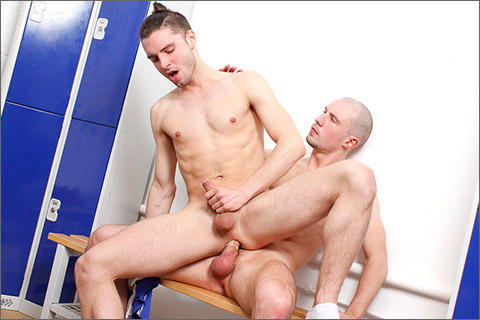 GYM FIT FUCKERS: JASON DOMINO FUCKS JOHNY CRUZ
Young Johny Cruz is changing in the gym as his buddy leaves him to it and Johny, still sweaty from the workout breathes in the scent of the locker room, turning himself on as he slowly strips, rubbing his moist skin, his trim chest hair down to his bulging boxers, imaging his gym buddy is back in the room and giving him one final workout for the day. As if by magic, skin head Jason is back, his tall lean body naked and ready for action, even his big dick is rock solid and ready, much to Johny's immediate appreciation! Raising his ass to the air, Johny offers his butt to the lean hung man and it's taken straight away and he's flipped and fucked in every position possible, he really can't get enough! Almost knocking the locekrs over as they fuck, JOhny shoots whilst Jason's deep inside, and Jason can't hold back on the feeling of Johny's butt clenching as he cums, pulls out and joins his spunk with his own, giving Johny a full coating of cum, mixing it with the sweat already pouring from him.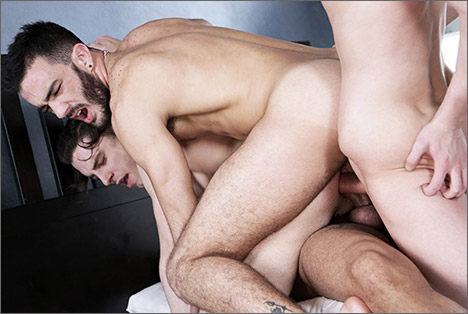 COCK-MAD JOHNY CRUZ ENJOYS AN UNBELIEVABLE TRIPLE PENETRATION!
Some scenes are just so fucking wonderfully predictable that they almost don't need any kind of narration, and this truly amazing escapade – featuring Johny Cruz doing what he does best, i.e. being a total and utter man-slut! – is just such an offering! Indeed, if you ever for any reason thought that young Cruz was a fellow who might just have some element of sexual restraint, or indeed a degree of morality about him, then what you're about to see him get up to with Alejandro Alvarez, Xavi Duran and (eventually) Jace Reed will almost certainly leave you in no doubt that that's just not the case at all.
   Cruz is, in every sense, a young fellow whose last vestige of impropriety has been eclipsed by an almost obsessive desire for cock en-masse – and fuck, don't we just love him for it! In fact, he's pretty much on sexual overdrive from the moment that two hunky, tattooed pals (Alvarez and Duran) arrive in the bedroom to give him a good working over, just moments after he's placed a telephone order for pizza. Indeed, you might be even left wondering what aphrodisiac this boy is one as he guzzles on both dicks like his life depends on it.
   But it's what happens after the arrival of delivery boy Jace Reed – and his monster dick! – that really fires this escapade into the stratosphere; with all three fuckers now gagging for a piece of the gigantic shaft, before Cruz succumbs to the inevitable results of his hyper-charged libido and takes the dicks of all his co-stars up his ass simultaneously! It's an almost unbelievable performance; topped off by Cruz taking his buddies' spunk all over his face and in his mouth! In short, abso-fucking-lutely brilliant!!
Tags:
Big dick, Double Penetration, Facial cumshot, Facial Hair, Fetish, Rimming, Spit roasting, Tattoos, Threesome, Twinks (18+), Uncut cocks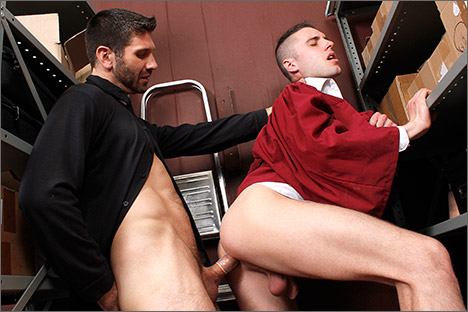 REVEREND DADDY
SCENE 3 – CAUGHT BY THE PRIEST: Craig Daniel fucks Johny Cruz
The best excuse for a cheeky wank in the storage room is 'Looking for a Bible', however, super hung priest Craig Daniel catches horny young man Johny in the act and what he's jerking over definitely isn't a Bible, it's a porno! Catching sight of the hung boys Johny's getting off to, Craig decides the right punishment for this cock hungry twink is one hell of a real dick, all 9" of it being gobbled down his throat. Soon rock hard and eager for more, Craig's giant dick has its eye on Johny's delicious ass, and as Johny is pushed against the shelving, his cheeks are spread open, exposing the puckering hole, getting wetter with each lap by the priest, ready and desperate of the big thick dick to slide inside! Slamming away again and again, Johny pushes back, taking his punishment as hard as he can, and Craig is more than happy to dish it out for as long as possible, ending up covering his boy in holy semen!
CLICK HERE TO GO TO HIS STAXUS DETAILS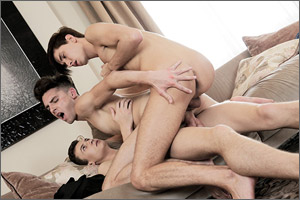 PRIESTLY THREESOME RESULTS IN A NO-HOLDS-BARRED SUCK & FUCK-FEST… PLUS A RAW DOUBLE-PENETRATION!
CUTE & INNOCENT? NOT FUCKIN' LIKELY, AS JOHNY CRUZ GETS TRIPLE-DICKED & COVERED IN CUM!
LITTLE JOHNY CRUZ GETS HIS ASS-HOLE SERIOUSLY STRETCHED IN A DOUBLE-DICKING BONANZA!
LIFE'S A BEACH FOR HORNY JOHNY CRUZ, AS HE GETS A MONSTER BLACK DICK IMBEDDED IN HIS ASS!
SAME NAME, SAME LUST FOR DICK…ANGEL & JOHNY CRUZ HANG OUT FOR A JIZZ-FILLED WORKOUT!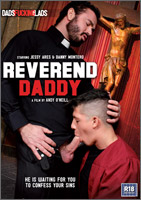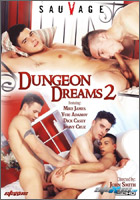 REVEREND DADDY
BOY GAMES
BAREBACK MONSTER COCKS: SUPER SIZE ME
DUNGEON DREAMS 2
DUNGEON DREAMS
THE NUTCRACKER