Canadian Hairy Hunk Gay Porn Star, Teddy Torres
Known Aliases:
Years Active: 2017 – 2021

MY BOSS IS A DICK: Markus Kage fucks Teddy Torres
Tatted businessman Markus Kage is doing some work at the office when co-worker Teddy Torres catches his eye. After they become aware of their attraction for each other, Markus signals for Teddy to come to his office. The two studs tease each other through the office's glass walls, until they make their way to the break room, where Teddy swallows Markus' thick, uncut cock. When Teddy has had his oral fill of cock, he bends over the counter to let Markus rim his hairy hole. Eager to fuck, Markus gets off his knees and glides his bare cock straight into Teddy's ass. Teddy takes Markus' meat in multiple positions before laying back and getting pounded bareback while he strokes a load out on his hairy, scruffy torso. Markus makes sure to paint Teddy's face with a thick load before telling him to "get back to work!"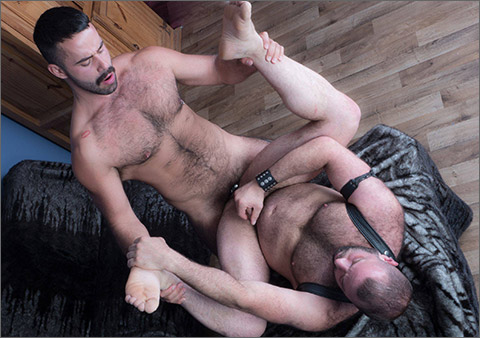 TEDDY TORRES FUCKS MATTHIEU ANGEL
Fans of Teddy Torres already know he's a complete oinker of a sex pig. And that's exactly how we like our men…complete and total sex pig whores. Good looking, hairy and hung as fuck, tattooed Teddy gets down to business with big and beefy Matthieu Angel. Both take turns slobbering on each other, sucking cock, but it soon turns into a primal session of who can fuck throat deeper. And as if that weren't enough, the bareback fuckers go wild, with Teddy slamming that big fat slab of uncut meat balls deep inside Matthieu, who repeatedly cries out "Oui! Oui!" The muscle hunk is eventually rewarded with a humongous load. Now this is what we call nasty fucking…bareback sex as it should be. No limits. No apologies. Just men doing what men do best. Ohhh, oui!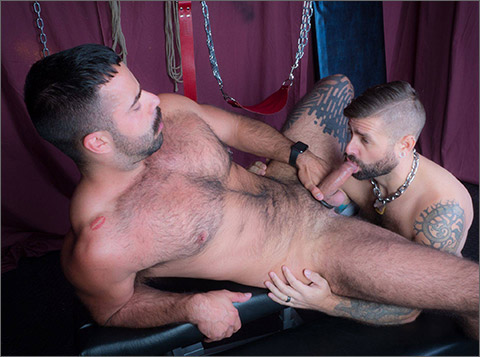 TEDDY TORRES FUCKS JON SHIELD
We've filmed hundreds of men, if not thousands, all of them hairy, all of them fucking bareback and all of them getting downright nasty. However, out of all the men we've ever filmed, two of the hottest sex pigs have been Jon Shield and Teddy Torres. Both have big fat cocks and they know how to use them. The two start off easy enough, making out and getting off on armpits, mansmells and spitting but as the scene progresses, the tattooed, hung fuckers devolve until they resemble animals rutting in the most perverse way. The sweat runs down their bodies, matting hair to flesh and you can all but smell the scent they create as Teddy gets rougher, fucking Jon harder, faces full of cock, throat fucking, gagging, rimming, and balls deep cock buried deep in raw fuckholes. Piggy sex, big cock and huge loads. It truly doesn't get ANY hotter. So grab that lube, men. You'll be jerking off to this one again and again and again!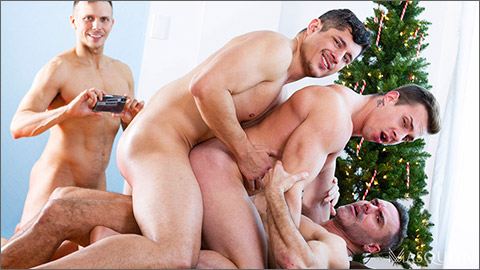 LIVE FOR CHRISTMAS
'Tis The Season!
Some of Masqulin's hottest men have been invited to a special VIP Christmas party. Manuel Skye, Ace Quinn, Teddy Torres, Ethan Chase, and Rocky Vallarta arrive one by one. They've each been gifted festive PJ's, a Santa hat, and a personal invitation to indulge in a live and immediate XXXmas orgy. On the spot. Luckily, these sexy gents are more than happy to stuff each other's stockings.
   This romp even includes special behind the scenes clips, personal interviews, and footage shot directly from the phones of the Masqulin men themselves. Christmas cums early!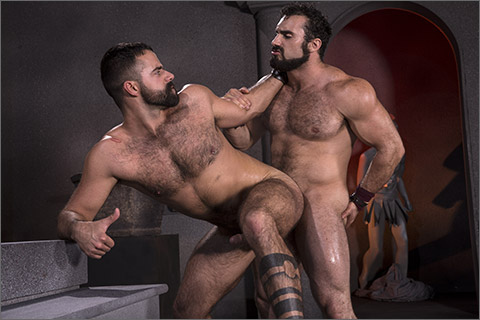 ERECTUS: Jaxton Wheeler fucks Teddy Torres
Wearing nothing but threadbare rags tied around their waists, Jaxton Wheeler and Teddy Torres face off in a Roman gladiatorial wrestling match. After several sweaty rounds of combat, Jaxton succeeds in putting Teddy in a headlock and rips off his the rag encircling Teddy's waist, revealing Teddy's hairy bubble butt. Jaxton claims his prize by burying his bearded face deep into Teddy's furry crack. Knowing his place, Teddy kneels down on the floor to orally service Jaxson's massive cock. Jaxton's huge legs bulge as he thrusts his hips, face fucking Teddy's endless throat. With his cock hard as a rock, Jaxton bends Teddy over and starts giving him a rough, doggy style fuck. As Jaxton rams his meat into Teddy's hairy ass, Ace Era peeps on them from just outside the door to the chamber, enhancing the excitement of voyeurism by stroking his cock. Moving on from doggy style, Teddy lies on his back and lifts his leg over Jaxton's shoulder. Jaxton delivers deep, powerful thrusts, pulling his cock all the way out and shoving it all the way in each time. The thick, dark fur covering Teddy's body is slick with sweat, spit, and lube. From across the room, Ace continues watching the action while working his thick shaft. Teddy punches Jaxton in the chest, urging him to fuck even faster and harder. The scorching hot action makes Ace shoot his wad, ejaculating a giant rope of white cum across his thigh. As Jaxton buries his tool inside Teddy, Teddy jerks his cock and shoots a huge jet of cum onto his hairy stomach. Jaxton pulls on and strokes out his hot, white load, which lands right on Teddy's hairy taint.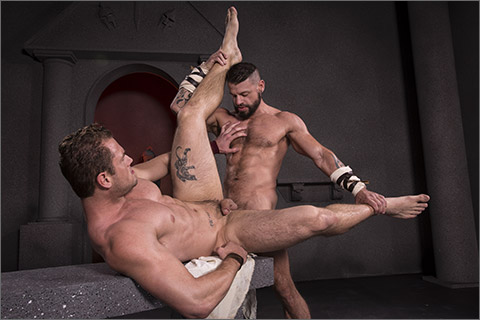 ERECTUS: Tex Davidson fucks Ace Era with Teddy Torres
In the dark hall of the ancient Roman baths lust knows know bounds, dirty-blond stud Ace Era stands between Tex Davidson and Teddy Torres. Sinking to his knees, Teddy wraps his lips around Tex's massive cock. Tex thrusts his hips, driving his meat deep down Teddy's throat and showing off his ripped torso. Ace takes Teddy's place on his knees in front of Tex's dick. As Tex and Teddy make out, Ace alternates between sucking each of their cocks. After fulfilling his oral obligations, Ace turns around and spreads his ass apart, and Teddy and Tex take turns eating Ace's hole. With Ace's ass ready for pounding, Tex steps up and rams his meat deep inside. Crouched in doggy style post, Ace moans and grunts as Tex gives him the ride of his life. Turning on his back, Ace jerks his cock as Tex pounds heavily against Ace's prostate. Reaching the climax, Tex shoots his load across Ace's dick and balls, and Ace simultaneously splatters his cum across his rippling torso.
CLICK HERE TO GO TO HIS RAGING STALLION DETAILS