Sexy Brazilian Power Bottom Gay Porn Star, Andy Star
Known Aliases:
Years Active: 2016 – 2021
FUCKERMATE INFO:
Andy comes from Brazil and was already a famous pornstar in his country when we first contacted him. After filming his first scene with us we understand why! He has a gorgeous face and a toned perfect body, but first of all he got a hungry sweet ass that can drive every topmate crazy!
Age: 29
Height: 172cm
Endowment: 18cm
Role: Bottom
Ethnicity: Latin, White
Body Type: Toned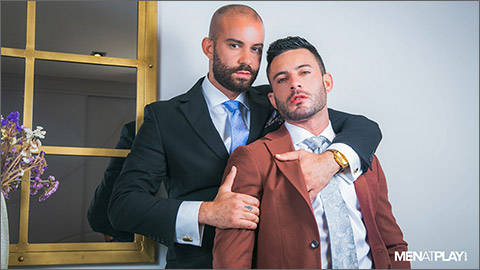 THE ROOMMATE
Andy Star spent the night at his boyfriend's shared apartment. After his boyfriend leaves for work, Andy takes a shower and goes to get some coffee wearing a towel wrapped around his waist. Bruno Max, the roommate, is dressed, ready for his morning coffee before heading to the office. He gets a pleasant surprise when he runs into Andy and his towel "accidentally" falls off.
   While getting dressed, Andy realizes that he forgot to bring a tie to wear. He enters Bruno's bedroom and finds one that will work. When he's just about to leave the bedroom, Bruno walks in on him. Andy apologizes and asks Bruno to please not tell his boyfriend. Bruno agrees not to say anything but Andy wants him to keep an even bigger secret.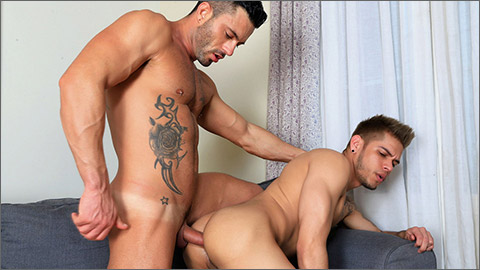 TRICKSTERS: DELAN BENOBE & ANDY STAR
International superstars Andy Star and Delan Benobe start the day out right, hard and horny. As Andy gazes out the window enjoying the morning sun, Delan enters the room stark naked and fully erect. Andy is pleased with what he sees and gently strokes Delan's cock before he takes it into his mouth and begins lavishing it with his expert cock sucking skills. Andy stands up on the sofa and Delan immediately consumes his throbbing cock. Delan luxuriates in the sensation of Andy's magnificent cock gliding across his hot tongue and probing down his throat. Getting flipped onto all 4's, Delan thrives on the titillating tongue fucking his smooth ass is receiving. With his perfect ass nice and moist, Andy rams his raw cock deep inside and begins aggressively fucking away. After a deep ass pounding Delan flips Andy and shoves his long cock deep within Andy's pleasure canal. With one more flip Andy is squatting down onto Delan's pulsating cock as it brings him to an explosive eruption of cum. Andy jumps off just in time to catch Delan's huge load shooting into the air and into Andy's famished mouth.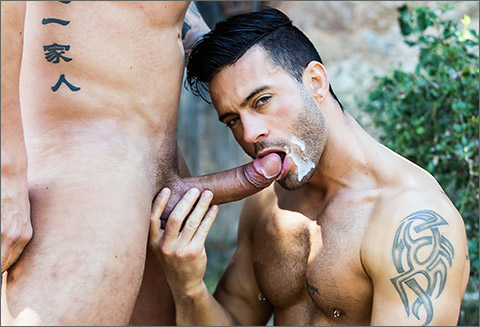 MOTEL SLUTSVILLE – PART 1
3 college buddies (JJ Knight, Lukas Daken, Ken Summer and Andy Star) take a road trip across the country to visit towns with the most bizarre and unusual town names (Dildo, Cocks Lake, Dick Lick Springs). They finally arrive at Slutsville, where they shortly discover that the name is well deserved.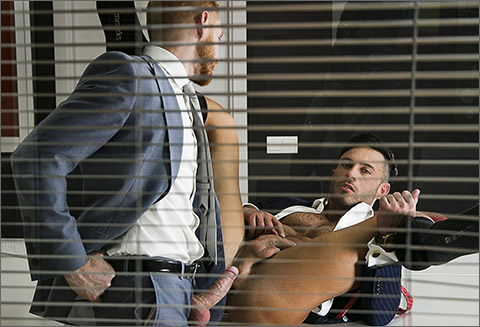 REAL ESTATE 'BROKER' – PART 2
In PART 2 of this series, real estate firm manager Leander is fresh off his call with Alexander who had just filled him in on how his open house was going. Happy with the update, he pulls the scorching hot Andy Star aside for their weekly meeting to see how his prospects have been coming along. Unfortunately, the news isn't exactly what he wanted to hear but when you look like Andy Star, successful open houses are not necessarily required. Andy knows exactly what to do to make up for his poor performance. He unleashes Leanders bulging hard-on from his pants and drops to his knees to suck cock like his job depends on it. He closes the deal by bending over the board room table and showing Leander what his open house looks like. Leander teases and pounds Andy's pulsing hole until he explodes all over his blue pinstripe suit. A satisfying ending to this hot 2 part series.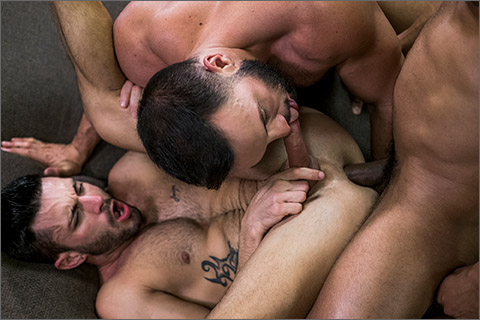 DONATO REYES' BAREBACK PREMIERE: Donato Reyes And Andy Star Share Frank Tyron's Alpha Cock
Frank Tyron is the real deal: he's a macho Latin hunk with rugged good looks, a rock-hard physique, and a big, fat cock ready to fuck bareback! Andy Star and Donato Reyes love these attributes in a man, and when Frank gets them into a room and strips down, they're both drooling over the thought of submitting to his Alpha-Male persona. But don't worry: Frank Tyron has plenty of stamina thick cum in his balls to pound out these two bottom sluts thoroughly.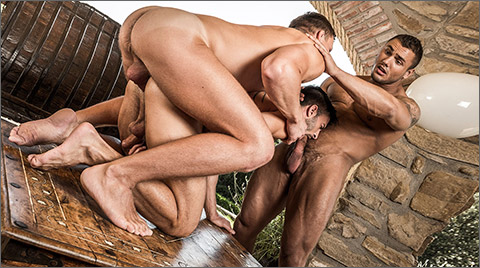 CUM HUNGRY BUTT SLUTS: Brock Magnus And Andrey Vic Double-Team Andy Star Raw
Andy Star is a cock-hungry power bottom who has proven his ability to handle two strong powers tops at the same time. Andrey Vic wants another go at Andy, and this time he brings along his buddy, the muscle jock (and new Lucas Entertainment exclusive model) Brock Magnus. Andy Star is turned on big time by worked-out guys with huge hulking bodies; because of this, he spends some time sucking on Brock's chest before taking the jock's cock down his throat while Andrey fucks him. Andrey and Brock switch off, and Brock Magnus mounts Andy Star for some hot gay bareback action!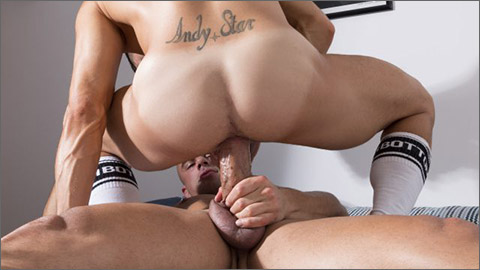 RAW CRAVINGS – DIEGO SUMMERS & ANDY STAR
Here we are again this week to present you a fucking hot encounter with two horny mates that will give their best as always for your full enjoyment. Dutch stud Diego Summers was in search for a real power bottom to satisfy his cravings to pound some hungry ass bareback. He loves Latin boys and we thought that a perfect match for him could have only been Brazilian-born Andy Star. We were not wrong! As soon as he jumps on the bed Andy takes the massive cock and surrenders to the willing of Diego, that dominates and fucks him like only a real muscled macho can do it!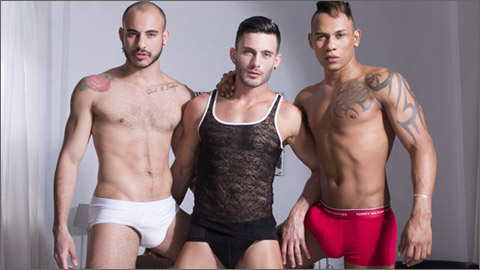 LATIN TRIO RAW – CARLOS LEÃO, ANDY STAR & PATRICK DEI
This week we tripled the pleasure and we present you a fucking awesome scene with three of our hottest mates: we first paired our Brazilian power top Carlos Leão with his sexy compatriot Andy Star and when we noticed that only one huge cock was not enough for our power bottom Andy, we called the nasty Latin stud Patrick Dei to join them. We are sure you don't want to miss any second of this intense fucking: watch how Carlos enjoys both Andy's and Patrick's mouths and butts with his huge pole and then watch how the bitchy Andy begs for having his hungry ass destroyed by his sex buddies!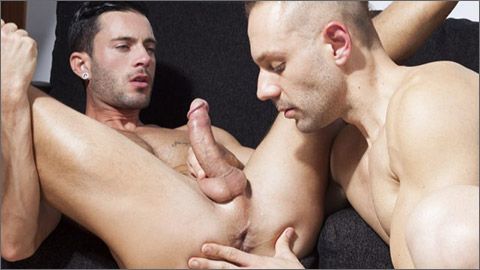 BRAZILIAN DUO – MARIO GALENO & ANDY STAR
This week we introduce you not one, but two new mates, filming with us for the first time. Supersexy Brazilian Andy Star meets his newcomer compatriot Mario Galeno in hot bareback action! After chatting in the balcony the two guys move inside the house: they are so excited that they don't even have time to get into the bedroom and begin to fuck on the couch. First Andy sucks and licks Mario's huge cock using his tongue masterfully and after long time blowing he offers his hungry sweet cock to his top buddy. Mario gives his massive raw cock to Andy in every possible position and gifts him with a facial reward at the end!
CLICK HERE TO GO TO HIS MEN AT PLAY DETAILS
VIDEO ON-DEMAND: Andy Star @ AEBN SMUTJUNKIES THEATER
NOW STREAMING: Andy Star @ NAKEDSWORD