Bentley Race Sexy Australian Gay Porn Star, Skippy Baxter
Years Active: 2013 – 2017
TWITTER @Skippy_official
December 18, 2015
AUSSIE HUNK SKIPPY BAXTER NAMED NEWEST FALCON EXCLUSIVE
San Francisco, CA (December 18, 2015) – America's Gay Porn Company, Falcon Studios Group, announced today that it has added Australian super-hunk and rising adult star, Skippy Baxter, to its list of A-Team Exclusive models. Signing an exclusive agreement for North America, Baxter will appear in Falcon, Hot House and Raging Stallion features for the foreseeable future. He makes his Falcon Studios Group debut in two scenes of Hard Friction's Hot As Fuck, which became available for purchase on DVD and download today on the Falcon Studios Group Store.
   Baxter is a striking power bottom boasting an athletic, gymnast physique that's patched in colorful tattoos and dusted in fur. If his boner worthy accent, captivating eyes and movie-star looks don't send fans into stalker mode, his impressive, smooth, bubble butt and mouth-watering endowment are sure to do the trick.
   Baxter, who made his porn debut in his native Australia, was brought in by Director, Steve Cruz after he saw some of Skippy's first scenes. On the Hard Friction set of Hot As Fuck, Baxter delivered energized and dynamic performances with fellow A-Team star Austin Wolf and mega-endowed Rocco Steele, which lead to discussions of signing him as a North American Exclusive. The deal was sealed when Falcon Studios Group President, Chris Ward saw the stills and footage.
   "Everything about Skippy Baxter is irresistible, and after witnessing his performances in Hot As Fuck, I was determined to add him to our elite roster of A-Team Exclusives. He's handsome, he's built and he takes it like a champion power bottom," states Falcon Studios Group President Chris Ward. "I'm excited to share the amazing sex of this Aussie hunk with all the Falcon Studios Group fans."
BENTLEY RACE COMMENTS:
I pulled my mate Skippy Baxter aside at one of his recent shoots to do a little solo modelling for me. It's actually hard to pull him away from my other mates. I really wanted to get shots of him alone in the hot tub. Skippy has been working out a lot lately and the results are really starting to show. Eventually I got him to get completely naked in the water. Of course stroking his cock under the water was his own direction. I love shooting with Skippy. He's a lot of fun to hang out with. At one stage during this shoot he spots an older lady out on her balcony watching us taking the photos. He didn't mind one bit. The shoot didn't last long before his co-star was dragging him away again.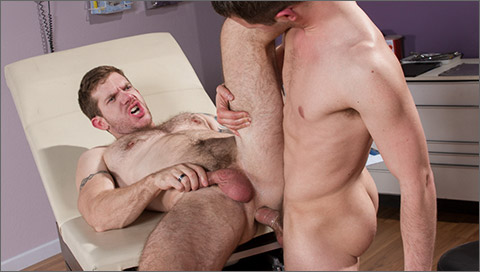 INTERNAL SPECIALISTS: Asher Devin fucks Skippy Baxter
Asher Devin arrives for his appointment at the Internal Specialists. While checking him in, physician's assistant Skippy Baxter can't help checking out Asher's cute butt. Skippy leads Asher to the exam room. Realizing he forgot his pen, Skippy leaves Asher alone for a few minutes. While Skippy is out, Asher strips down to his nearly see-through white briefs. When Skippy comes back in, he does a double take when he notices Asher's massive bulge. The examination begins as Skippy notes Asher's weight and listens to his heart. The sexual tension between nurse and patient gets more intense with each passing minute. Taking a chance, Asher grabs Skippy's hand and moves it to his throbbing boner. 'Damn boy, you're packing big!' exclaims Skippy. Throwing caution to the wind, they make out passionately as Asher strips off Skippy's scrubs. Asher's briefs come off, and Skippy goes down to get a taste of Asher's big, hard dick. Trading places, Asher takes a turn swallowing Skippy's thick meat, wrapping his hand around Skippy's shaft, and using his lips to suck on the fat mushroom head. Skippy raises his legs in the air so Asher can work his tongue up into Skippy's eager hole. Apparently, Skippy needs some sexual healing even more than his patient! Turning around, Skippy leans over the examination table and takes Asher's bone doggy style. Asher rams his cock into Skippy HARD, eliciting uncontrollable moans of pleasure. The tension builds until Skippy lets loose with massive spurts of cum, shooting all the way up past his shoulders. Asher grabs his rod and blasts Skippy's cock and balls with thick, white gobs of cum.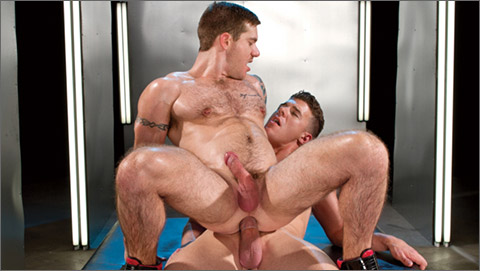 ULTRA SEX: JJ Knight fucks Skippy Baxter
Sexy JJ Knight's jockstrap can't even contain all of the meat he's packing. Lowering himself down to his knees, hot Aussie Skippy Baxter begins swallowing JJ's monster cock. Deep throating such a massive sword is daunting, but Skippy knows what he's doing, and his cocksucking skills have JJ eager for more. Skippy lays on his back with his legs in the air, parting his ass cheeks and inviting JJ to play. JJ uses his tongue to get Skippy's hole lubed with spit, then slides in a finger to explore. A second finger follows, stretching Skippy's hole and preparing him for the pounding to come. After teasing Skippy's ass with the tip of his dick, JJ plunges his supercock deep inside. Power bottom Skippy keeps one hand on his hard cock and the other hand holding his leg up, giving JJ deep access. Switching things up, JJ leans back and Skippy sits down on his cock. Using his beefy, hairy legs, Skippy raises and lowers himself on JJ's huge fuck stick. This expert bottom knows what he's doing! After getting his cock milked by Skippy's ass, JJ's ready to bust a nut: he stands over Skippy's face and blasts his load right down Skippy's open mouth. Skippy releases his spunk and sprays it across his hairy torso, and the two studs seal the deal with primal kissing.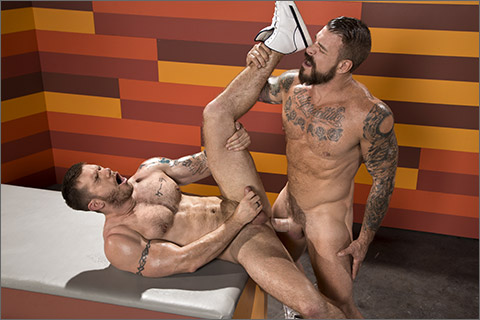 HOT AS FUCK: Rocco Steele fucks Skippy Baxter
Rocco Steele is exploring Skippy Baxter's hot ass with his finger while they kiss and rub their cocks together. Both are bearded, with furry chests. Skippy grips his hand around Rocco's massive cock, and Rocco fucks it. Skippy sucks Rocco's huge dick with lots of spit — taking all that he can. It's humongous, and its dimensions increase the hotter Rocco gets. Rocco turns Skippy around to take his ass, kneading the glutes and stretching the hole with two fingers. Rocco pulls his fingers out, sucks them and jams them in again. His tongue follows. Skippy hoists his leg over a sawhorse and grunts with satisfaction. Rocco slides his massive cock in, pressing without letup until it is fully imbedded in Skippy's willing manhole. Getting fully plowed and with his hole stretched to the max, Skippy slams his fist against the ground moaning with pleasure. Sweating and heated from the ferocious fucking, Rocco pulls his cock out and aims it at Skippy's mouth and feeds him a load as Skippy creams all over the floor.

HOT AS FUCK: Austin Wolf fucks Skippy Baxter
Linebacker muscle-hunk Austin Wolf grips Skippy Baxter by the neck. Skippy surrenders himself completely and lets Austin know he's there to be taken. As they make out, Austin uses his fingers for foreplay: a finger in Skippy's hole, a thumb in his mouth. Both of their bodies display fur and ink, with plenty of muscle. Skippy is happy to provide the pleasure of a blow job, swallowing Austin's shaft and squeezing his balls. Austin lays Skippy on a table and kneads, spreads, fingers and eats his tight, hairless hole. Nuts, then cock provide the next two courses. By now Skippy's chest is heaving. He sucks the fingers that were in his ass. Fucking is the main course. Multiple positions afford each man the chance to take charge in the way that feels best. Sweat and cum provide the dessert, with Austin literally collapsing in exhaustion on top of his fuck buddy.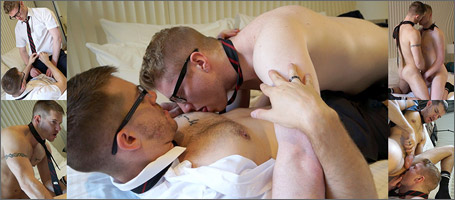 AFTER SCHOOL DETENTION – MATES GETTING EACH OTHER OFF
Things got incredibly hot between Jake and Skippy when Zac grabbed the video camera just in time to catch the guys getting each other off. The guys were feeling incredibly horny after they had already been stripping, kissing and playing with each other's dicks during the photo shoot. So they really couldn't wait any longer to really have some fun with each other. I can see that Jake loves having his hole played with as Skippy fingers him making him cum. I think pairing Skippy and Jake up was a great idea. Though I had no idea that they would get along so well. This video is so hot to watch again, especially all the kissing and when they are getting each other off. I reckon Jake and Skippy will be teaming up again for a rematch soon.