Frisky Hung American Gay Porn Star, Asher Devin
Known Aliases / aka:
Years Active: 2016 – 2017
TWITTER @AsherDevinXXX
TWITTER INFO:
Making smiles & hardons one tweet at a time. 18+ only. Haciendo sonrisas y pollas duras.
LUCAS ENTERTAINMENT INFO:
Height: 5'8
Weight: 150 lbs
Dick Size: 9"
Position: Versatile
Asher Devin has lived out a fantasy I've always had — he had sex in the mall bathroom. And the woods. And a car. And lots of other place. I guess I'm a prude and he's not. This is why he's attracted to modeling in porn. In his own words: "Life is too short and I want to live life to the fullest." He also open-mined about the men he spends time and goes to bed with: "I like many different kinds of guys. If it's not a direct physical attraction, I can be won over by personality. There isn't just one type of guy I like."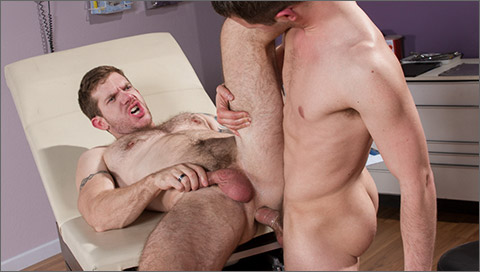 INTERNAL SPECIALISTS: Asher Devin fucks Skippy Baxter
Asher Devin arrives for his appointment at the Internal Specialists. While checking him in, physician's assistant Skippy Baxter can't help checking out Asher's cute butt. Skippy leads Asher to the exam room. Realizing he forgot his pen, Skippy leaves Asher alone for a few minutes. While Skippy is out, Asher strips down to his nearly see-through white briefs. When Skippy comes back in, he does a double take when he notices Asher's massive bulge. The examination begins as Skippy notes Asher's weight and listens to his heart. The sexual tension between nurse and patient gets more intense with each passing minute. Taking a chance, Asher grabs Skippy's hand and moves it to his throbbing boner. 'Damn boy, you're packing big!' exclaims Skippy. Throwing caution to the wind, they make out passionately as Asher strips off Skippy's scrubs. Asher's briefs come off, and Skippy goes down to get a taste of Asher's big, hard dick. Trading places, Asher takes a turn swallowing Skippy's thick meat, wrapping his hand around Skippy's shaft, and using his lips to suck on the fat mushroom head. Skippy raises his legs in the air so Asher can work his tongue up into Skippy's eager hole. Apparently, Skippy needs some sexual healing even more than his patient! Turning around, Skippy leans over the examination table and takes Asher's bone doggy style. Asher rams his cock into Skippy HARD, eliciting uncontrollable moans of pleasure. The tension builds until Skippy lets loose with massive spurts of cum, shooting all the way up past his shoulders. Asher grabs his rod and blasts Skippy's cock and balls with thick, white gobs of cum.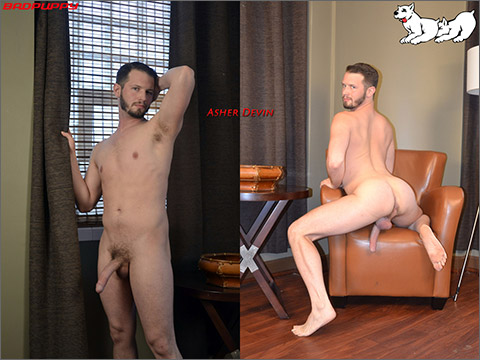 ASHER DEVIN SOLO
Hunky Asher Devin makes a return solo appearance with Badpuppy; showing off his hot, well-built body; and, let's not forget the package this dude has between his legs. As he pulls off his underwear Asher's monster comes to life; springing straight to attention. Asher grabs his thick cock, sits down on the chair and starts working it with both hands. Over and over Asher double-fists his cock; sometimes, he reaches his hand down to his ass and slides a finger in his hole. Showing just how limber he really is; Asher pulls both legs back, giving us an up-close and personal view of that sweet hole of his. Picking up the bottle of lube; Asher, squirts a large amount on his cock and starts stroking even harder as he sniffs and licks his hairy armpit. As he stands and straddles the arm of the chair Asher begins tweaking his nipple in rhythm with his cock stroking. Completely turned on, his balls tighten and Asher squirts quite the load of jizz all over the floor and his underwear. With a satisfied sigh Asher licks the remaining cum from his hand.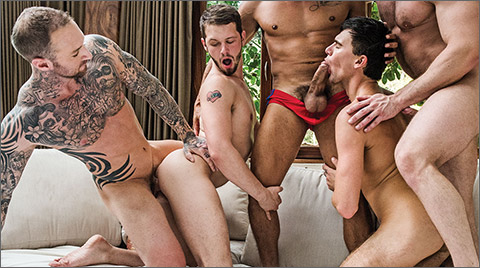 GOOD SERVICE: Dylan James And Drae Axtell Lead A Seven-Man Orgy
Dylan James, Drae Axtell, and Stas Landon spend some time bonding in the hot tub. They share their sexual stories while soaking in the water, but when it's time to get out the towels are missing. Koda Gold and Asher Devin were in charge of giving the other guys their towels, but they instead started making out and messing around with one another. When Dylan and his pals find them they don't hold back from joining the fun. Asher Devin and Koda Gold quickly turn into two bitch bottoms as Dylan, Drae, and Stas make use of their mouths and butts. They don't take it easy, either. These tops are alpha males and they're not shy about showing off their prowess. Later on Alejandro Castillo and Andrey Vic join the fun and continue using Koda and Asher as sex objects.
HOT HOUSE
BADPUPPY
LUCAS ENTERTAINMENT
ICONMALE
AMERICAN MUSCLE HUNKS
CLICK HERE TO GO TO HIS LUCAS ENTERTAINMENT DETAILS