William Higgins Czech Gay Porn Star, Simon Paldov
Known Aliases / aka: Simon Paldow
Years Active: 2019 – 2020
WILLIAM HIGGINS INFO:
Age: 21
Home Town: Liberec
Height: 175cm/5'8″
Weight: 63kg/138.6lb
Foot Size: EU42/US8.5/UK8
Penis Size: 17cm/6.69″
Profession/Student of: University student
Hobbies: Sport
Favorite Sports: Snowboarding
Active Sports: Soccer
Movie/Music/Sport Stars: Naomi Campbell
Visited Countries: Egypt
Want to Visit Countries: Italy
Dream of My Life: I do not know.
Zodiac Sign: Taurus (April 20 – May 20)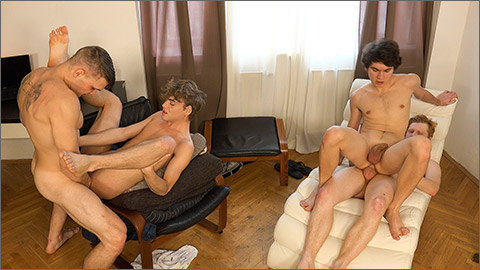 WANK PARTY #118
As part two begins we see Ivan's sexy ass as Karel leans forward to rim the hot hole. We hear some moaning too and soon we see Simon is the guy making the noise as Mojzis' cock is pushed into his ass. Mojzis fucks that ass deep and Simon takes it well. Karel continues to rim Ivan's hole, rubbing a finger over it too. Simon continues his moaning as Mojzis' dock works into his hole. Karel spreads Ivan's ass wide and licks the hole. Then he kneels on the chair and presents his ass to Ivan who is quick to push his rock hard cock into the waiting hole. Mojzis' fucks hard into Simon's ass giving it a few spanks too. Ivan's dick pounds hard into Karel's ass too. Then Mojzis reaches for Ivan and they swap partnets. Karel's hole soon feels Mojzis massive cock fucking hard. Ivan's dick fits neatly into SImon's ass he he fucks as hard as he can. Simona takes it well as the throbbing cock slides and out. Karel's hole is opened wide by Mojzis big dick fucking relentlessly. Ivan grabs Simon's hips and pulls him hard onto the pounding dick. Then Ivan lays down and Simon rides his dick as Karel lays on his back for Mojzis to keep up his fucking too. Karel wanks himself as he takes the big dick in his ass. As that huge cock keeps working his hole hard Karel wanks as fast as he can and keeps going until he shoots his hot load all over his body with that dick so deep in his hole. Karel smiles as he looks down and scoops some cum onto his fingers and then sucks it off. Meanwhile Simon is riding Ivan's cock and wankinghis own. He quickly shoots his cum too with Ivan's dick so deep in his ass. Ivan fucks even harder into that ass, and Simon rides up and down on the cock. Mojzis continues fucking Karel too. Karel turns onto his knees to take that cock again. When he is close to cumming Mojzis pulls out and wanks his cock to release the hot cum. Simon slides off Ivan's cock and kneels down to watch as Ivan wanks and shoots his cum. Simon's tongue licks at the shooting cock, sucking on the head too as Ivan keeps wanking till his dick is spent. The Simon kisses Ivan as Karel turns to kiss Mojzis too.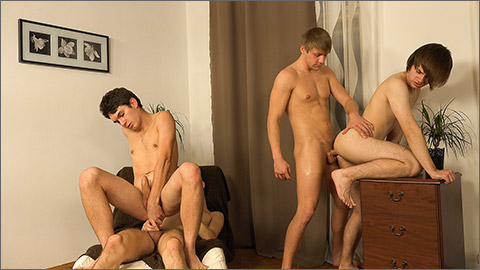 WANK PARTY #117
We join them as Simon is on his knees and feeling Ben's big cock being pushed into his hot ass hole. That big dick pushes deep into Simon's ass and fucks hard. Ben pounds that tight hole for a while then pulls out so that Alexander's throbbing cock can take a turn at fucking. After fucking that hot ass Alexandr makes way for Ben again. Simon takes it so well in his ass. He sucks on Dave's dick too from time to time. Then Dave changes places with with Ben to slide his dick into Simon's hole. Alexandr moves over to have his big cock sucked as Dave rams his cock hard into Simon's ass. He pulls out and makes way for Ben to fuck some more. Simon keeps sucking as Alexanr's dick fucks into his mouth. Ben's cock really bangs hard into the eager ass hole, pulling and shoving deep inside again. Then Dave takes his place and fucks Simon again Then he pulls out and lets Simon up. Dave kneels and presents his ass to receive Ben'g huge dick. That cock pushes deep into Dave's ass and fucks hard as Alexandr and Ben wank themselves. Dave licks at Alexandr's dick as Ben fucks hard. Then Ben pulls out and Simon's dick slips easily into the wating hole. He fucks that ass as Alexandr wanks himself. Then Siimon's dick comes out to be replaced by Ben's. Then it is all change as Ben sits in the chair so that Simon can ride his big cock. Dave bends over to take Alexandr's dick deep in his ass too. Simon slides up and down on the big cock as he wanks himself. He keeps wanking himself as he rides the big dick and soon unloads a big load of creamy cum. Ben's dick is still deep in his ass and Simon continues to ride it as Alexandr fucks Dave. Alexandr is ready to cum so he pulls out and Dave kneels to receive the hot cum shooting over his face. He lick and sucks at the big cock as the cum is milked from it. As Dave sucks every last drop he can get out of Alexandr's cock Simon is bent over and still being fucked hard by Ben. Ben pulls out and wanks himself until he starts to cum too. Then he pushes his big cock back into Simon's well-fucked hole. He fucks the rest of the cum out of his cock and makes way for Dave's dick to fuck again. Dave fucks that ass and pulls out to cum as well to complete a great scene.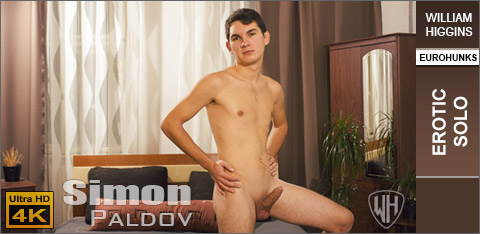 EROTIC SOLO: SIMON PALDOV
Simon Paldov is aged 21 and lives in Liberec. He is a student who enjoys sports, snowboarding and soccer. We have already enjoyed some great action videos with Simon and now we have his erotic video. He sits on the end of the bed and does his interview, in English. Then he stands up and begins to feel his body, through his clothes. This sexy gay guy soon lifts his tee shirt to show some skin. With the tee shirt removed his runs his hands over his sexy chest. The he dips a hand into his jeans to grope himself. He continues to grope himself and then opens his jeans and removes them, releasing his rock hard cock. He reclines on the bed as he wanks on his stiff cock. A close view shows that cock as Simon wanks it for us. Then he turns over and kneels on the bed to show off his hot ass and the tight hole. He wanks himself down between his legs as he shows that hole. He then uses both hands to spread that ass even more so that the hot hole opens up a little. Simon the turns over and lays on his back, with his legs up. That shows off his ass hole again as he wanks on his stiff cock. Then he drops his legs and wanks his throbbing cock until it gives up his cum. He shoots the cum onto his belly, milking the cock dry. Then he goes off to the shower to clean up.
CLICK HERE TO GO TO HIS WILLIAM HIGGINS BIO PAGE
CLICK HERE TO GO TO HIS STR8HELL BIO PAGE
VIDEO ON-DEMAND: WILLIAM HIGGINS @ AEBN SMUTJUNKIES THEATER
ENDLESS STREAMING MEMBERSHIP: WILLIAM HIGGINS @ NAKEDSWORD