Cute Ginger Twink Czech Gay Porn Star, Ivan Zrzek
Known Aliases / aka: Timothy Blue
Years Active: 2019 – 2020
WILLIAM HIGGINS INFO:
Age: 21
Home Town: Brno
Height: 173cm/5'8″
Weight: 71kg/156.2lb
Foot Size: EU41/US8.3/UK7.8
Penis Size: 16cm/6.3″
Profession/Student of: Fitness couch
Hobbies: Sport
Favorite Sports: Athletics
Active Sports: Fitness
Movie/Music/Sport Stars: Alec Baldwin
Visited Countries: Austria
Want to Visit Countries: USA
Dream of My Life: I do not know.
Zodiac Sign: Taurus (April 20 – May 20)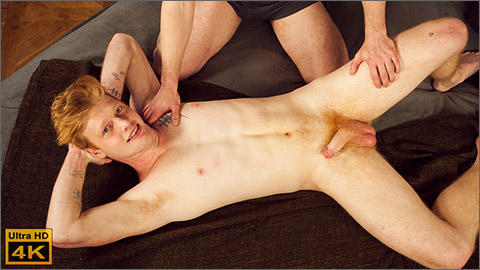 MASSAGE: IVAN ZRZEK
Ivan Zrzek is due for a massage. He looks good as he strips down to his underwear, showing off his sexy body. Then he lays on the bed, face down, and is joined by the masseur. The masseur takes some oil into his hands and gets to work massaging Ivan's shoulders. The hands work on the shoulders and down the back before concentrating on Ivan's neck. Then they go back to work on the shoulders, bending Ivan's arms up his back to massage the shoulder blades too. Then the hands get to work on Ivan's back as well. They slip into the underwear as they glide all over Ivan's back. The underwear is lowered to expose his sexy ass and oil is used as the hands start to rub over the cheeks. The underwear is removed completely and Ivan's feet are massaged, with oil, too. Then he legs are spread wide apart as the hands move back up to his sexy ass. They rub over the ass and reach between his legs to feel his cock and balls. Oil is dripped onto them and a hand rubs it in. Ivan's ass cheeks are spread to expose his hole too. Oil is dripped onto his hole and a finger rubs over it. That finger probes the tight hole and then slides deeper inside. The finger gently begins to fuck the tight ass hole, going all the way inside. The it is withdrawn and the cheeks are spread to show off the hole. More oil is applied and a hand reaches down to rub the cock and balls. As the ass is spread Ivan's hole opens up a little. Then Ivan moves onto his knees, which spreads his ass naturally giving a great view of his hot hole. The hands reach for his cock and pull it back between Ivan's legs to wank it. The balls are cupped in one hand as the other wanks the growing cock. Then, as that cock is wanked hard a finger starts to fuck Ivan's tight hole. The cock is wanked and that hole is fingered and Ivan's balls are shown off too. The wanking gets harder as that cock is pulled back. Then the finger fucks into Ivan's ass some more. He turns over and lays on his back and his cock is wanked some more. With that dick rock hard and his balls tight at the shaft the cum shoots out and up his hot body, with the rest landing on his belly. The cock is miklked dry and the hands run over the sexy boyd as Mirek relaxes after cumming.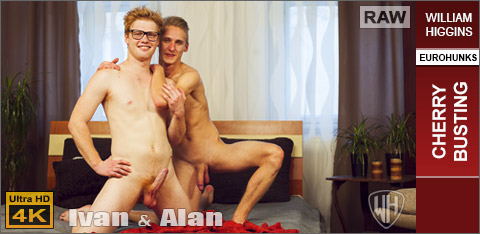 CHERRY BUSTING: IVAN ZRZEK & ALAN HEMAR RAW
Ivan Zrzek is paired with Alan Hemar to get his cherry busted. They sit on the bed as Alan asks some questions and suggests trying something together. They begin by kissing and then feeling each other. Alan removes his sweater and kisses Ivan some more. Ivan moves onto his knees as Alan leans over and kisses his belly. He has opened Ivan's jeans too. The jeans are lowered to reveal Ivan's growing cock which Alan quickly takes into his mouth. He sucks hard on that big cock that is rock hard. Alan's tongue licks over the shaft and around the head as well. He sucks hard on the big cock and then moves up to kiss Ivan again. Ivan lays down to have his jeans pulled off and Alan kisses his body again before returning to suck on that cock. Then Alan gets naked, releasing his own rock hard cock. He climbs over Ivan so they can suck each other in a 69. Alan moves up onto his knees as Ivan's mouth and hand work on his cock. Then Ivan's tee shirt is removed and he presents his sexy ass for Alan to put his cock in. That cock presses against Ivan's tight hole and gently pushes inside. His hands are placed on the sexy ass cheeks as his hips thrust to shove his dick deep into Ivan's hot, tight, hole. For a first time taking dick Ivan does very well, as the big cock works his hole. He turns over, laying on his back with his legs up so Alan can fuck some more. Ivan wanks himself as Alan's cock pounds his tight hole. Wanking hard Ivan soon shoots a big load of hot cum all over his sexy body. Alan continues to fuck the hot hole until he is ready to cum too. Then he pulls out and dumps his hot cream onto Ivan. He milks hmself dry and then leans over so they can kiss again.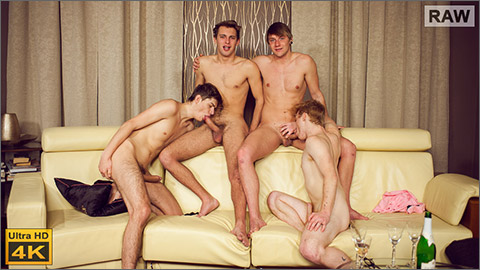 XMAS WANK PARTY 2019
Part one begins as Ben and Alexandr decorating the Christmas tree. As they work on it Jeremy arrives, with more gold baubles which they happily put on the tree. Then they sit on the sofa to await a surprise visitor. That is Ivan Zrzek, who arrives bottle in hand. He sits with the guys and opens the bubbly so they can all have a drink. Clinking glasses they wish each other a Merry Christmas and all kiss. They all continue to kiss each other as they runs hands over the sexy bodies. Then Alexandr helps Ivan remove his jeans as Jeremy's hard cock is released too. Alexandr goes down on Ivan's rock hard dick to suck it as Ben enjoys the taste of Jeremy's cock too. As his cock is sucked Jeremy wanks Ivan's cock as Alexandr keeps sucking it. Jeremy wants to taste that dick so he and Alexandr share it while Ben continue working on Jeremy's cock. Those cock are rock hard as the sucking continues. Jeremy removes his tee shirt and then Ivan does the same. Ben gets naked too and sits on the back of the sofa, next to Ivan. Alexandr continues to enjoy Ivan's cock as Jeremy gets to work on Ben's. Those dicks are rock hard as they are sucked, with Jeremy wanking himself as he sucks. Alexandr takes the whole of Ivan's cock in his mouth as Jeremy wanks and sucks on Ben. Alexandr licks Ivan's balls and round the cock head as his own dick makes his underwear tent. Then that underwear is removed and he and Jeremy sit on the back of the sofa for Ivan and Ben to suck. Ivan sucks Alexandr's cock and then his balls too. Alexandr kisses Jeremy whose cock is sucked hard by Ben. With all the guys naked and those cocks rock hard they enjoy the sucking, setting everything up nicely for part 2.
CLICK HERE TO GO TO HIS WILLIAM HIGGINS BIO PAGE
CLICK HERE TO GO TO HIS STR8HELL BIO PAGE
VIDEO ON-DEMAND: WILLIAM HIGGINS @ AEBN SMUTJUNKIES THEATER
ENDLESS STREAMING MEMBERSHIP: WILLIAM HIGGINS @ NAKEDSWORD