William Higgins Czech Gay Porn Star, Simon Beber
Known Aliases / aka: Tony
Years Active: 2014 – 2015
WILLIAM HIGGINS INFO:
Simon Beber is from Ostrava. He is aged 18 and is currently unemployed. In his spare time Simon likes cycling and freeriding. He looks very good as he stands and poses for the camera. Lifting his tee-shirt he shows off some very nice abs, on his slim body. Then the tee-shirt comes off and we see that his chest is nicely defined. Removing his pants Simon then turns, back to camera and lowers his underwear to show off his hot ass. Bending over he reaches back and spreads his cheeks to show off his tight pucker hole. Then Simon stands straight up again, and turns to let us see his soft cock and his balls. He sits down, reclining to give us a good view of his hot body. Taking hold of his cock he then gets it nice and hard. He stands up to show it off, and it is a very good size. It stands proud as Simon poses. He then lays on his back, with his legs up in the air. That hot ass is shown, and the cheeks are spread to give another view of his hot hole. More wanking gets his big dick good and hard again. He is a very good looking guy and really shows himself off very well indeed.
Model Name: Simon Beber
Age: 18
Home Town: Ostrava
Height: 180cm/5'10"
Weight: 70kg/154lb
Foot Size: EU44/US8.9/UK8.4
Penis Size: 19cm/7.48″
Profession/Student of: Unemployed
Hobbies: Cycling
Favorite Sports: Cycling
Active Sports: Freeride
Movie/Music/Sport Stars: Dara Rolins
Visited Coutries: Slovakia
Want to Visit Coutries: Poland
Dream of My Life: To be a star!
Zodiac Sign: Gemini (May 21 – June 20)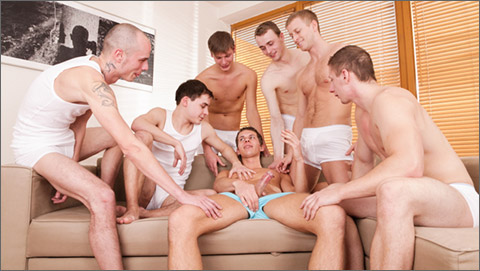 GAYKKAKE 2
Timoti is busy jerking off, but then falls asleep with his dick in his hand. When he awakens he notices that he blew his load all over himself. He then closes his eyes again and starts his wet dream all over again. The guys are all sitting around watching TV and just hanging when the pizza man (Tony) shows up. No one has money for the pizza, so as a compromise Tony just wants some dick. Andrew is feeling lonely so he goes out for a drink. Once he gets there he notices that all his friends are there; they make a toast for him and tell him that his glass will always be full. Cheryl, Chris's best friend decides to surprise him for his Birthday. She brings him to a room blind folded and tells him to wait. When he opens his eyes he gets the surprise of his life.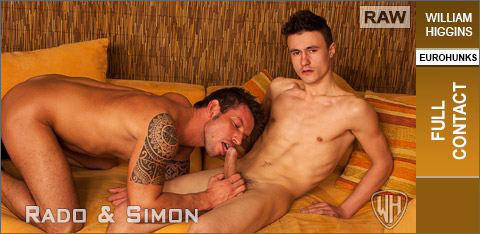 FULL CONTACT: RADO ZUSKA & SIMON BEBER RAW
Rado Zuska is a very hot hunk, and we find him driving in the city, looking for the soccer stadium. He stops to ask Simon Beber where it is, inviting him in the car to show him where to go. Simon is very impressed with Rado's car, and his apparent wealth. As the conversation proceeds it seems that Simon is ready to do anything for money. This encourages Rado to reach over and grope him. Simon responds, and kisses Rado, then he goes with him after being offered some money. Once inside they kiss some more, stripping each other to the waist. Rado's big cock is soon free, and rock hard. Simon wanks it and then goes down on it, sucking it into his mouth. That big cock looks so good as Simon's head bobs on it. Rado then pulls Simon's jeans down, releasing his stiff cock too. He gets Simon on the sofa and sucks on his cock. It is big, thick and so hard as Rado's mouth works on it. Simon reaches for Rado's dick and wanks him as his own throbs in that hot mouth. Rado moves up to kiss Simon again and then returns to sucking him. He then gets onto his knees, for Simon to suck him some more. He fucks his cock in and out of Simon's mouth before returning to sucking him again. Rado loves ass play too and presents his hot hole to Simon, who eagerly starts rimming it. Then he slips a finger into that hot ass, quickly replacing it with his big, fat dick. His cock works in and out of Rado's ass, going nice and deep. Rado breathes heavily as his ass is filled by Simon's huge tool. Simon works his cock deep into that hot hole before laying on the sofa so that Rado can ride his pole. Rado's ass slides up and down on the thick shaft, taking every inch. Then Simon takes over, thrusting his cock up into that ass. Rado turns around and rides again, as Simon reaches round and wanks him. Moving to missionary position Rado wanks his stiff cock as Simon's dick keeps fucking him. With that cock deep in his ass Rado's wanking soon has him shooting a massive load of creamy cum all over himself. Simon keeps fucking that beautiful ass as Rado milks his cock dry. His fucking gets harder and faster and then Simon pulls out, to shoot his own hot cum. He shoves his cock back in that hot ass to milk the rest of the cum out inside Rado. Then he leans over and kisses his new friend after a great fuck.
WILLIAM HIGGINS
STR8HELL
MILE HIGH MEDIA / MALE REALITY
BIG DADDY
CLICK HERE TO GO TO HIS WILLIAM HIGGINS BIO PAGE