Czech Gay Porn Star, Alexander Dorch
Known Aliases: Sammy Danko, Adam, Chose Pradley, Elias Jarrel, Jimmy, Jiri Prazan
Years Active: 2014 – 2015
STAXUS INFO:
Alexander is an amazingly gorgeous guy who loves many different sports, music, cooking, and he's always ready and willing to fuck.
Date of birth: 15th April 1992
Height: 6′ / 183 cm
Cock size: 6.9″ / 17.5 cm
Ethnicity: Czech
Role: Versatile
Interesting Fact: Alexander is a great cook!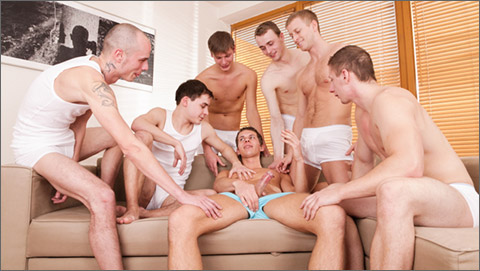 GAYKKAKE 2
Timoti is busy jerking off, but then falls asleep with his dick in his hand. When he awakens he notices that he blew his load all over himself. He then closes his eyes again and starts his wet dream all over again. The guys are all sitting around watching TV and just hanging when the pizza man (Tony) shows up. No one has money for the pizza, so as a compromise Tony just wants some dick. Andrew is feeling lonely so he goes out for a drink. Once he gets there he notices that all his friends are there; they make a toast for him and tell him that his glass will always be full. Cheryl, Chris's best friend decides to surprise him for his Birthday. She brings him to a room blind folded and tells him to wait. When he opens his eyes he gets the surprise of his life.
MILE HIGH MEDIA / MALE REALITY
EAST BOYS
STAXUS