Sexy Tattooed ChaosMen Amateur Gay Porn Guy, Shepherd
Years Active: 2016
BRIAN OCKERT / CHAOS MEN INFO:
Start Age: 23
Debuted: March 7, 2016
Height: 5'10"
Weight: 175 lbs
Cock: 7″ Cut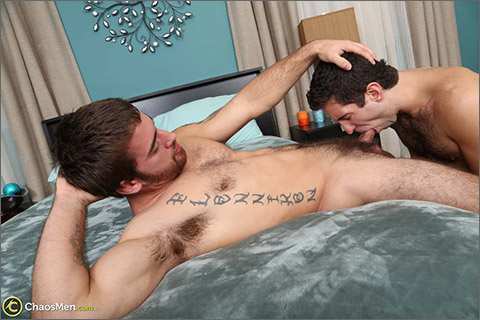 SERVICED: SEAN PEYTON & SHEPHERD
I thought Shepherd would be nervous, but just like his solo, his cock was ready to go before Sean could get his shorts off.
   Shepherd has a quiet yet bossy vibe about him. Sean buries his nose into Shepherd's musky pubes. Shepherd stayed totally in the moment, relishing having his cock serviced. No sneak peeks at straight porn, he was there to be serviced and to play with another dude.
   He also played with Sean's cock, and they jousted for a bit. There is an energy about him that I really like. Bossy, masculine, but also really wanting to please his buddy. I get a "I'm horny, your horny, so let's jerk and suck each other off here in the locker room." vibe about him!
   Shepherd dives in to give Sean's cock a good sucking, while his own cock drips pre-cum. I think it is safe to say, that Shepherd was turned on doing this video!
   After Shepherd finishes sucking Sean's cock, Sean pushes him onto the bed to attack his cock at a different angle.
   They also 69 for a bit. I love seeing Sean's cock buried into Shepherd's throat with no escape! The whole time, his cock is rock hard while Sean works it.
   Shepherd knew he would have to stroke his own cock in order to cum, so he jerks a load into Sean's open mouth. One laser beam of cum wings the side of his head, but the rest gets lapped up.
   Sean takes a couple minutes to ramp up his own cock, and dumps his load onto Shepherds still semi-hard cock.
   Both guys did great in this video, and I am eager to get them both back in!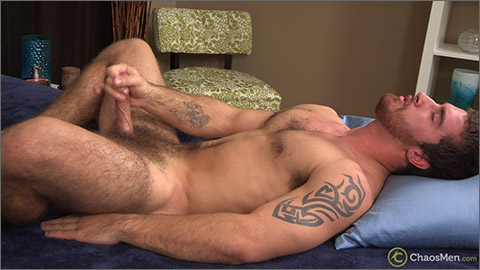 SOLO: SHEPHERD
Shepherd is a Southern dude who is all natural. Love his body hair! He has hairy pits, a big bush, and long dangling balls! You can hear a bit of his accent when he answers the questions.
   He works a warehouse job, but also spends a lot of time training and competing in Martial Arts. It sounded like he has a lot of wins under his belt. He even went to Thailand to train, so he is pretty serious about it.
   Shepherd is into girls, but said he had messed around with another, swapping oral, when he was young and horny. He figured he'd be fine to do guy-on-guy stuff, and there might be some natural curiosity there.
   I would love put him with Vander! They look similar, and he does have a nice natural musk trapped in those pits and pubes that Vander would appreciate. He definitely smells like a dude and he needs to have his pits worshipped!
   Shepherd was very calm and serious about doing the solo. He wasn't nervous, and to be honest, I don't think I ever once saw his cock soft. Even for photos he sprung out hard. He played with himself during the interview, and when he strips down for us, that is about as soft as I saw it. The longer he stood their naked, the harder he seemed to get!
   He will be back next week to swap oral, and I am eager get him on Team Chaos!
CLICK HERE TO GO TO HIS CHAOSMEN BIO PAGE