ChaosMen Amateur Gay Porn Guy, Kenneth
Years Active: 2016
BRIAN OCKERT / CHAOS MEN INFO:
Start Age: 26
Debuted: February 29, 2016
Height: 5'11"
Weight: 185 lbs
Cock: 8″ Cut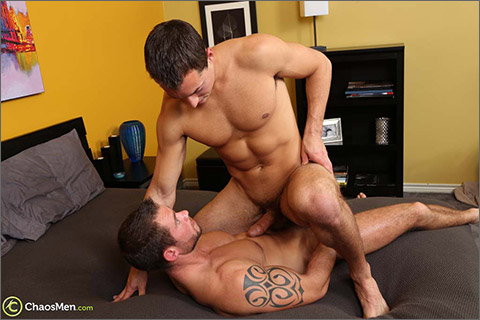 RAW: COOPER REED & KENNETH
Kenneth is another new guy who is trying to step his way through his limits. It seems like about half of the straight guys will opt to bottom their first time out, thinking they will not be able to stay hard to top. The other half of course think it will hurt or is too gay for them.
   Kenneth's girl already knows her way around his ass, so he was not nearly as worried about bottoming as most guys.
   I started him with a pro, Cooper Reed, who was still waiting on delays to go back into the military fulltime. Every month they would put him off, and finally they just said it would be after the holidays, so I got it him back one more time before it might be challenging to work around his schedule.
   Like many newbies, Kenneth was not ready to kiss, or suck dick back, but at least he was willing to take a cock in his ass. Unlike other guys, I think he will be able to move past these limits. I have had a lot of new guys, so please be patient and they work through their limits. It feels a bit like the audience expects these guys to be porn stars right out of the gate, but I find it interesting watching them grow.
   The two do a side-by-side jerk-off, and then start stroking each other. Cooper leans on in and starts to suck on Kenneth's thick cock. Next, Cooper lays on the bed so that Kenneth can fuck his face. Kenneth reaches out and strokes Cooper as he grinds his cock into Cooper's face.
   Cooper rims his hole, getting it all wet and slick for him to fuck him.
   When it comes time to fuck Kenneth, you can tell it is his first time. His head is down as he tries to open up for his first cock. Cooper takes it easy on him to start with, but then winds up his fucking speed.
   Next, Kenneth sits on Cooper's cock, and his muscled ass looks amazing squatting on it. His poor quads were killing him after that. Kenneth's cock stays surprisingly plump while riding his cock.
   I was hoping that Kenneth could cum from getting fucked, and sure enough, having him on his back while he stroked his cock did the trick!
   Cooper then give Kenneth his first creampie!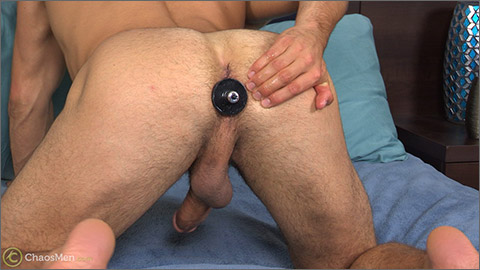 SOLO: KENNETH
I love Kenneth's body! Enviable pecs, biceps and quads! He also is packing an 8″ cock!
   He and his girlfriend had tried to setup some adult video work as a couple, but it sounds like their first foray into the video world was a scam. His girlfriend seems to be sexually fluid and adventurous, so she encouraged Kenneth to find some guy-on-guy video work while they figured out how best to market themselves as a couple.
   They both have a kinky side, and Kenneth revealed he really did like anal play. I offered a butt plug for the video. He thought the size was large (it's not) and I realized the butt plug he used at home was no bigger than a finger.
   I did worry that he would go to insert the toy and find that he could not tolerate it. Thankfully, he naturally used his fingers first to loosen up his hole, and you can tell the extra anal stimulation is what got him hard.
   After he strokes his cock, he gets doggie-style and slides the butt-plug in. It takes him a few moments to take it in, but he was a happy bottom, stroking his cock with his ass plugged.
   He gets on his back for the cum shot, turning the vibration on. Took him no time at all to bust a load out of his thick cock!
   Kenneth says he will come back to get oral, so stay tuned for that next week. He also indicated he might be down to fuck or be fucked, and I will definitely try to get him back for more!
CLICK HERE TO GO TO HIS CHAOSMEN BIO PAGE