"Bad Boy" American Gay Porn Star, Shawn Reeve
Known Aliases: Shawn Reeves
Years Active: 2016 – 2019
COLLEGE DUDES INFO:
Age: 22
Height: 6.3 (191cm)
Weight: 205
Shoe: 12 US (46 EU)
Cock: 6.0 (15cm) Cut
In his own words: I think of myself as a sex machine that loves a good steak after a heavy round of wrestling with my sex partner.
Our comments: Shawn is a down to earth guy that likes hanging out with his friends and just being himself.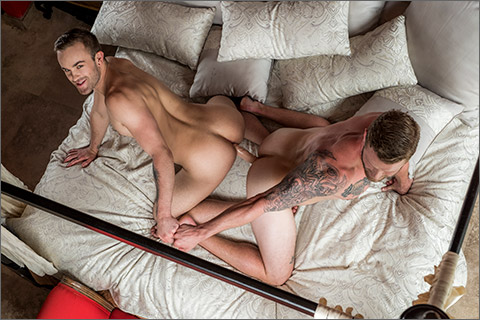 BAREBACK AUDITIONS 10 – RAW DOGGED: Shawn Reeve Tops Jackson Radiz Bareback
Shawn Reeve makes the new Lucas Man Jackson Radiz feel at home with a friendly bedside interview at the beginning of the second scene in "Bareback Auditions 10: Raw-Dogged." But you know what would make Jackson feel even more at ease? Servicing raw cock, so once the talking tapers off, the guys strip down and Shawn presents his rock-hard cock to Jackson, who wastes no time taking it into his mouth and sucking. Shawn isn't shy about his desire to rough up Jackson; he slams the bottom up the ass. And to spice it up, the guys bring out and share a double-headed dildo!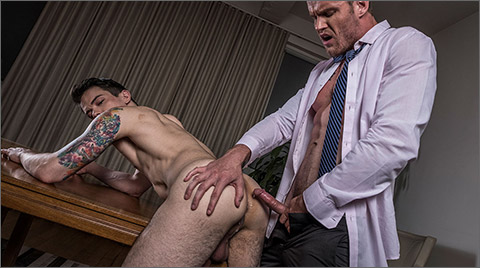 GENTLEMEN 21 – TOP MANAGEMENT: Shawn Reeve And Dakota Payne | Internship Gone Raw
It's time for the wunderkind Shawn Reeve to make his final decision: does Dakota Payne have what it takes to be a successful intern? But the determining factor is whether or not Dakota Payne is willing to put in some overtime. Sure, the internship might be unpaid, but when you get fucked up the ass by a boss as hot as Shawn Reeve, who's going to complain about staying late some nights? Dakota sure isn't!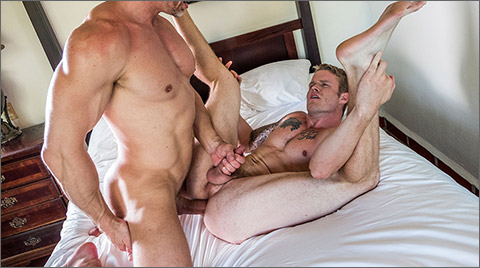 BOTTOM BOY BITCHES: Shawn Reeve Rides Tomas Brand's Top-Daddy Cock
Shawn Reeve wakes up to find himself alone in bed. His top-daddy lover, Tomas Brand, did a good job wearing him out the night before by fucking him rough and raw in the ass. The next morning, Shawn finds Tomas in the shower cleaning up, and the sight of the water running down his exquisite physique gets him hard all over again; Shawn starts playing with his hard-on as he watches. Tomas isn't one to ignore the needs of his boy, so he takes Shawn to bed all over again and fucks the hell out of him. Tomas' cock is fat and uncut, and Shawn proves he's a real taker when he's bouncing on his daddy's dick at the 10:50 time stamp.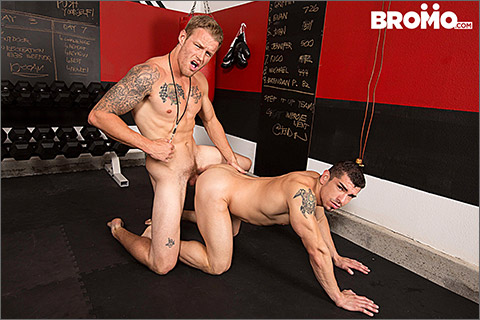 TRAIN ME (all scenes)
Jeremy Spreadums has a hot new personal trainer (Shawn Reeve) at the gym who strives to push him further. Jeremy however, is a bit distracted by Shawn's huge bulge and flirty hands. When the tension between them gets to be too much during their workout, the guys give in to their desires and Jeremy goes down on Shawn's big dick. Before long, Shawn is sliding his big dick raw inside Jeremy's big round ass and pummels it until there's jizz all over them.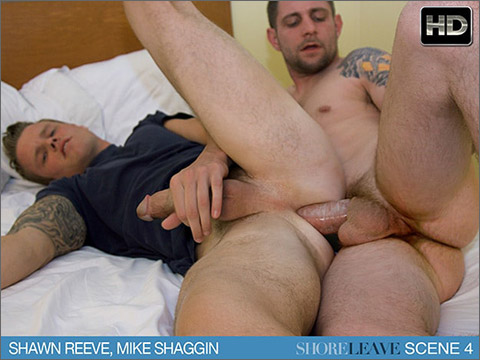 SHORE LEAVE: Mike Shaggin fucks Shawn Reeve
Fredderick is one horny seaman on shore leave. He gets home from work and puts on some porn, stroking his hard cock while reminiscing about his sexy navy buddies and what action they might be getting into. In the first scene, Alex is out enjoying the day, looking for some trouble when JJ comes along and invites him back to his place for a few beer. Before long, it's more than beer they are sucking back. Watch this horny navy stud bend over and take JJ's huge cock. Fredderick is getting hornier by the moment thinking about all the past action at the "old hole". The memories of Mikey and Mr. Digler feeding him their hot cocks is enough to make him want to explode. In the next scene Matt, a stranded marine needs a little help, luckily for him, Derek, a hot, dark stud drops by to lend a hand. You won't want to miss this hot marine bend over and take a huge black cock in his hungry white ass. Mike and Shawn are just 2 horny navy buddies returning home from a night of drinking. It doesn't take long before Shawn is begging to be fucked by Mike's huge cock.

FLIP CUP 2 BAREBACK FUCK
What started up as a game of Flip Cup at a frat party quickly turns into an all-out bareback fuck-fest when the winners get to have full control over the losers' tight asses. The result is one hot bareback orgy they won't soon forget, and neither will you.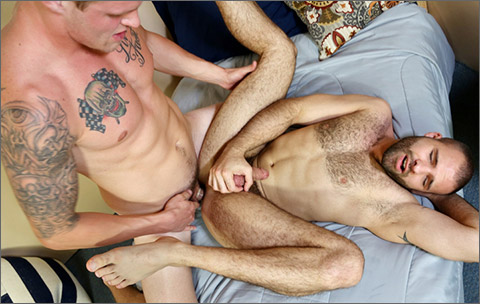 SHAWN REEVE FUCKS BRAXTON SMITH
Braxton Smith can't keep his hungry hands off of Shawn Reeve, exploring his body, mouth and cock as he gets on his knees and wraps his lips around Shawn's member. Shawn watches Braxton work his cock with that expert mouth, getting him hard in seconds as Braxton takes that dick deep down his throat while he plays with his own member.
   But when Braxton has gotten himself horny and is need of some oral, Shawn is there to deliver, sucking that sweet cock while Braxton pushes his head a little bit deeper. When these guys have had their fun with sucking cock, Braxton sticks his ass out and takes Shawn's hard dick, letting him fuck him deep as he has Braxton up against the wall.
   They move things to the bed and Braxton gets on his back, spreads his legs and invites Shawn to stick him with that fat cock, and Shawn buries himself in Braxton and pounds him until they switch and Braxton's riding Shawn's dick next! Braxton's sexy ass bounces as he moves up and down on Shawn until Braxton drains his cock all over Shawn and then gets Shawn off and watches his cum fly as he shoots a big load!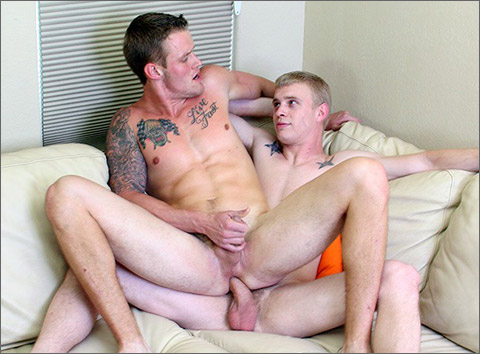 RAW CASTINGS #123: SHAWN REEVES
Shawn is in the hot seat on his way to the studio. He is a self-proclaimed porn addict who is excited about finally getting into the industry. He says that he is straight, even though he has had some experiences with guys. Although the majority of his experiences has been with women, he has both fucked and been fucked by other men. He usually needs to be drunk for that to happen, or so it seems. Alternatively, he has also tried escorting once, when he needed some money to modify a racing car of his. The things a sexy young stud will do for some cash! The casting director has decided to put Shawn with seasoned performer Joe Shawn. Joe initiates the casting video with an interview, and we soon learn that Shawn is quite the talker! Finally, after quite a bit of rambling on Shawn's part, Joe asks, "How do you feel about giving me head?" Shawn smiles and says, "Let's do it!" Getting a dick into Shawn's mouth sure is one way to get him to stop talking. And Sean can suck a dick! Joe mentions that he is doing very well, and it certainly looks like it. After proving his cocksucking skills, it's time for the big event. Shawn lies on the couch and puts his legs in the air. He looks great – Sean is in amazing shape. As Joe slowly slides his raw dick into Shawn's hole, he comments that Shawn's hole is tight. Nevertheless, Shawn loosens up after a second, and Joe picks up the pace. Once his hole gets lubed up, Shawn can really take a pounding. The director zooms up on his ass when Joe pulls out for a re-positioning. Shawn's hole is pretty and pink – it looks delicious! Shawn tries his hand at riding next. Although he says that he has never ridden a cock before, he does an admirable job of it. Joe certainly is happy as Shawn slides up and down on his bare cock. After a few minute, Joe gets Shawn into a pile driver position and fucks him hard. Shawn is putting that ass to work! He seems like a natural, even as Joe goes whole-hog on his tiny tight hole. You can tell that he is getting fucked good by the grimaces on his face. Once Joe is close, he pulls out a delivers a large load of jizz all over Shawn's freshly fucked hole. Shawn then gets himself off easily. Shawn is still breathing heavily from a satisfying experience. The director asks him how he thinks he did. Shawn thinks he did a great job, and Joe agrees. This is definitely a fantastic raw casting!
CLICK HERE TO GO TO HIS COLLEGE DUDES DETAILS
VIDEO ON-DEMAND: Shawn Reeve @ AEBN SMUTJUNKIES THEATER
DVDs & ON-DEMAND: Shawn Reeve @ TLA VIDEO