Horse Hung Playgirl and Men model Titan Men exclusive Gay Porn Star, David Anthony
Known Aliases / aka:
Years Active: 2007 – 2017
TITAN MEN INFO:
Age: 47
Height: 5'10"
Penis Length: 9″ Cut
Bio: I have a Masters Degree in Electrical Engineering and spent many years working in the Czech Republic. I know spend most of my time on my farm in Eastern Pennsylvania.
Turn-ons: Rough, rugged, masculine men.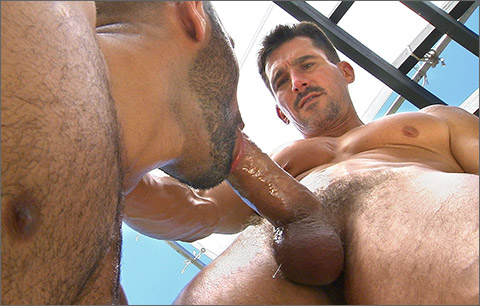 BLIND SPOT: David Anthony fucks Leo Forte
Rookie golfer David Anthony sends his ball into the drink of sunbather Leo Forte: "You gonna show me how sorry you really are?" asks the muscular vacationer. David deep throats the shaved-headed stud, gagging as he slurps. Leo returns the favor, worshipping David's huge meat. The sucker opens wide, his nose and lips buried at the base of the thick beast. The spit strands come fast and furious, clinging to David's cock and falling to the ground as the breathless sucker shows off his skill. The two squirt before Leo gets his hole munched, David warming it up as Leo strokes him. The chiseled top slides his dick in, the two staying stiff as low shots capture their banging balls. On his back, Leo gets pounded as his own boner gets stroked, the bottom beating it on David's abs. Leo grabs the top's pec as he gets fucked, two loads soon coating him.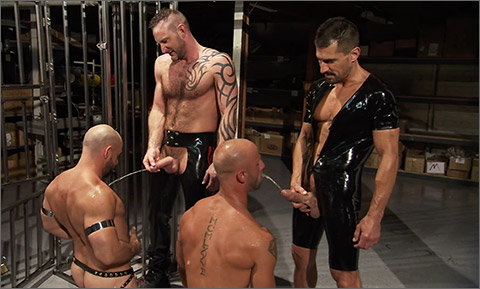 CAGED: David Anthony, Aymeric DeVille, Tibor Wolfe with Gio Forte piss & suck cock
His tan muscle bod trapped in a cage, Aymeric DeVille is at the mercy of his captors. From above, three alpha males are already exerting their authority on him. Draped in latex and leather that accentuates their tight frames, David Anthony, Tibor Wolfe and Gio Forte piss onto Aymeric's shaved head. The urine slides down his smooth, tattooed skin as he rubs it all over his body, savoring every drop. The trio makes its way down, sliding their strong hands inside to rub Aymeric's stunning build. David slips his monster boner through the bars as Aymeric opens wide, tugging on David's sac as he slurps. Gio turns his attention to tall, hairy and tattooed Tibor, who slams his big slab on his bud's face before feeding him. David teases Aymeric, making the prisoner reach his muscular arm out to slap the steel cock. Released from his cage, Aymeric continues to devour dick. David spits down into his mouth, the eager tongue lapping up every drop. Tibor and David kiss as they get sucked side by side, then step back to piss on their pleasers. After soaking them, they drop down to suck the studs. As Tibor feasts on Gio's stiff shaft, David spits on Aymeric's uncut meat and balls, the saliva soon dripping down his massive quads in a hot wet mess of a sequence. The action ends as Aymeric kneels down, his incredible chest soon soaked with cum that he rubs all over his pecs before dumping his own load.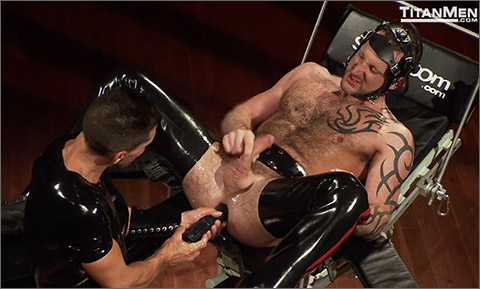 CAGED: David Anthony fucks and dildo-fucks Tibor Wolfe
Fresh from their intense oral orgy, David and Tibor retreat deeper into the dark building. Now in headgear, Tibor bends over and offers his ass. David fingers the submissive stud, spreading Tibor's cheeks and burying his tongue inside as his goatee bristles against the bottom's hairy hole. Tibor begs to get fucked and David quickly complies, sliding his super-hung cock inside. What follows is a fast and furious fuck that has Tibor grunting, his balls frantically bouncing from below. With his defined muscles bursting out his shiny black latex, David grabs hold of Tibor's shoulders and pounds him doggie style, slapping the bottom's ass as he rams him deep. With his handsome face working up a sweat, David holds on to Tibor's biceps as he continues to plow. Soon on his back, Tibor gets a deep dildo fuck that has his big dick hard as a rock. With his ass plugged, Tibor pisses into David's mouth before getting dildo-fucked again. David then gloves up his hands and slides one inside, fisting the insatiable bottom. Tibor strokes his impressively stiff cock as David grinds away, soon sucking on Tibor's shaft as spit strands dangle from his mouth. David then pisses all over the bottom's hairy chest before squirting, Tibor rubbing the top's muscular arm as David unleashes his load.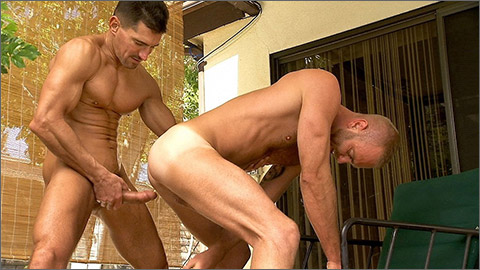 SCORCHED: David Anthony fucks Jock Hudson
Relaxing on the patio, Jock Hudson rubs his hairy chest as he strokes his stiff slab. Tan god David Anthony approaches the seated stud, feeding him a thumb. Jock flashes his signature smile—then buries his bearded face on his bud's massive jean bulge. With David's monster cock
soon unleashed, Jock milks it like a madman—beautifully tonguing and teasing the shaft before he dives down deep. The two take turns whipping David's cock up, Jock's tongue soon demanding a kiss. David grabs hold of his sac and feeds his balls to Jock, who also gets more fingers and dick in his hungry mouth as he strokes his own big beauty. As his balls get licked, David shoots his load on Jock—who rubs the cum into his hairy bod before squirting. Jock gets his hole slurped, also bending his limber body to stroke David at the same time. The top soon grinds his beast on Jock's gorgeous tan-lined ass before fucking him deep, working up a great rhythm as he plows him from behind. David's muscles tighten and twitch as he gets Jock breathing hard. Soon on his back, the bottom strokes his hardon as he gets fucked, the two staring at each other as their smiles light up the screen. David spits down on Jock's boner as he fucks him, then feeds him more fingers before dousing him with another huge load as an "Oh fuck!" fills the air. Jock rubs the cum in again before another kiss ends the action.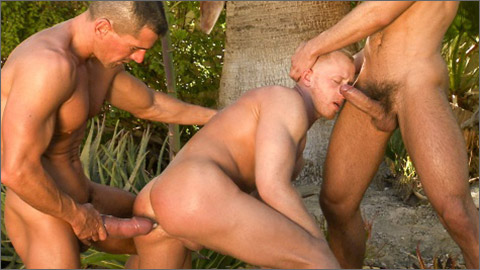 DUST DEVILS: David Anthony fucks JR Matthews and Dario Beck
Wandering the stunning rock formations, three cruisers are drawn to each other like magnets. Handsome David Anthony finds his smooth, sculpted body surrounded by tan and hairy Dario Beck and smooth JR Matthews. As David's big balls and cock rest in the breeze, his admirers rub his perfect frame. Dario is the first to get a taste of David's manhood, soon glistening with spit. A hot low shot looks up at the action, the three built bodies framed by nature's beauty. The three move to a more secluded area as Dario feasts on JR's dick, which explodes from his jockstrap. David spits down on JR's cock while cradling him in his bulging bicep. Dario then gets double-teamed: As David feeds his thumb to the toned cutie, JR slurps his uncut meat. JR then sucks David, who grips his own sac and spits down as JR licks it. The sucker's hot red cock throbs, and soon the three squirt. After munching on JR's hole, David shoves his monster meat inside as the bottom sucks Dario—who then bends over for JR, staying stiff as he gets fucked. David then plows Dario's ass deep before the three come again in a great sequence that has David's muscles tightening as he climaxes, the satisfied stud soon resting his head in Dario's chest.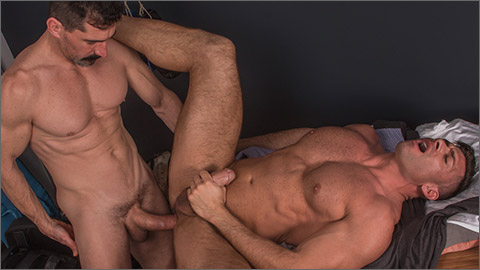 JOE GAGE'S STOPOVER IN BONDS CORNER: David Anthony fucks Bruce Beckham
David Anthony talks with parent Bruce Beckham, whose son (Luke Adams) is becoming sexually suggestive with his coach. "I think you're gonna have to show me," says Bruce, who is soon staring at David's massive dick. He whips out his own as they stare at each other, David's boner throbbing up and hitting Bruce's beast. The two worship each other's monsters, side shots capturing their deep throats on display—Bruce fingering a stand of spit stuck to David's mouth. David pounds Bruce's hole, their pecs shaking before he goes in deep and stays there—the two soon shooting.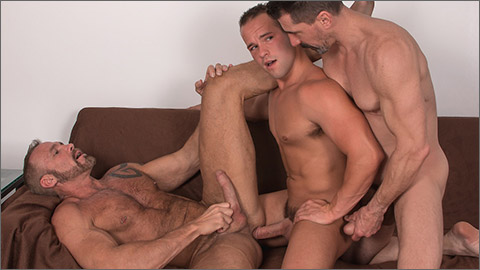 JOE GAGE'S STOPOVER IN BONDS CORNER: David Anthony fucks Dallas Steele & Luke Adams
Lounging at his bud David's house, Dallas takes out his dick—but is interrupted by a knock at the door, a surprised Luke coming to apologize for his behavior towards his coach. "You're gonna have to prove it, son," says David. "I want you to go over to my friend…now suck it." Luke takes turns on their huge cocks, opening wide as he chokes. The two suck him back, Luke soon fucking Dallas as David feeds the bottom. Luke then gets on all fours, the two studs taking turns stuffing him at each end: "Suck my buddy's dick!" yells David as he fucks him. "That's it, boy!" David fucks Dallas—Luke opening wide as the two shoot, stuffing both of their cum-soaked dick heads in his mouth at once.
CLICK HERE TO GO TO HIS TITAN MEN DETAILS
VIDEO ON-DEMAND: David Anthony @ AEBN SMUTJUNKIES THEATER
Hot or Not? Let us know.
[Total:

127

Average:

4.1

]