Slender American Twink Gay Porn Star, Sean Ford
Known Aliases:
Years Active: 2017 – 2020
COCKYBOYS INFO:
It's likely that Sean Ford will contradict most, if not all of your assumptions…even if you think you already know him from his previous work. This handsome, placid-looking young man from Arkansas is a fun, athletic and sexual guy but he's also intelligent, very well-spoken and carries a very mature attitude and outlook on life. He has a weakness for jock-types but is also turned on by those who can also stimulate his mind. In the same vein, Sean is someone who enjoys the pleasure of sex and doing porn, but who also wants to bring an artistic sex-positive approach to the genre. He may not appear so in pictures, but Sean is uninhibited both on camera and off, an open book who invites you to read every chapter.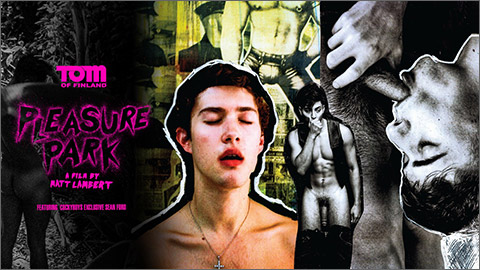 TOM OF FINLAND – PLEASURE PARK
Men.com's tribute to the work and legacy of legendary gay porn visionary Tom of Finland continues as director Matt Lambert ventures into the territory of the postmodern with CockyBoys Exclusive Sean Ford, Angel Rivera, Tannor Reed, River Wilson, and Joey Mills. The nude twinks hang out at the Pleasure Park, shooting the breeze, challenging each other to self-suck, and bonding over the question, "What would you do if the world was ending tomorrow?" As the day turns to night, the sunny teen sex party turns into a rock-n-roll-fueled orgy!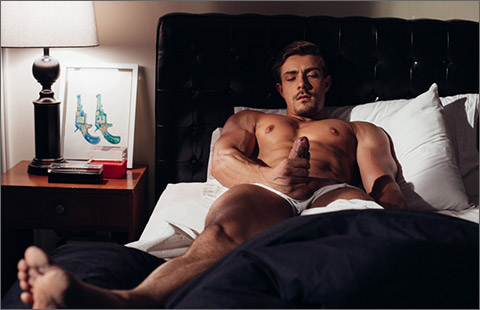 LE GARÇON SCANDALEUX: Ben Masters Fucks Paul Delay, Carter Dane Solo With Sean Ford
CockyBoys & Pink X invite you on a trip to Paris where three models embark on sexual adventures instigated by Sean Ford, The Scandalous Boy. Seemingly aloof Sean is inspired by a famous gravestone visit to make the most of their Paris Fashion Week trip by issuing a challenge to his fellow models Cory Kane & Ben Masters. They're all to make old school sexual conquests "fairly & without restrictions, on the street & in the dark".
   Late one afternoon a fitting yields a first conquest…for Ben Masters. His head is turned by the arrival of French Twinks star Paul Delay whose provocative undergarments and a flirty look drive Ben to pursue him. He follows Paul to a bedroom where they make out and Ben rims him, still wearing his black lace garters & sheer black stockings! Ben pounds his ass, grips his long hair, holds him by the throat ad totally owns him.
   Paul sits on the bed to give some full deep head to Ben who in turn slowly removes his fetish wear to lovingly suck him into further submission. Ben soon turns to sliding his cock into Paul and thrusting him from the side and drilling the moaning bottom on his back. Ben's cock finds its target and fucks a load out of Paul before gushing an even bigger, thicker load over the sweet Frenchman. They lie together afterward, happily gazing into each other's eyes. Oh, l'amour!
   Meanwhile on his first night in Paris tourist Carter Dane passes by a gay book store where inside he sees Sean Ford & Cory Kane browsing. Cautiously entering and eavesdropping on the couple, Carter speaks up to chat with Sean, the guy he recognizes. Sean pretends he needs his memory jogged, but soon recalls a "interesting" encounter he had with Carter at a destination wedding…
   Late at night is horny and restless and has to masturbate while in his bedroom. In the throes of his intense pleasure Sean knocks & enters and, well aware of Carter's sleepless dilemma, offers to help him out. Sean has a kinky idea. He ties Carter's wrists over his head and teases his body with the luscious lips Carter confesses had been thinking about all day.
   Sean tortuously edges Carter by sucking his cock, grinding his ass on it, kissing him passionately. Sean ratches up the edging by feeding his cock to Carter, turning around and giving him his ass to eat out, and humping his abs. Finally though he turns around and seemingly without effort milks a thick load out of his cock.
   Back in the present Sean invites Carter to join them at a party and brazenly cajoles Cory to give "stick in the mud" Carter him a sneak peek of his cock…right in the middle of the book store! What does wickedly mischievous Sean have in mind for later? Stay tuned…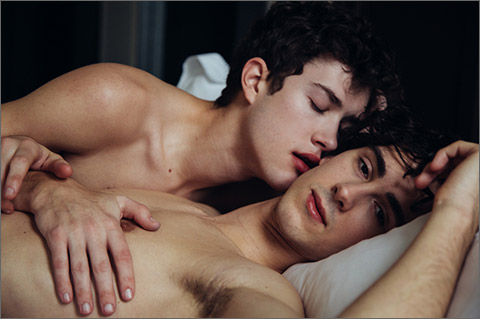 LE GARÇON SCANDALEUX: Sean Ford Fucks Paul Delay
The city of love & romance casts its spell on the unlikely target of cynical, sarcastically witty Sean Ford! After picking up flirty Paul Delay at the sex club, they go on a late night stroll on the streets of Paris and Sean confesses to himself his own hopeless romantic nature. But it's when Paul takes him home that Sean slowly removes the mask.
   In his flat Paul's sweet words and delicious kisses and his seductive and slow foreplay melt Sean's heart …as well as harden his cock. Just undressing and necking in the mirror gets them both so excited that they have to act. Face to face, they jerk each other's cocks until Paul goes down on Sean and sucks him off. Sean rewards him with a facial and helps Paul get off. End of hook-up? No, Sean spends the rest of the night sleeping in Paul's bed.
   In the morning Sean cannot resist the temptation and wakes Paul with kisses and again Paul's sweet words chip away at Sean's cynical wall. In response Sean treats him to a passion-inspired blowjob followed by an equally involved rimming that puts Paul in a state of heightened ecstasy. And, just knowing Paul wants it, Sean slides his cock in to fuck him on his back
   Paul gets increasingly vocal and verbal as Sean fucks him deep but not hard, and turns him over to thrust into him. As he presses his body against Paul, he necks with him and when Sean fucks him from the side he grows more intimate. Finally Sean gets him on his back again to fuck a huge, long-lasting load out of him and follows by cumming over his hole and balls. In the afterglow they lie together and Paul's words gives Sean reason to say, "I may have just fallen in love with you"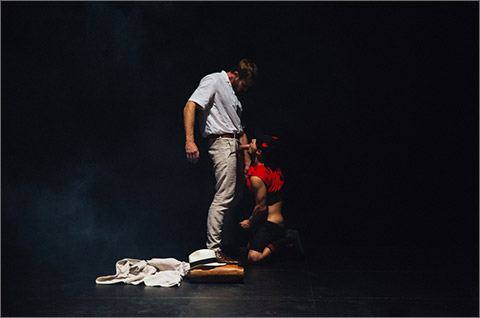 BRUCE LABRUCE'S FLEA PIT: DIABLO IN MADRID – A NEW FILM BY BRUCE LABRUCE
Allen King, Colby Keller & Sean Ford
https://cockyboys.com/scenes/Diablo-In-Madrid-Allen-King-Sean-Ford.html?type=vids
From the depths of the underworld demon Allen King crawls out of an open tomb and makes irreverent mischief on the hallowed grounds of a Madrid cemetery. He defiles graves, sexually teases a young mourner almost lured by the temptation, and struts about the cemetery, pitchfork in hand. Allen turns his wicked intentions to Colby Keller, engrossed in his book until the demon sits next to him, plays with his cock, and sparks the professorial gentleman to follow him inside a hidden mausoleum vault. In the smoky darkness Allen easily seduces Colby to his knees to suck him and then sucks Colby so expertly that that he explodes in cum within a minute.
   As he and Colby leave the tomb Allen is unaware of the presence of angel Sean Ford and he moves on, still full of lust and mischief. He mocks a vulnerable man grieving at his husband's grave and who falls prey to Allen's temptation, He is soon sucking him off inside a mausoleum and getting a demon seed facial. Allen finds another mourner to tempt but this time angel Sean intervenes and tries to wrestle him away. The diablo's lust for the angel grows intensely and he tries to kiss him as they wrestle and fight from the cemetery to the city streets and into an occupied apartment.
   Unseen by the tenant they continue to brawl as clothes come off and Allen forces himself on Sean. The angel keeps struggling until Allen's cock is shoved into his mouth and the taste of foreskin breaks down the last wall of resistance. Sean sucks Allen's cock, they kiss passionately and Sean returns to sucking Allen who smiles with demonic glee. Eventually Allen takes off the rest of Sean's clothes to sucks and rim him and his true nature is revealed triumphantly as Allen finally fucks Sean.
   Sean rides Allen's cock with unfettered desire and Allen follows up by fucking him hard from behind with heart-pounding speed. Allen determinedly fucks Sean on his back, relentlessly pounding his hole until the angelic lad shoots over his smooth torso. The demon licks up his sweet cum and then shoots his thick load in Sean's mouth and on his chin….which seasons their final kiss. They soon embark on a journey together..but which of them is more transformed by the experience?
CLICK HERE TO GO TO HIS COCKYBOYS DETAILS
VIDEO ON-DEMAND: Sean Ford @ AEBN SMUTJUNKIES THEATER
DVDs & ON-DEMAND: Sean Ford @ TLA VIDEO