Handsome American CockyBoys Gay Porn Star, Damian Grey
Known Aliases:
Years Active: 2019 – 2020
COCKYBOYS INFO:
Handsome, Arkansas-born CockyBoys fan turned model Damian Grey didn't have it easy coming out at 17, but he persevered. Although there is some gay life where he's from, Damian wanted to do porn early on as an escape from what he calls his "lackluster" life and to explore a freer world & community. You can see from his big smile and expressive style that Damian is finding his way and enjoying this new freedom on his own terms.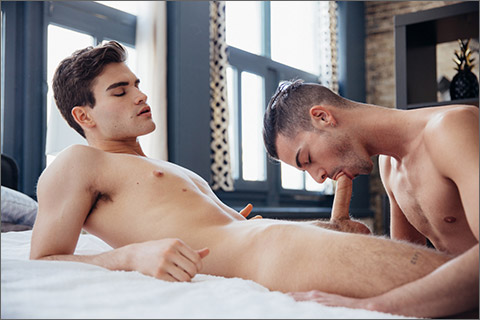 LE GARÇON SCANDALEUX: Cory Kane Fucks Damian Grey
It's Cory Kane's turn to take Sean Ford's challenge of hooking up the old school way while in Paris…a blind date with American model Damian Grey! It's set up by Sean himself whose brief encounter with flirty Southern model Damian on a photo shoot gives him the idea for the match-up. Later when they meet, Damian has no interest in small talk as he unzips Cory's pants and sucks him to full hardness in no time. He keeps going, only stopping to make out and strip down.
   Soon they're both naked and Cory gives Damian the same hungry cocksucking and in short order he turns him around to give him a deep slobbering rimming of his hairy hole. Cory replaces his mouth with his cock and teases Damian briefly before sliding hin and giving him the deep fucking he's craving. Cory goes faster, widening Damien's hole until he tells him to sit on his cock and ride him. Thrusting up into Damian Cory owns his ass and orders him to the bed.
   Lying Damian back Cory licks and sucks his big balls, eager to drain them as he strokes his throbbing boner. Damian wants to be fucked even more and Cory obliges, screwing him to the bed. In no time he fucks a thick load out of Damian and scoops up some of the jizz as lube to stroke his veiny cock. And soon Cory shoots too in a long cumshot that coats Damian's torso with twice as much cream. In the afterglow they kiss and cuddle. Not much later as Damian sweetly sleeps in his arms, Cory calls Sean to thank him for the best blind date ever!
CLICK HERE TO GO TO HIS COCKYBOYS DETAILS
VIDEO ON-DEMAND: Damian Grey @ AEBN SMUTJUNKIES THEATER
DVDs & ON-DEMAND: Damian Grey @ TLA VIDEO