Brash Handsome Tattooed American Gay Porn Star, Ricky Sinz
Known Aliases: Ricky "The Hammer" Sinz
Years Active: 2007 – 2012
RAGING STALLION INFO:
Ricky Sinz, one of Chicago's hottest hunks, has had a career in straight and bisexual porn. He is 100% bisexual and enjoys sex with men as much as with women. He served many years in the military, experience which he brought into play during the grueling GRUNTS shoot. Ricky played one of the sergeants (along with Jake Deckard and Roman Ragazzi) who made life miserable for the new recruits brought in for filming! Ricky has an elegantly tattooed body and will be featured in Ink Storm, RSS's new tattoo movie scheduled for a September release.
AEBN INFO:
Ricky "The Hammer" Sinz was born and raised in Chicago, Illinois, which he still calls home. In his younger days, he collected debts in the west side of Chicago. His nicknames include "Iceman," "Killer," "The Faceless One," and "The Hammer". Ricky spent eight years in the US Army as a Special Forces Staff Sergeant, three of those years in Iraq where where an explosive device caused head trauma, damaged his hearing in his right ear, and broke his right wrist. In those eight years, Sinz was responsible for 28 confirmed kills. After his time with the armed forces, Ricky became a professional fighter who fought in tournaments from California to Thailand.
   Currently signed as a Raging Stallion Exclusive, Ricky has won many awards from GAYVN, the Grabbys, and others. With the release of the smash hit cowboy fetish epic To the Last Man in 2008, Ricky's high profile got higher and he was named Raging Stallion's Man of the Year. That was also the year he began to branch out into mainstream roles, including a part in the controversial "Profane," a cutting edge fim project directed by Usama Alshaibi that explores the sexual role of prostitutes in Islam. At the 2009 GayVN Awards, Ricky was reported to have taken home more personal awards in one year than any other performer in GayVN history.
   Ricky has been married to a woman and identifies as bisexual. In addition to his gay porn roles, Ricky co-owns the straight film studio and porn site Hole and a Heartbeat with fellow male performer Gunner.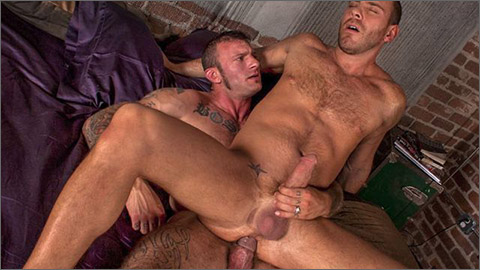 BRUTAL: Ricky Sinz fucks Drew Cutler
Betrayed and beaten down, both emotionally and physically, he seeks refuge with his partner Drew Cutler. Drew asks what's happened already knowing what has transpired. Drew tries to make Ricky feel better and rubs his wounds and kisses his bruised face. Drew rubs out Ricky's aching body, pushes him back on the bed and tries to make Ricky forget the day by giving him a nice long blow job. Ricky reciprocates and savors the musty man scent of his lover— he grabs his balls and works Drew's cock with his hand and mouth. Next Ricky turns Drew over on to the bed and mounts his ass from behind. It's not long before Ricky is pounding his frustrations out on Drew's hot man ass. Ricky pounds him good and hard. Drew loves to get fuck as he pivots his hips back fast and hard with a wild motion to get more of Ricky's rock hard cock. Drew flips over and rides Ricky cock hard. Drew becomes the insatiable bottom riding with reckless abandon as his throbbing fat member flops around in his own lap. Ricky turns Drew over onto his back and pound Drew once more sending him into a white creamy orgasm. Ricky pulls out and add to the load with his own hot load. First round is over but the battle is just beginning.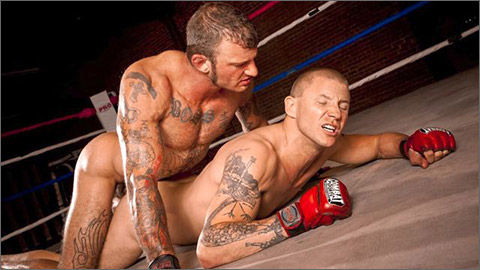 BRUTAL: Ricky Sinz and Brenn Wyson flip-fuck
Ricky and Brenn meet at Ricky's gym and square off in the ultimate battle. These two giant's go head to head, both stronger than they once were… they beat each other with no mercy. The gloves come off and its fucking Brenn in the ass giving him the ultimate defect submitting his opponent with his cock. At first Brenn seems to suffer total defeat loosing to his rival and getting it in the ass, but then Brenn gets the upper hand and fucks Ricky. Were these two more than just opponents? Ricky picks Brenn up and fucks him against the ropes getting out every last ounce of redemptions from his body. Enter Drew Ricky lover and assistant coach. Drew sees more than he wants to and splits the scene —for good. Ricky pounds Brenn's hole until he cums all over himself. Ricky jerks his cock sending his hot white cum all over Brenn's chest. The feud may have been settled once and for all but not before lots of sweat and cum.
FISTING CENTRAL / FETISH FORCE

JET SET
RVD FILMS

CLICK HERE TO GO TO HIS RAGING STALLION DETAILS
VIDEO ON-DEMAND: Ricky Sinz @ AEBN SMUTJUNKIES THEATER
ENDLESS UNLIMITED STREAMING: Ricky Sinz @ NAKEDSWORD