Hairy Handsome Gay Porn Star, Jessy Ares
Years Active: 2010 – 2020
TITANMAN PRESS RELEASE:
Newcomer Jessy Ares has signed on as the latest TitanMan exclusive, the studio announced Friday. The 30-year-old will make his erotic debut in the forthcoming HELLIONS. Helmer Brian Mills praised Ares' good looks and notes his experience as a fashion model served him well on the set. "New performers often need guidance in order to understand exactly what it is I look for. Not so with Jessy," said Mills. "I can hardly wait to get him back in front of the camera now that he's agreed to be a TitanMan exclusive." A Titan rep notes Ares stands 6'0 with dual U.S. and German passports; he also has Puerto Rican and Italian blood. "My first day on the set I expected a snappy crew full of egocentrics, which is what I am used to from the fashion industry," said Ares. "But to my surprise the procedure of filming and working together was so warm, caring and social, that I really enjoyed it." He notes the crew "treated me the way a human being is supposed to be treated—with kindness and respect. They are cooperative, professional and safe. When I was offered the opportunity to become an exclusive, I was happy to accept." Ares joins recently signees Aymeric DeVille, Dakota Rivers and Tibor Wolfe.

HEISSE KISTEN (LUBE JOB): Jessy Ares fucks Diesel O'Green
Apprentice Diesel may do everything wrong, but he has an incredible ass. Hairy Jessy is pumped up and really needs to get off. He props up the compact little fucker and makes him ride his rock-hard billy club.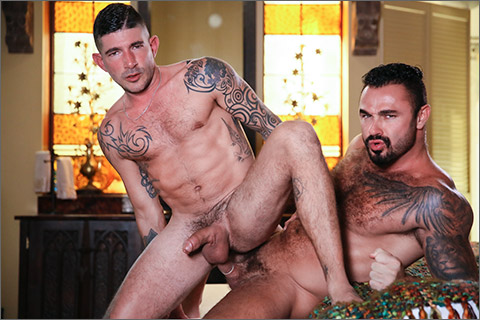 A MURDERED HEART: Jessy Ares fucks Johnny Hazzard
Joseph's father, Johnny Hazzard, has arrived at the camp – he's sitting in his parked car, thinking back on the day his wife left. Nothing is as it seems when the surprising truth is revealed. He flashes back to explore the secrets he hid that brought him to this point. In his memory, he comes home to makes sure his wife and son aren't there, and he signals for an unexpected guest to sneak in. When the coast is clear, Jessy Ares makes his way in, and the two waste no time ripping each other's clothes off. Johnny is the first to sink to the floor and get Jessy's massive member down his throat. Jessy wants a taste too, so Johnny gets on top to 69 as Jessy rims his hairy hole. Eager for more, Johnny offers up his hole and Jessy delivers, sliding his girthy meat deep inside Johnny. After taking it on his back, Johnny rolls over to take the full power of Jessy's cock before riding on it one last time to completion. With Jessy's pole planted firmly up his ass, Johnny strokes out a thick load that lands all over the floor. Married man Johnny gets down on his knees once more to get his face covered in the hairy man's load. Just as they finish up, Johnny's wife walks in and catches them in the act.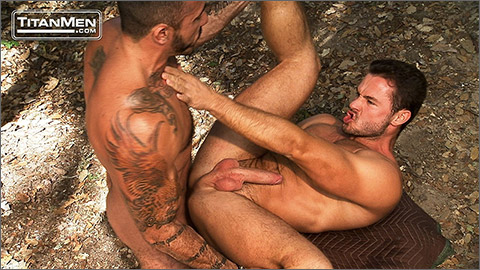 CONSENT: Jessy Ares and Alessio Romero flip-fuck
Practicing a balance drill in the woods, Jessy Ares jumps down to the welcoming arms and lips of Alessio Romero. Their hands all over each other, the two passionately kissing as spit drips down. Jessy unzips, his steel shaft at attention. The two exchange blows in an intense sequence where the spit continues to fly. Jessy grabs hold of Alessio's head and fucks his face, getting more verbal as he whips his dick on the sucker's tongue. Alessio grips Jessy's sac, engulfing his balls before getting sucked again. Jessy tongues his bud's hole before feeding Alessio some more, drilling the hairy stud's face as his own ass muscles clench. After licking Jessy's jock hole, Alessio's impressive deep-throat skill is caught in a hot profile shot. Alessio rubs Jessy's chest, his hairy forearm caressed by the smiling stud. The two squirt, their arms wrapped around each other as they kiss. Soon on all fours, the energetic Jessy offers his ass: "That's all yours…fuck me hard!" His stiff dick bounces with each deep thrust from Alessio. On his back, Jessy's bod is caught in a great overhead shot that captures his throbbing cock and bouncing balls. The two switch positions, Jessy feeding Alessio a finger as he fucks the tattooed hunk—whose forehead clenches as he gets rammed in two positions, their sweaty bods soon coated in more cum.

HAIRS & BEARDS – JESSY ARES FUCKS PACO
Today we bring you from Germany a new macho man here on Fuckermate together with our Italian power bottom Paco, that is a perfect match for him: Jessy Ares in fact loves muscular guys with beard and hairy body and this is a kind of encounter that for sure you can't miss. It is a sunny day in Barcelona and the two mates have just finished to have a coffee outside in the terrace. They start to kiss each other and soon they want to move inside, where a big bed is waiting for them. Jessy gives Paco an exquisite fucking with his hard uncut cock and the Italian opens wide his hole to receive his candy portion.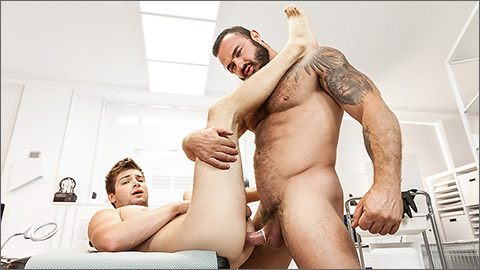 THE FLASH A GAY XXX PARODY: Jessy Ares, Johnny Rapid
It's time for The Flash and Jessy Ares to cum together.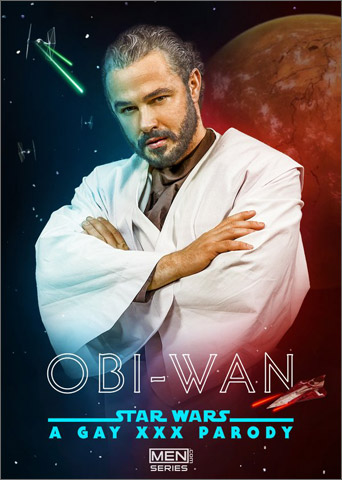 STAR WARS – A GAY XXX PARODAY
DATE OF RELEASE: DECEMBER 25, 2015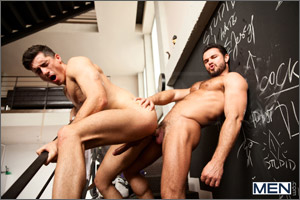 UNEXPECTED REVENGE
A disgruntled model plays a phone prank on photographer Jay Roberts causing him to lash out at his employer. A very understand boss, Jesse Ares, easily forgives but takes the opportunity to fuck his photographers juicy ass!
JAKE CRUISE / HOT DADS HOT LADS
KRISTOFER WESTON'S BOUND JOCKS
LEATHER 2015 CALENDAR
BUTT BEATIFUL 2014 CALENDAR
LEATHER 2014 CALENDAR
COLT – HAIRY CHESTED MEN
HUSTLE
VIDEO ON-DEMAND: Jessy Ares @ AEBN SMUTJUNKIES THEATER
NOW STREAMING: Jessy Ares @ NAKEDSWORD
DVDs & ON-DEMAND: Jessy Ares @ TLA VIDEO