Hung Black American Gay Porn Star, Red
Known Aliases:
Years Active: 2014 – 2017
FUCKERMATE INFO:
Sexy, extrovert and red hot. This horny American mate loves nothing more than dominating a tight ass. Red by name and red hot by nature, he loves hard filthy sex with a sweet ass. Red loves to make or break a beautiful bottom. Red is one of our Fuckermate's biggest top. Here for your pleasure.
Age: 29
Height: 178cm
Endowment: 23cm
Role: Top
Ethnicity: Black
Body Type: Toned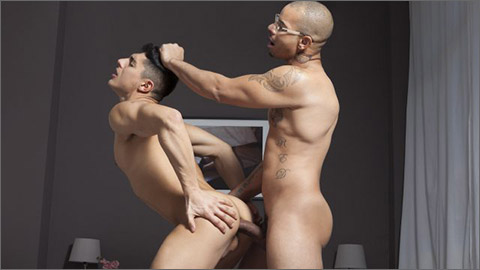 RAW BUDDIES – RED & KEN SUMMERS
After more than two years since his first appearance with us, super horny hot American mate RED is back this week to break the sweet ass of our power bottom Ken Summers. While RED is relaxing on his bed, watching a male magazine and playing with his XXL cock, Ken catches him. The hung American loves to dominate young bottoms and soon he understands Ken is gonna be a perfect match for him. The Latin hungry boy can't resist at the vision of that hard black pipe and after seconds is already on the bed, sucking and deep-throating RED's dick as best as he can do. Then it's time for his ass to try the huge cock bareback and to be hammered and bred like a slutty bottom deserves!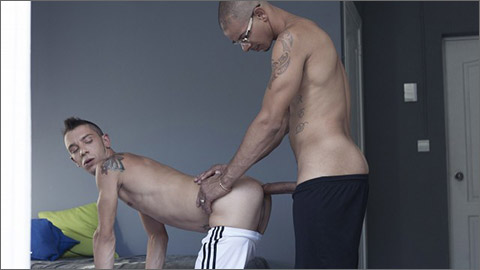 RED HOT BAREBACK – RED FUCKS ADAM RISSO
This week Fuckermate is red hot. Our new American mate RED is our latest, hottest and biggest mate. This hot, horny, American guy takes Adam for his own pleasure in an intense and passionate bareback fuck. Adam couldn't believe how big Red's dick was inside his mouth, then Red opens his willing tight ass and fills it with his raw red hot american cock. This is one video that will turn your dreams red.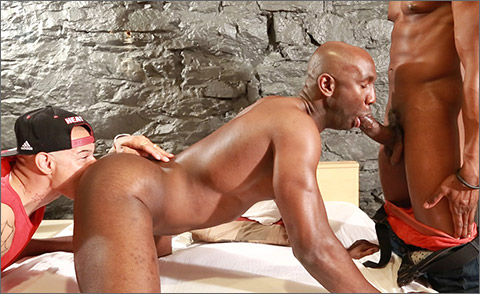 BIRTHDAY WAKE UP
The birthday wake up is an honored tradition among good friends. Today is Astengo's birthday, and his roommates, Krave Moore and Red have been looking forward to it for weeks. They've come up with a perfect way to let their pal know how much he means.
   They enter Astengo's room on his birthday morning to find him still in bed, looking a bit lethargic. Astengo explains to them that he's not feeling well for some reason. It's just the opportunity to put their plan into motion! They begin by throwing down Astengo's sheet off of his body, revealing his nude beauty. Krave and Red go right in for a taste of his plump, sexy ass. Astengo tells them, as they lick his hole, that it's exactly what he needed to buoy his spirits for his birthday. Astengo gets on his hands and knees and sucks Red's boner while Red continues enjoying Astengo's ass. Then Astengo, getting more dick hungry, takes both his friends' fat cocks in his mouth at once! But no birthday party's over until the most special attendee, the birthday boy, gets fucked hard at both ends. Get into your birthday suit and join the party!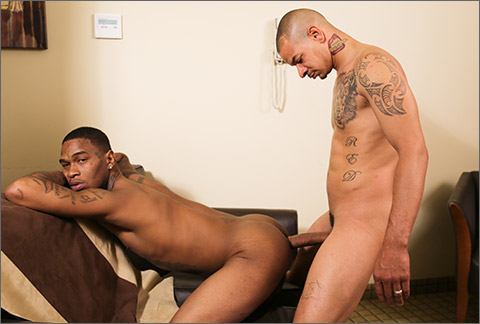 COCK CRAVINGS
Kyd Leo is over at Red's place this afternoon. These two guys have only been friends for a couple weeks and this is the first time they're having lunch together.
   Red suspects Kyd Leo is interested in him sexually, but doesn't wanna look foolish by making a move on him. So when Kyd Leo shows up and asks Red if he's ready to go eat, Red tells him he still needs to shower. To test the waters, Red takes off his clothes right there in the living room, right in front of Kyd!
   To Red's chagrin, he returns minutes later to find Kyd sniffing his orange underwear. Red tells Kyd to come closer and experience the real thing. Kyd doesn't hesitate, moving in and wrapping his mouth around Red's fat, pulsating boner. After some good, deep sucking, Red turns Kyd around on the couch and tongues his tight asshole. As he rims his new friend, he gives Kyd's swelling cock some love too, sucking it from behind.
   Once Kyd is nice and ready, Red slides his big dick into that sweet ass. Kyd had certainly been craving cock, but he didn't expect the hard fucking Red was ready to deliver! Watch Kyd get his eager hole pounded properly by his pal before the two share a nice lunch. Hey, I think these will be lasting friends…with benefits!
FUCKERMATE
TREASURE ISLAND MEDIA
TREASURE ISLAND / TIM FUCK
NEXT DOOR STUDIOS