Hung Handsome Brazilian Gay Porn SuperStar, Rafael Alencar
Years Active: 2003 – 2020
RAFAEL-ALENCAR.COM INFO:
Name: Rafael Alencar
Height: 5'8" (1.73m tall)
Weight: 170 lb (80k)
Dick size: 9.5" inches uncut
Born: Joao Pessoa – Paraiba – Brazil
Birth: July – 18th 1978
Sign: Cancer
Religion: Jewish (but definitely not religious)
Eyes: Hazel
Hair: Black
Languages: Hebrew, German, Spanish, English and Portuguese
Role: Versatile Top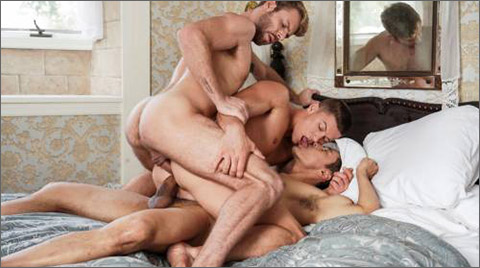 BANGING RUSLAN'S BUBBLE BUTT: Rafael Alencar And Gabriel Phoenix Double-Penetrate Ruslan Angelo
Ruslan Angelo is known for his handsome face, beautifully muscled body, big uncut dick, and—most of all—his bubble butt that he loves to get thrashed. Well, then we need to give Rafael Alencar a call. Because Rafael , one of the ultimate uncut tops to star in the entire gay porn industry, is just the man to bang Ruslan's bubble butt, and snatches up Ruslan on Fire Island to do exactly that. But Ruslan's appetite to take raw dick up in his ass is great and deep, so he invites his buddy Gabriel Phoenix to join them. Rafael lets Gabriel loosen up Ruslan first, but then he moves in and claims his territory. Rafael and Gabriel take it to the next level by opening up Ruslan further with dildos before double-penetrating him!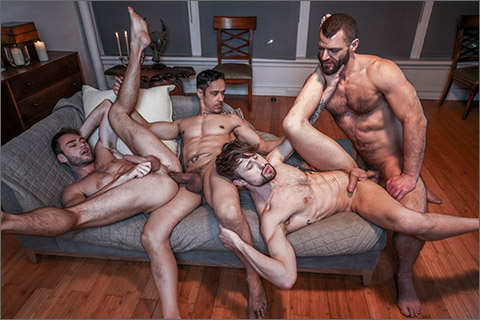 GENTLEMEN 26: LONG, HARD HOURS: Rafael Alencar, Drew Dixon, Max Adonis, Jake Morgan | Late-Night Meeting
The high-level executive from South America, Rafael Alencar, is powerful in the business world, and he uses that power over all of the beautiful young men who are working long and hard to make their way in the world. While conducting business in the United States, he has a late-night meeting at his Manhattan apartment with three beautiful young men trying to build a career in his white-collar empire. Drew Dixon, Jake Morgan, and Max Adonis all have heard the stories of Rafael, and they're fully prepared to strip off their clothes and take their sexuality to the extreme, including rough and raw double-penetration!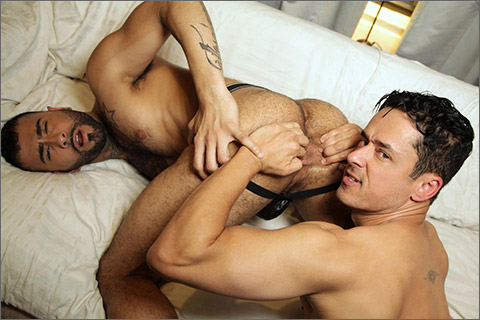 INTERNATIONAL PLAYBOYS: Rafael Alencar fucks Rikk York
Everything moves faster in New York City, especially International Playboys Rafael Alencar and Rikk York. The horny studs agree to meet in Times Square where they waste no time getting back to Rafael's place for a hot-blooded fuck session. Large and in charge, Rafael throws Rikk down on the bed and dives into his furry butt cheeks, tongue first. After teasing his puckered hole with his enormous Brazilian beast Rafael shoves his dick deep inside Rikk and fucks him relentlessly for what seems like hours in every position imaginable. Looks like Rafael takes his time when it comes to fucking hot ass.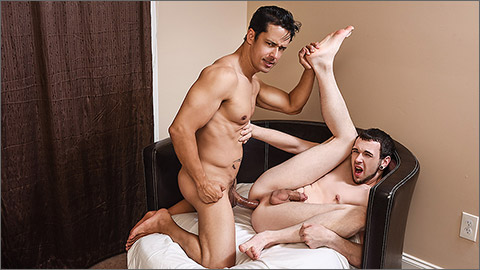 PLEASE DON'T BREAK ME – PART 3
It's Brad Gray's turn to take on Rafael Alencar's third leg. It's Brad's first time with a guy, his hole drilled to the max by Rafael's thunderous cock before taking his warm load all over his face.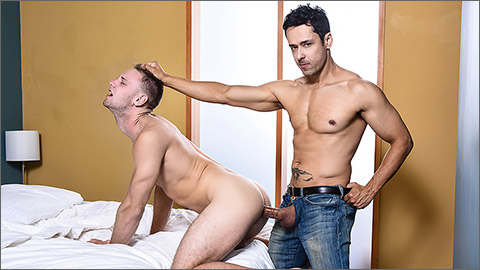 THE THIRD WHEEL – PART 1
Brandon Evans returns home from a sweaty workout and immediately starts looking for a hot hookup. A couple looking for a threesome seems to be the perfect match, although Rafael Alencar refuses to be touched. His girlfriend has different plans; it starts with a kiss, and before long Rafael's huge heavy cock is sliding down Brandon's warm throat. Once lubricated with saliva, Rafael plunges his meat deep inside Brandon's guts fucking that tight ass until it's wide open and ready to take in anything.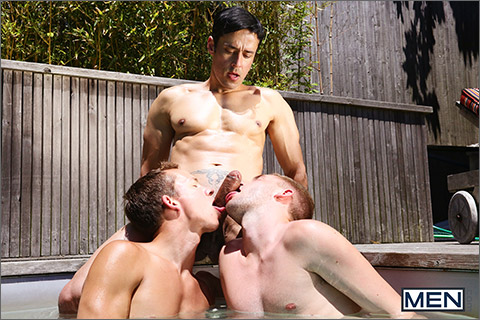 RUMSPRINGA – PART 3
Garrett Cooper and Jack Radley's time is coming to an end, but not before one last fling! The two Amish boys bump into Rafael Alencar, and offer him a their perfect, young butts. Rafael brings the boys back to his place where they take turns getting their holes stretched by his monster cock.
CLICK HERE TO GO TO HIS MEN.COM DETAILS
UNZIPPED  November 2007, September 2008, September 2009
INCHES  May 2004, April 2005, December 2006
MANDATE  August 2004, June 2005, March 2006
TORSO  August 2004
BLUEBOY  June 2004
G MAGAZINE  #72, #84, MELHORES 7
MACHISMO  v10 n03 Fall 2004, v11 n02 (Summer 2005)
BADPUPPY  #20
LATIN INCHES  May 2004, December 2007
X FACTOR  July 2006
XXX SHOWCASE  v12 n03, v13 n05, v14 n01
BRUNO GMUNDER: KRISTEN BJORN: BODY HEAT 2005 CALENDAR
BRUNO GMUNDER: MADE IN BERLIN 2009 CALENDAR
BRUNO GMUNDER: KRISTEN BJORN – STALLIONS
BRUNO GMUNDER: MAGNUM
GAY PORN HEROES: 100 MOST FAMOUS PORN STARS
RENTBOY NAKED 2012 CALENDAR
ADAM GAY VIDEO: 500 WORLD'S GREATEST PORN STARS
RAGING STALLION: 2008 YOUNG BUCKS
RAGING STALLION: 2009 GRUNTS CALENDAR
BIG MEN: SIZE MATTERS
MONSTER COCKS 2012 CALENDAR
VIDEO ON-DEMAND: Rafael Alencar @ AEBN SMUTJUNKIES THEATER
DVDs & ON-DEMAND: Rafael Alencar @ TLA VIDEO