Handsome Bodybuilder Playgirl & Colt Studio Model Gay Porn Star, Carl Hardwick
Known Aliases: Rusty Jeffers (Playgirl)
Years Active: 1988 – 2004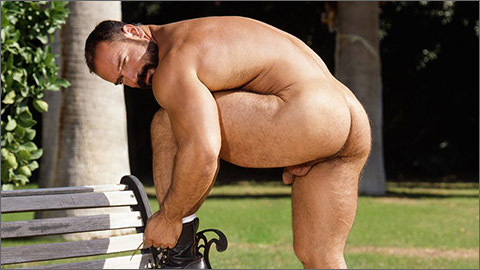 RAWHIDE LOAD
After a day of tending to the horses and bailing hay, Carl Hardwick heads back to the homestead for a little R&R. Getting out of those dirty clothes Carl takes a pause to look at his furry muscle body in the fulllength mirror. HE hits a few poses and stretches his limbs, showing off an impressive physique of pure muscle covered in dark dense hair. Feeling frisky Carl breaks out his suede riding chaps and settles in on the sofa for the ultimate R&R, a long session with his thick and meaty cock. Once he primes his pump, Carl hits the shower – and we tag along for a sudsy good time.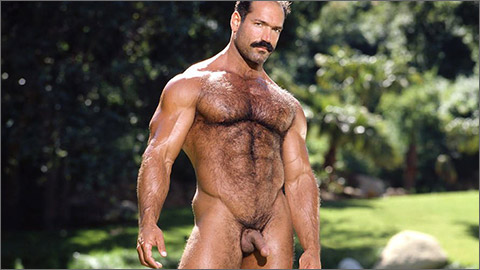 SELF SERVICE
Carl Hardwick is an auto-mechanic who knows what to do to keep his engine running smoothly. A SELF SERVICE tune up every once in a while to flush out excess fluids and clear the hoses is part of regular maintenance. Same goes for his well serviced cock. A little SELF SERVICE is needed to keep things running smoothly. After a day of working under the hood of his car, Carl checks under his own hood to give himself a oil check. A little crank and lube gets things working nicely. Once all his fluid levels are back to normal Carl takes his well oiled muscles out for a test-spin with a sexy workout and posing routine in the mid-day sun!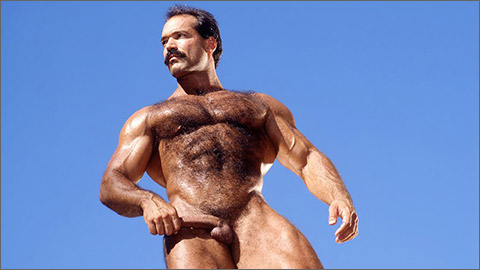 A DAY IN THE LIFE OF CARL HARDWICK
Ever wonder what a typical day is like for a COLT Legend? Well its like most days for any regular all-American Joe. A little Bar-B-Que, shooting hoops in the drive-way, pruning the hedges, a little workout in the back yard. The usual stuff, only when you have a world class body like Carl Hardwick, with thick muscles covered in rich dark fur, every day activities are jsut a whole lot hotter. And what red blooded man doesn't set aside some time each day to give his manhood a little tug and stroke action. After a light workout Carl likes to take his tug and stroke action in the hot tub, where his dark hair and thick muscles pop in the wet steamy haze. For an extended stroke session Carl retires to his living room where he sprawls out for a long indulgence of self pleasure.
CLICK HERE TO GO TO HIS COLT STUDIO DETAILS

COLT CALENDAR MEN #9 – HAIRY CHESTED
COLT Calendar Men Digital Magazine #9 – HAIRY CHESTED is a full-color digital compilation of major highlights from various COLT Calendars which features many COLT Men from over our 50+ years in PDF downloadable format.
Features COLT Men: Anthony Page, John Pruitt, Ali, Steve Kelso, Franco Arbruzzi, Pete Kuzak, Hank Ditmar, Mike West, Wade Neff, Marchall Cline, Carl Hardwick, Judd Cooper, Dave Sansone, Rick Koch and Jerry Haymes.

UNZIPPED October 28, 1997
PLAYGIRL October 1988, September 1991, September 1993, September/October 2008

COLT 50th ANNIVERSARY ALBUM #3 – HAIRY
COLT ANNIVERSARY ALBUM #5: SUPERSTARS PART 1
THE BEST COLT MEN #8 – MOUSTACHE MEN
COLT CALENDAR MEN #10 – ICONS
COLT CALENDAR MEN #8 – HARDWICK
COLT CALENDAR MEN #9 – HAIRY CHESTED
COLT MEN DIGITAL MAGAZINE #44 – BUTT BEAUTIFUL

COLT STUDIO PRESENTS 18: MIGHTY MEN OF STEEL
COLT STUDIO PRESENTS 19: FANTASY MEN
COLT STUDIO PRESENTS 20: MUSCLE IN LEATHER #1
COLT STUDIO PRESENTS 21: MUSCLES IN LEATHER #2
COLT 40

COLT SPURS 25: WHOPPERS #2
COLT SPURS 26: UNDERCOVER
COLT BUTT BEAUTIFUL CALENDAR 2001
COLT BUTT BEAUTIFUL CALENDAR 2003
COLT COWBOY CALENDAR 2003
COLT COWBOY CALENDAR 2007
COLT HAIRY CHESTED CALENDAR 2005
COLT HAIRY CHESTED CALENDAR 2006
COLT HAIRY CHESTED MEN CALENDAR 1996
COLT HAIRY CHESTED MEN CALENDAR 2000
COLT HAIRY CHESTED MEN CALENDAR 2001
COLT HAIRY CHESTED MEN CALENDAR 2003
COLT HAIRY CHESTED MEN CALENDAR 2004
COLT JIM FRENCH ANNUAL MAN CALENDAR 2002
COLT JIM FRENCH ANNUAL MAN CALENDAR 2003
COLT LEATHER 2010 CALENDAR
COLT MAN CALENDAR 2002
COLT MEN CALENDAR 1999
COLT NAKED MUSCLE CALENDAR 2005
LEATHER 2011 CALENDAR

COLT MEN PLAYING CARDS
HAIRY CHESTED MEN PLAYING CARDS
JIM FRENCH: masc.
MEN MAGAZINE PRESENTS: COLT STUDIO

COLT COLOR PRINTS: CP-330 / CP-331 / CP-336 / CP-337 / CP-388 / CP-389 / CP-404 / CP-405
COLT B&W PRINTS: I-48 / J-48-SUP / Y-51
COLT SLIDE SET: S-347 / S-350 / S-376

WATCH IT NOW AT: Carl Hardwick @ AEBN / SMUTJUNKIES THEATER
AVAILABLE FROM: Carl Hardwick @ TLA VIDEO