Staxus Gay Porn Star Euro Twink, Pyotr Tomek
Known Aliases: Allan Backer, Czech Hunter 179
Years Active: 2014 – 2015
STAXUS INFO:
Pyotr is a versatile young cutie, with a friendly and out-going personality that is hard to resist. In his short time with STAXUS he's already proved to be one of the most popular guys with the models themselves – and by the looks of it he's gonna be just as popular with the fans!
Date of birth: 2nd September 1995
Height: 5'10" / 178 cm
Cock size: 7.5″ / 18.5 cms
Ethnicity: Czech
Role: Versatile
Interesting Fact:
Pyotr has his own collection of exotic animals, including three tarantulas – aracnophobes beware!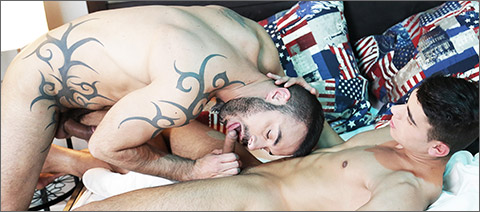 USE ME!: YOUNG PIZZA BOY GETS A DEEP-PAN STUFFING FROM A HORNY STUD
Let's be honest here, if young Pyotr Tomek came delivering pizza to the door of your hotel room wouldn't you be tempted to make some kind of pass at the fellow? Especially if – as is the case here – he was wearing a baseball cap with a distinctly provocative maxim daubed all over it. Certainly Xavi Duran doesn't seem to have any reticence in taking full advantage of the situation, but that shouldn't come as any surprise given his unmistakably cocksure approach.
   Indeed, he brushes aside Tomek's initial rebuttal, and has the cute twink down on the bed in no time at all – by which point the horny little pup is already putty in the stud's hands! Why, the boy doesn't stand a chance as Duran strips him of his jeans and promptly engages in a head-on encounter with Tomek's dick; before pushing the lad's ass into the air and rimming his hot little fuck-hole like you won't believe. Needless to say it's all more than enough to get Tomek into the mood for action, and what doubts he may have initially had about being this stud's latest notch on the bedpost are promptly forgotten as he first gives head and then finally allows Duran to finger and fuck his ass!
   What follows is a superb masterclass in man-on-boy action, with Tomek banged for all he's worth doggy-style; before the lad positions himself over Duran's handsome fuck-pole and quite literally lands himself down on every inch that the dude has to offer. Little wonder that the boy is soon squirting for all he's worth; but it's arguably the sight of Tomek's winsome little face getting jizzed that'll prove the highlight!


TWINKS IN HEAT: HORNY FLIP-FLOPPING MASSAGE RESULTS IN LOADS OF JIZZ & PISS!
Pyotr Tomek is fucking hot when he steps out of the sauna – in more ways than one! – but young masseur, Leo Beast, is a man who thinks he can help. If anything, however, the temperature in the room probably only increases once the fellow starts to work his magic on young Tomek's thighs; and the bulge of Tomek's erection under his massage towel only seems to underline the point.
   Yes folks, these two lads are in heat real bad, and there's only one possible means of relief for either of them. It's something that new boy Beast appears to understand quite intuitively, diving down onto his buddy's handsome ramrod and teasing the crown with his tongue before taking it fully into his mouth. A move that Tomek himself is quick to reciprocate; before both pals lie down on the massage-table 69-style so that they can simultaneously feast on all the hard dick on offer. Just watching these two cherubs in action is surely more than enough to get most red-blooded viewers to the brink; but matters only intensify when Tomek finally turns his attention to Beast's tight little pucker, fingering it momentarily before energetically thrusting his hard shaft deep inside.
   Never one to miss out on the pleasure that only cock can give, however, Tomek is soon insisting on role-reversal – passionately riding his pal's dick cowboy-style, getting off to suck it, riding it again, and repeating the pattern until his balls can quite literally take no more! It's a terrific, nad-busting performance; topped only by the sight of the two lads heading off to the sauna for a much-needed piss!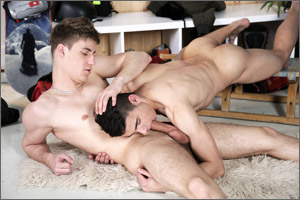 SLEDGING BEAUTY GETS HIS CUTE ASS PUMPED BY HARD-DICKED PAL!
It might be cold outside, but Will Hornet clearly thinks that young Pyotr Tomek is smoking hot when he steps into the room to find the horny little twink sat on a sledge and looking a million dollars! Little wonder the fellow just can't wait to strip the pup of his clothes, picking him up like a doll in the process and instigating a five-star encounter that will almost certainly have you unzipping in no time. And no fucking wonder!
   These two beauties are clearly into each other as they take it in turns to slurp the life out of each other's dicks. First Hornet gobbling Tomek's love-stick whilst the youngster is sat on his lap; then Tomek feasting eagerly on his hunky buddy's ramrod – which will soon be pounding his tight little ass! Before that happens, however, Hornet takes time out to give his cute buddy's crack a good tonguing; although the overriding temptation to deflower Tomek ultimately becomes too much, and understandably so! Who in their right mind wouldn't want to give this doe-eyed beauty the pounding of his life?
   But on this occasion it's Hornet who gets that pleasure all to himself – first buggering the lad from beneath with a cowboy-style coupling, then taking the cutie from behind and slamming his ass right up to the balls! Fortunately for the dick-loving cherub there's a fur rug on the floor to cushion the impact; but it's not long before all this high-octane action is bringing both buddies to a creamy climax. As a result, Hornet spews the contents of his nads over Tomek's nose, whilst Tomek himself produces a high voltage multi-spurt cascade over his belly!
CLICK HERE TO GO TO HIS STAXUS BIO PAGE
CLICK HERE TO GO TO HIS EAST BOYS BIO PAGE
CUTE YURI GETS HIS ARSE BANGED & CREAMED, THEN TAKES THE PISS!
HORNY FLIP-FLOPPING MASSAGE RESULTS IN LOADS OF JIZZ & PISS!
PYOTR TOMEK GETS CUM UP HIS ARSE IN A FLIP-FLOPPING FRENZY!
SLEDGING BEAUTY GETS HIS CUTE ASS PUMPED BY HARD-DICKED PAL!
KEEPIE-UPPIE FUN BECOMES A RAW SOCCER FUCK FOR TWO CUTIES!
CZECH HUNTER 179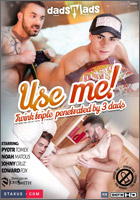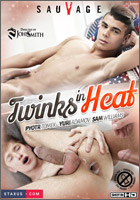 CUM WITH ME!
USE ME!
CAMP OUT
RAW SCORE
TWINKS IN HEAT
PUMP THIS!
SNOW BALLS