Staxus Czech Twink Gay Porn Star, Ariel Varga
Years Active: 2013 – 2015
STAXUS INFO:
Ariel is the twink you'd hope to have near you when you're in need of a good fuck.
Date of birth: 29th May 1993
Height: 6'1″ / 185 cm
Cock size: 7.5″ / 19 cm
Ethnicity: Czech
Role: Bottom
Interesting Fact:
When he was 16 Ariel auditioned to be in a boyband, but he didn't make the cut.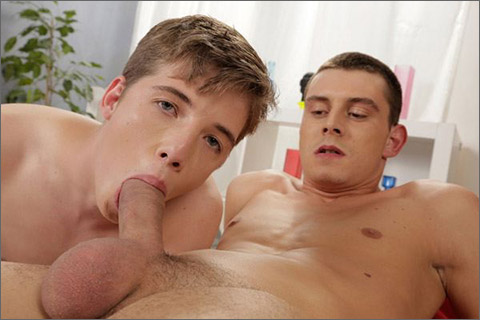 BOY-BITCH ARIEL VARGA FALLS TO THE BIG-DICKED CHARMS OF DEXTER BURE!
With his baseball cap and slightly cocksure demeanour, Dexter Bure is perfect boy-band material, and it's little wonder that it takes little effort on his part to woo thick-lipped Ariel Varga out of his pants. Indeed, one minute Bure is happily strumming on his guitar, the next he's pushed the instrument to one side and is eagerly feasting on his mate's handsome, uncut dick! It's a deft move for sure, and one that gains an immediate response from Varga, who simply can't wait to replicate the action on Bure's over-engorged ramrod.
   The result is a fabulous oral set-piece that sees both lads feasting on all that hard meat with typical boyish enthusiasm, and which will no doubt leave you horny fuckers feeling hyped up in response. But these guys are only just beginning. Bure's clearly in the mood for a little kink before he fucks the living daylights out of his buddy; and having rimmed Varga's ass, proceeds to finger his mate's pucker and thrust the digit into the lad's mouth. Needless to say, Varga's response is just what we all want to see – sucking on the finger again and again as if to underline his subservient role in the action.
   A role that's promptly re-emphasised when Bure thrusts his thick, meaty knob deep into his fuck-hole. No question about it, Varga's definitely the bitch in this coupling, and by the time he's ridden Bure's cock cowboy-style he's definitely on the brink of a creamy tsunami of jizz. But not before Bure has spewed his own magnificent wad all over the bottom's face; leaving Varga to spray his generous eruption as a fitting wrap to proceedings!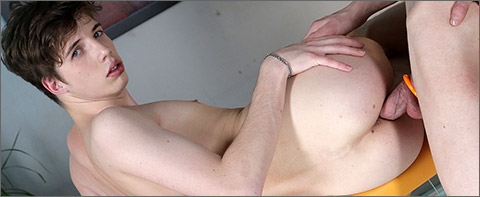 WORKOUT: YOUNG GYM-BOY GETS PERSUADED TO SUCK DICK & FUCK HIS BUDDY'S RAW, HUNGRY HOLE!
It's not surprising that spending so much time working out in a dark, sweaty environment with only other guys for company can leave some men feeling the need for an even more intimate experience. Marcel Lavrov being one of them, as he abandons his aerobics on a workbench so that he can persuade Ariel Varga to engage in a one-to-one session that neither lad (or you!) are likely to forget in a hurry. It has to be said, however, that his initial move is not met with the most positive of responses – clearly Varga would much rather carry on with his more orthodox method of training. But Lavrov is nothing if not persuasive, and before long he's stripping his buddy of his clothes and inviting him to suck on the thick, meaty poleaxe that he's got stuffed in his shorts. It's at this point, of course, that you'd expect our reluctant porn-star to balk; but the way the lad then proceeds to give head seems only to confirm our greatest suspicions, namely that this is a hardcore slut in the making! An inkling that only gets underlined when he and Lavrov promptly engage in some kinky toy-play to spice up the encounter even further. But of course the pinnacle of this top-notch encounter comes when Varga finally goes the whole hog and thrusts his by-now over-swollen shaft deep inside Lavrov's ass-hole, marking the start of a spunk-fuelled set-piece that eventually climaxes with Varga erupting all over his mate's face! Working out at the gym has never appeared so inviting!
CLICK HERE TO GO TO HIS STAXUS DETAILS
BOY-BITCH ARIEL VARGA FALLS TO THE BIG-DICKED CHARMS OF DEXTER BURE!
ARIEL VARGA – THE PERFECT TWINK!