ChaosMen Amateur Gay Porn Guy, Phineas
Known Aliases:
Years Active: 2016
BRIAN OCKERT / CHAOS MEN INFO:
Start Age: 30
Debuted: September 12, 2016
Height: 5'11"
Weight: 170 lbs
Cock: 6.5″ Cut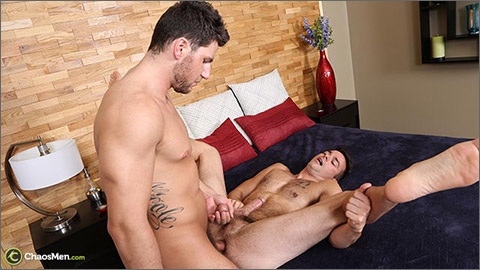 RAW: OLIVER KING & PHINEAS
Oliver likes to fuck aggressively, and after Phineas's first time with Vander, I knew he was the right man for the job.
   Phineas starts by servicing Oliver, getting him nice and hard. Oliver returns the favor, and with both guys revved up, they 69 suck each other.
   Next, Phineas climbs aboard and straddles Oliver's cock, slipping it nice and smooth. He grinds his ass up and down, pleasuring Oliver with his hole. He rides him reverse and strokes his own dick.
   Oliver bends him over the edge of the bed and pounds him extra hard. Phineas loves it!
   While on his back, Oliver fucks the cum out of Phineas. Vander had to work hard to pull the load out Phineas during the Edge video, and had I known Phineas would cum so easily with a dick in his ass, I would have tried to find a way to make that happen.
   Oliver juices his hole, breeding his boy like a pro!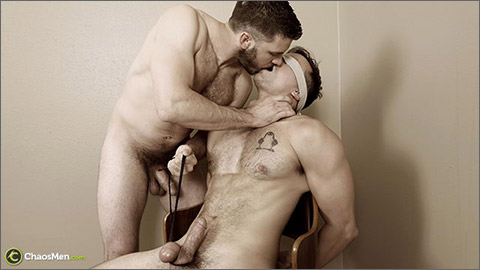 EDGE RAW: PHINEAS & VANDER
When Phineas said he had very few limits and liked a lot of kinky stuff, I was glad I had Vander in town to do an Edge video with him.
   Both guys like the kink, and this Edge video is not edited in the traditional way I have done the previous videos. The guys just went for it and it is shot almost in one pass.
   Props to Vander for knowing some rope skills!
   Since things got out of hand, the video does run a little long. I had to resort to some cross fades to bring the video under 40 minutes. Not a big of cross-fades. Don't worry, You aren't missing anything, just moving furniture in and out of the scene.
   The kinky stuff was so part of the video, that this is basically the Director's Cut. I couldn't really edit around it and cut it out. If you don't like this kind of action, steer clear!
   But I am very sure most of you will love this video!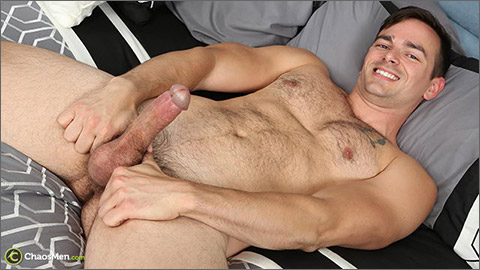 SOLO: PHINEAS
Phineas has been married to both a guy and girl, but he seems to be most interested in guys right now.
   He loves kinky stuff, and pretty much anything is on the table. Fisting seems to be the one thing that doesn't interest him.
   Phineas likes to be dominated and is definitely into getting fucked. I got a little bossy during the solo and he responded to just a casual dom vibe.
   He also thought he could give himself a self-facial, especially if he was "made to" do it.
   So I got him on the ground and he proceeded to coat his face and eat his own cum.
   Definitely one of the best self-facials ever to hit the internet, and so feel free to share the animated GIFs!
   He will be back next week, and of course, he will be tied to the Edge chair!
CLICK HERE TO GO TO HIS CHAOSMEN BIO PAGE