Slender Czech Gay Porn Star, Petr Cernyka
Known Aliases: Alessandro Katz (Staxus)
Years Active: 2016
WILLIAM HIGGINS INFO:
Age (2016): 18
Home Town: Prague
Height: 185cm/6'0″
Weight: 65kg/143lb
Foot Size: EU45/US9.1/UK8.6
Penis Size: 16cm/6.3″
Profession/Student of: High School
Hobbies: Sport
Favorite Sports: Table Tennis
Active Sports: Jogging
Movie/Music/Sport Stars: Eddie Redmayne
Visited Coutries: Switzerland
Want to Visit Coutries: Ireland
Dream of My Life: I don't know.
Zodiac Sign: Aquarius (January 20 – February 18)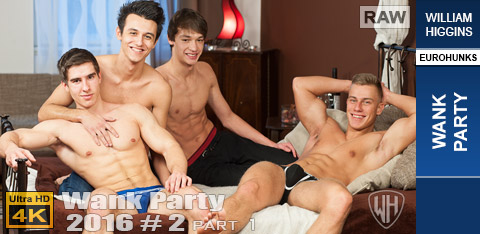 WANK PARTY 2016 #2 RAW
In Wank Party 2016 #2 we have Petr Plodner, Bradley Cook, Erik Drda and Petr Cernyka. In part one we find Bradley and Erik on the bed chatting. Erik is rubbing Bradley's legs and telling him good they are. they decide that they are tired from the gym and need to be massaged. So they call over the two Petrs who are sitting on the sofa and ask them to oblige. Petr P gets between Erik's legs and begins to massage them as Petr C does the same with Bradley. Eirk's cock looks hard in his underwear and Petr P's hands are soon feeling it as he massages the thick thighs. Petr C does the same to Bradley's large bulge too. Eriks is quite chatty asking Petr P about his massage experience and inviting the guys along to fitness with them. Petr P pulls on Erik's waistband and releases his swollen cock as Petr C does the same with Bradley. Both cocks look so good as the guys take them in hand. Petr C leans over and licks Bradleys cock and is followed by Petr P who licks and sucks on Erik's hard dick. He is greedy for cock and is soon leaning over and sucking Bradley's cock too. Then he encourages Petr C to have a taste of Erik's cock before they each return to their original choices. Their mouth work on the big hard cocks as Bradley and Erik lay their enjoying the attention. The underwear is removed from Erik and Bradley and the sucking on their cocks continues with Bradley pushing Petr C's head further down on his. Then Petr P moves up and kisses Erik and Petr C follows suit with Bradley before returning to the sucking. Petr P kisses up and down Erik's shaft and onto his balls and then sucks on the big head again. Petr C is engrossed in his sucking taking Bradley's big fat cock deep into his mouth. Bradley and Erik really enjoy all the attention being given to their cocks, with the promise of much more to come in part 2.
In Wank Party 2016 #2 we have Petr Plodner Bradley Cook, Erik Drda and Petr Cernyka. In this second part we join them as Petr C is still sucking on Bradley's cock and Petr P is doing the same to Erik. Then they all move with Brandley getting onto his knees for Erik to fuck his hot ass as Petr C lays down for Petr P to suck his cock. Erik's big, fat, cock stretches Bradley's hot, tight, ass as it fucks in and out. Bradley moans as he takes the big dick as Petr P's head bobs up and down of Petr C's cock. Then Petr C lifts his legs in the air and Petr P slides his throbbing cock into the waiting ass to fuck it. Petr C moans too as his tight ass gets fucked nice and deep. Petr C fucks with nice long strokes working that hole real well as Erik continues to fuck Bradley. Then Bradley moves over to Petr P and his ass gets a second cock deep inside. Petr C takes a ride on Erik's rock hard cock, sliding up and down on the thick shaft. Petr P really pounds Bradley's hole. Bradley wanks his own stiff cock as Erik shoves his meat up into Petr C's hole. As Petr P keeps up his hard fucking Bradley wanks himself to a nice cumshot. Then Petr P pulls out and shoots his hot cum over Bradley's cock and balls as Petr C continues to ride on Erik's dick. Petr P leans over and kisses Bradley after cumming on him. Petr C lays on the bed and Erik fucks him again, missionary style. Petr C wanks himself as he takes the big cock deep in his ass. Petr C soon cums as he wanks hard and fast with Erik's dick deep in his hole. Erik keeps fucking that eager hole until he is ready to cum too and pulls out to shoot his hot cream right up Petr C's body.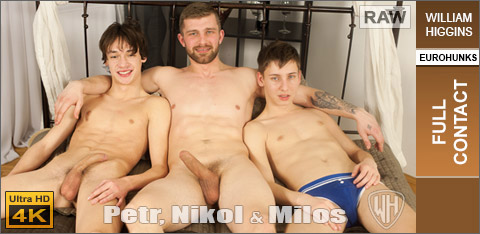 FULL CONTACT: NIKOL MONAK & MILOS ZENIK & PETR CERNYKA RAW
Nikol Monak is going to have some fun with Milos Zenik and Petr Cernyka. Petr and Milos are under a blanket kissing and soon Milos is sucking on Petr's big, hard cock. He sucks on the throbbing cock and then moves up to kiss Petr again. Nikol opens the door and peeks at the two sexy guys enjoying each other. Nikol pulls his cock out and wanks as he watches them. He moves over to the bed and quickly Milos and Petr take turns to suck on Nikol's stiff cock. Nikol fucks his cock into Milos' mouth. Then both Milos and Petr lick at that big cock as Nikol fucks it between their lips. Then Petr and Milos are naked, on their knees with Nikol sliding his big cock into Petr's ass to fuck, and then pull out to slip it into Milos as well. That fat cock fucks Milos nice and deep. Nikol switches again, moving to fuck Petr's hot and willing hole. He spanks Petr's ass as he fucks him hard. That fat cock really opens Petr's ass good before Nikol moves over to Milos to fuck him again. His heavy hand spanks on Milos' ass leaving a nice imprint. He keeps alternating between the two hot holes, taking his pleasure as he likes it. The Milos lays on his back for Nikol to really pound his hole. As he takes that big cock Milos sucks on Petr's dick too. He wanks himself as well and shoots his hot cum all over his belly as Nikol really bangs away at his ass. Petr takes Milos' place and has that huge dick deep in his ass, pounding it hard as he wanks himself. Nikol pulls out and shoots his hot cum all over Petr's cock and balls. That big creamy load coats Petr's dick and he grab it and wank it to a nice cum shot as Milos lays next to him and kisses him.
WILLIAM HIGGINS
BADPUPPY
STAXUS
CLICK HERE TO GO TO HIS WILLIAM HIGGINS BIO PAGE