William Higgins Czech Gay Porn Star, Dave Cargo
Known Aliases: Dirty Scout 21
Years Active: 2015 – 2016
WILLIAM HIGGINS INFO:
Dave Cargo is aged 23. This horny straight guy is unemployed and likes parkour, jogging and athletics. He looks so good in his clothes, but as he begins to strip off he looks even hotter. Off with the cap and tee shirt and Dave is showing an awesome body. The muscles are beautifully defined. As he takes off his jeans and poses in just his bright yellow underwear Dave looks magnificent. Turning around he then lowers his underwear to reveal his sexy ass. Then he sits on the table, before removing his underwear. Fully naked we see Dave's massive, soft cock. What a beauty that is, so thick and nicely hooded. Then he gets it hard and the foreskin is retracted showing a shiny cockhead at the end of a really thick dick. He does a great job of posing with his meat rock hard, before spreading his ass cheeks to expose his tight hole. Then Dave demonstrates some great exercises that really show off that body shape. He then finishes a great shoot with more poses with his big cock rock hard.
Age: 23
Home Town: Kladno
Height: 175cm/5'8″
Weight: 69kg/151.8lb
Foot Size: EU42/US8.5/UK8
Penis Size: 16cm/6.3″
Profession/Student of: Unemployed
Hobbies: Parkour
Favorite Sports: Athletics
Active Sports: Jogging
Movie/Music/Sport Stars: Josephine Skriver
Visited Coutries: England
Want to Visit Coutries: Australia
Dream of My Life: I don't know.
Zodiac Sign: Virgo (August 23 – September 22)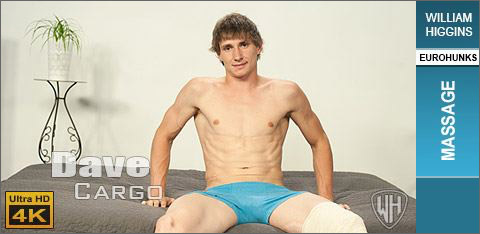 MASSAGE: DAVE CARGO
Dave Cargo is a very hot guy. He has a great body and an enormous cock. In this video he is due for a massage by Mattias Solich, and lays on the bed waiting for it to begin. Mattias arrives and tells Dave to relax as he gets to work. Mattias hands, oiled, work all over Dave's back and up to his shoulders and neck. He massages the arms as well as Dave is totally relaxed. Pushing the underwear down slightly Mattias works on the base of Dave's back for a while. His hands glide onto that hot ass too as he works. Then Mattias takes off Dave's underwear so that ass is on full view and the hands get work on it. The ass gets coated in oil, as do the legs, as Mattias keeps working. The cheeks spread too giving a glimpse of Dave's tight hole. Mattias moves Dave up onto his knees, so that sexy ass is well spread. He takes hold of Dave's big, and very thick cock, wanking it down between the legs as that sexy hole is on view. Dave's cock is so hard as Mattias wanks on it, with the big balls hanging down. Mattias fingers rub over Dave's tight hole as the massive dick and the big balls get more work. Mattias drips of oil onto that tight hole as well and his hands rub it all over the ass. A vibrator is then pushed into Dave's tight hole as Mattias keeps wanking on the cock. Having opened the hole with the vibrator Mattias turns Dave over and keeps working on his huge dick. He wanks it with one hand as the other runs over Dave's hot body. Then Mattias bends forward and takes the big cock into his mouth. He sucks it, taking as much as he can into his mouth. Dave is soon ready to cum and Mattias wanks him faster until the hot juice squirts out, all over that sexy body. He milks the cock to drain it completely before Dave goes off to the shower to clean up after a great massage.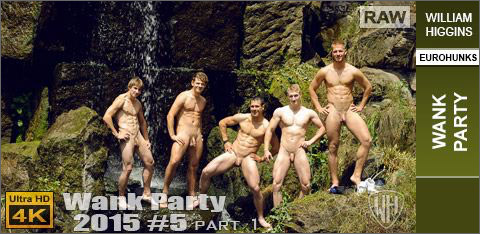 WANK PARTY 2015 RAW #5
WANK PARTY 2015 #5 features Rosta Benecky, Matej Valej, Lorenc Byro Matej Norzik and Dave Cargo. In this first part we find the guys out in the park having a great time. Lorenc and Dave are showing off with their acrobatic tricks, with Dave doing several somersaults. Then they run off, climbing down the hill to the waterfall, where Lorenc strips off and goes under the ice cold water. He has a great body and looks wonderful as the water cascades over him. As they play Matej, Robin and Rosta walk up and watch them. Then they walk closer and start chatting. They invite Lorence and Dave to join them at their place. Once inside Robin starts to show them how he uses the dumbells. Dave then takes a turn on them too. Meanwhile Matej uses other weights before letting Lorenc take a turn. Robin then sits and demonstrate more exercises with the dumbells, as Lorenc leans over to feel his muscles. He then sits on the bench to use the weights as Dave uses the other set. Next it is Matej's turn to show off his prowess before Dave takes another turn. Lorenc then goes again, this time the others stand around him and start to feel his chest.Matej flexes his muscles to show off his hot body, as the guys feel him. Lorence is very proud of his body too and is soon flexing to show off his muscles. Rosta does the same, comparing his legs to Lorenc's. Then Dave is under inspection too. When it is Robin's turn he pushes his shorts down to reveal some ass crack as everyone's hands are all over him. Lorenc leads the way to more, leaning over to kiss Robin's chest. They all examine Robin's legs too. Robin sits on the bench and everyone is all over him, Rosta kisses him , as does Lorenc as the hands grope his shorts. Lorenc licks that hot body and then pulls the shorts down so that he can suck on Robin's cock. He takes the cock all the way into his mouth, sucking it real good. Matej then sucks it too as Dave and Rosta get their own hard dicks out. They are both massively endowed and Robin is quick to start sucking on Rosta. His big dick fucks into Robin's mouth as Lorenc is back to sucking too. Then Robin turns his head and takes Dave's big, fat cock into his mouth. Matej sucks Robins again as Rosta's cock is fucking his face some more. Matej and Lorenc keep taking turns on Robin's cock as he takes turns on the other two. Then Robin stands and gets serviced my the handsome Rosta's hot mouth. Lorenc sucks Daves big cock, deep throating it until he gags. That dick goes all the way down his throat. Rosta also gags on Robin's dick and then swallowes Matej's too. They all move, with Matej on his back with Robin sucking him as Lorenc is laying over Dave sucking his cock and taking turns on Rosta's too. He is expert at sucking the really works those cocks. He places both cocks together and manages to suck both at the same time. Robin keeps working on Matej's dick as Lorenc's mouth works overtime.Rosta rubs a foot over Dave's big, throbbing cock and Lorenc sucks cock and toes at the same time. Rosta's foot rests on Dave's cock so that Lorenc can work on both. Meanwhile Matej is sucking on Robin's rock hard cock too. What a great start to a wonderful wank party, with much more to come in part two.
WANK PARTY 2015 #5 has a great group of guy, Rosta Benecky, Matej Borzik, Lorenc Byro, Robin Valej and Dave Cargo. In this second part we rejoin them as Rosta's hot ass is being fucked deep by Robin. Matej's hole is getting it too, from Dave's massive cock. Dave is fucking deep and hard, his big balls flapping around as well. Lorenc takes over from Robin , shoving his big cock deep into Rosta's eager ass. Lorenc slap that sexy ass to as he fucks hard and fast. Then he gives up the hole for Robin to take over again. Robin pounds Rosta's ass as hard as he can as Dave's pole is still stretching Matej's asshole. Then Dave moves over to fuck Rosta with Robin slipping his dick into Matej's ass. Rosta's big cock is nice and hard as he takes Dave's all the way. Lorenc spanks on Matej's ass and then takes over the fucking from Robin. His cock slams into Matej's hot ass. Matej moves, to lay over an exercise balls with his ass still being stretched by throbbing dick. Rosta moves too, laying on the bench wanking himself as Dave's massive cock slams into his hole. Lorenc is deep in Matej's ass fucking him deep. He pulls out and Robin takes his place. Rosta's dick is rock hard as he wanks it with Dave deep in his ass. Dave's cock is ready to explode and he pulls our and shoots a hot load, with Rosta going down on the dick to suck it dry. Robin pulls out of Matej's ass and both he and Lorenc drop their creamy loads over his back. Then all the guys stand around Matej as he wanks himself to lovely cumshot. They then all crowd into the shower to clean up after a great Wank Party.
WILLIAM HIGGINS
STR8HELL
BADPUPPY
DIRTY SCOUT
CLICK HERE TO GO TO HIS WILLIAM HIGGINS BIO PAGE