Blond American Jock Gay Porn Star, Pete Ross
Known Aliases / aka: Peter Ross
Years Active: 2004 – 2007
Lucas Entertainment Stats / Info:
Position: Versatile
Dick Size: 7"
Height: 5′ 10″
Popular porn star Pete makes his Lucas Entertainment debut in Michael Lucas' La Dolce Vita as Michael's ambitious former assistant. It's a role Pete perfected, from the acting (check out how he drives Michael's character nuts!) to the fucking (he broke-in our exclusive Jonathan Vargas in his first scene ever!). His scene with Vin Nolan in Encounters 4: On The Job further showcases his many talents!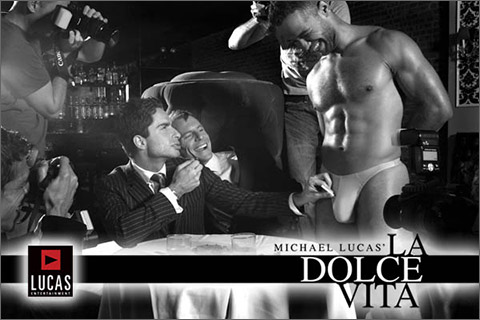 MICHAEL LUCAS' LA DOLCE VITA
The setting is Michael Lucas' beloved New York City, rather than Fellini's Eternal City. If anyone knows the underbelly of social climbing New York, it's Michael Lucas, one of the few porn entrepreneurs to regularly appear in the city's gossip columns. Fellini used a stand-in actor to take his highly autobiographical place in his "La Dolce Vita," but Michael Lucas plays his lead here with gusto. He is a fashion writer, on the skids by turning out pulp for a magazine instead of literature. His first stop is a fashion show where gorgeous male models strut the catwalk as New York denizens like Amanda Lepore and Kevin Aviance view the results. The entire first scene is a montage fashion show that looks as crisp and glossy as any coverage of a real fashion show (though the blink-and-miss-it tryst between Ben Andrews and Jack MacCarthy probably wouldn't make it to the pages of "Vogue"). Even the clothes themselves are high evocative in a non-sexual scene that is so populated it makes the finale of "Dangerous Liaisons" look small.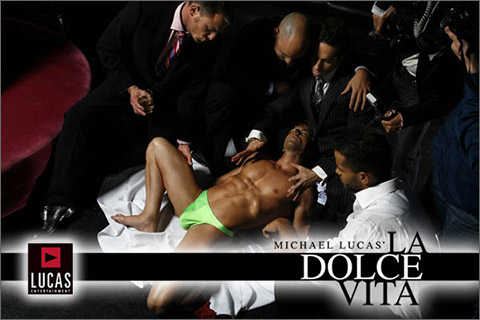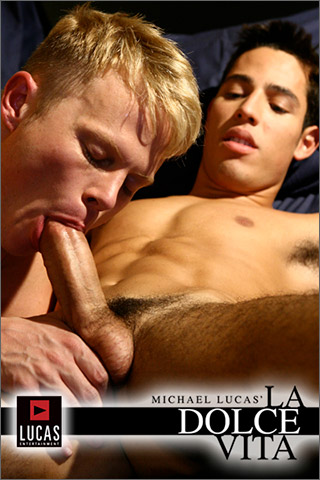 SCENE 3: Pete Ross & Jonathan Vargas
Meanwhile, Jack isn't the only one turned on by his own show. Michael's former assistant, adorable wide-eyed blond Pete Ross, takes home Jonathan Vargas for some "no-talking" sex. Once in the bedroom, they are making out loudly. Bathed in light just bright enough to show what's going on, the two youths really go at it. Brunet Jonathan is first to his knees, doing a rather frantic deep-throat on Pete. Moving to the bed, Pete licks all up and down Jonathan's chest until going in for a much-wanted blowjob. With two trusty hands helping, he totally delights Jonathan's uncut cock with everything from a foreskin tickle to a deep-throat. Both have sexy bubble-butts and Pete licks around Jonathan's, going in deep with the shadows playing night games with what can be seen. A busy 69 finds them in continuing fine form and Jonathan makes sure to spend plenty of time in Pete's ass, spitting and chasing with a slurping tongue. Jonathan rims Pete in every position possible, never tiring of this ass' taste. His reward is a chance to plug the ass, gingerly doing a jackrabbit fuck. Jonathan looked unimposing at first, but when he fucks, he totally turns on. He's energetic to the max, and creative to boot. He has Pete roaring in delight and Jonathan turns out to be one of the best tops in the entire movie. His speed is his best feature and he doesn't tire in the least. His boffo work ends up with a giant load on Pete's face before Pete pulls one out of himself sucking on Jonathan.

CHANNEL 1 / RASCAL
ALL WORLDS
JET SET
FACTORY VIDEO

CLICK HERE TO GO TO HIS LUCAS ENTERTAINMENT DETAILS
VIDEO ON-DEMAND: Pete Ross @ AEBN SMUTJUNKIES THEATER
NOW STREAMING: Pete Ross @ NAKEDSWORD