Cute American Hungry Bottom Boy Gay Porn Star, Jamie Donovan
Known Aliases / aka:
Years Active: 2006 – 2007
Lucas Entertainment Stats / Info:
Born: June 1986; Florida
Hair Color: Brown
Eye Color: Brown
Height: 5′ 9″
Weight: 152 lbs
Position: Bottom
Build: Swimmer
Body Hair: Moderate
Cock: 7.5″ Cut
This cute little bottom boy has a swimmer's physique and a dirty mind. Jamie may seem shy and coy at first, but get him excited and he gets naughty in the bedroom. This Florida boy loves getting fucked.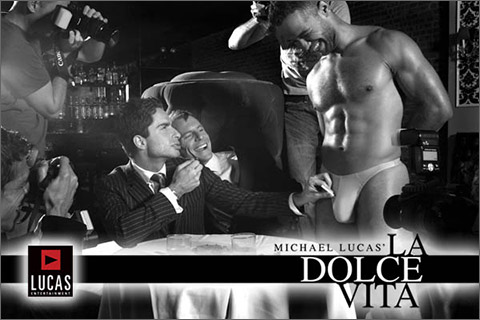 MICHAEL LUCAS' LA DOLCE VITA
The setting is Michael Lucas' beloved New York City, rather than Fellini's Eternal City. If anyone knows the underbelly of social climbing New York, it's Michael Lucas, one of the few porn entrepreneurs to regularly appear in the city's gossip columns. Fellini used a stand-in actor to take his highly autobiographical place in his "La Dolce Vita," but Michael Lucas plays his lead here with gusto. He is a fashion writer, on the skids by turning out pulp for a magazine instead of literature. His first stop is a fashion show where gorgeous male models strut the catwalk as New York denizens like Amanda Lepore and Kevin Aviance view the results. The entire first scene is a montage fashion show that looks as crisp and glossy as any coverage of a real fashion show (though the blink-and-miss-it tryst between Ben Andrews and Jack MacCarthy probably wouldn't make it to the pages of "Vogue"). Even the clothes themselves are high evocative in a non-sexual scene that is so populated it makes the finale of "Dangerous Liaisons" look small.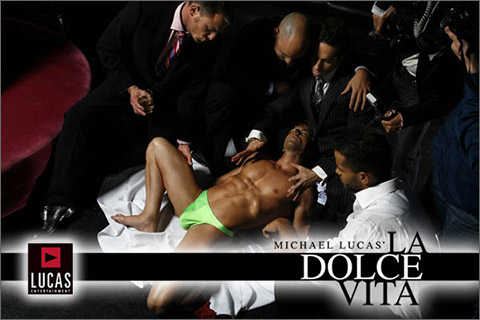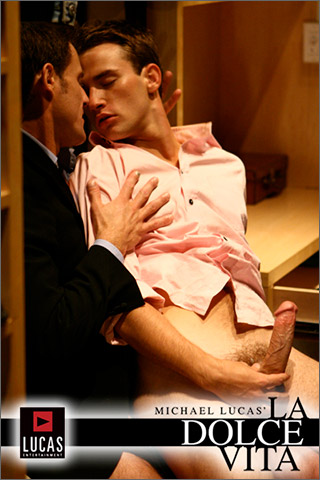 SCENE 2: Spencer Quest & Jamie Donovan
However, there is another party to attend, and this time Cole goes with Michael. "Why do they always look like unhappy rabbits?" Cole opines as Michael hopes to get Cole a publisher for his own work. The party is thrown by a true friend of Michael's, Spencer Quest, who actually has the first real words of advice for Michael before trotting over to very youthful brunet Jamie Donovan. He takes Jamie into a massive closet and begins to make out with this "freshman from Columbia." The mouthwatering dapper Spencer, as solid as any man can be, is an interesting mate for the tiny tempest Jamie. Spencer gets busy on his cock, sensually deep-throating the gorgeous thick piece with a wet mouth. He has a true method to his sucking, a real star turn here. Jamie gingerly sucks Spencer's most impressive shaft, using a hand to help out his plucky mouth. From the moment Jamie shows his pert pale ass, it looks inevitable that it will be raided, and Spencer treats it like the eye-opening discovery of El Dorado when he gently and lovingly licks at it. It doesn't stay merely pretty, as Spencer soon goes at the ass with abandon and then begins to pry it further open with his fingers. Spencer fucks Jamie, and my only complaint at the beginning is that both of them are still way too clothed. Spencer's fuck is ideal. He's playing the role of nonchalant older guy to the hilt, knowing that Jamie is just a momentary plaything. To that end, it's rare that Jamie's face is even captured by the camera. Spencer fucks Jamie and cums in a sadly short time and then makes out with the kid while he finishes.

ALL WORLDS VIDEO
EON FILMS
SHOWGUYS

CLICK HERE TO GO TO HIS LUCAS ENTERTAINMENT DETAILS
VIDEO ON-DEMAND: Jamie Donovan @ AEBN SMUTJUNKIES THEATER
DVDs & ON-DEMAND: Jamie Donovan @ TLA VIDEO