Handsome Czech Gay Porn Star, Otakar Bubek
Known Aliases / aka: Mike Lantic, Logan Hawk, Mike (BigDaddy & Bromo)
Years Active: 2013 – 2018
WILLIAM HIGGINS INFO:
Age: 21
Home Town: Ostrava
Height: 187cm/6'1″
Weight: 80kg/176lb
Foot Size: EU45/US9.1/UK8.6
Penis Size: 17cm/6.69″
Profession/Student of: Unemployed
Hobbies: Sport
Favorite Sports: Football
Active Sports: Football
Movie/Music/Sport Stars: Emma Watson
Visited Countries: Italy
Want to Visit Countries: Greece
Dream of My Life: To be rich!
Zodiac Sign: Leo (July 23 – August 22)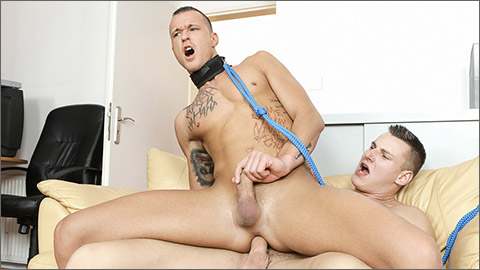 LOUD LOVERS
Luke Ward treats Mike like the good little bitch he is and Mike loves every moment of it. Feeding a good bitch is hard, but Luke's dick is even harder. Soon Mike gets to taste it for himself. Unable to hold back any longer, Luke bends Mike's eager ass over the couch and plows hard him until they both let loose explosive loads.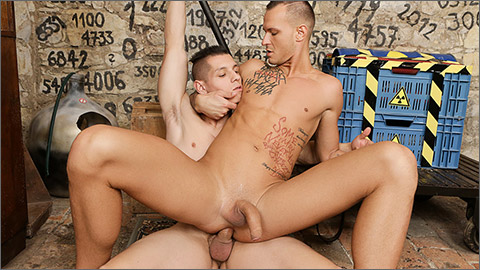 TOP FOR RENT – PART 3
Mike and Peter One are ready to completely devour each other. Starting with ass eating and cock sucking, they both get a nice long taste before getting down to bareback pounding.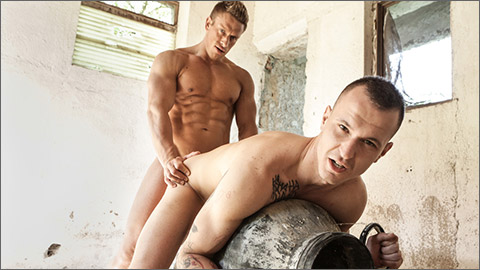 CHASING FAT COCK
Mike is single minded in his mission: find a nice fat cock to suck. Imagine his delight when Thomas DeCastro sneaks up behind him to give him a taste of his meaty piece. Watch these two turn an abandoned building into a den of lust, as Thomas goes to town on Mike's gorgeous ass with his tongue before plunging his hard cock inside that eager hole.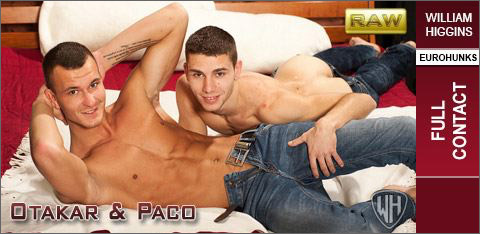 FULL CONTACT SCREEN TEST: PACO MLATICKA & OTAKAR BUBEK
Having recently tried Paco Mlaticka out with another guy we then paired him up with newcomer Otakar Bubek for a screentest. He does a brief interview with Otakar and then starts to kiss him, running his hands over his at the same time. Paco kisses down Otakar's body and opens his jeans. Pulling them down reveals a nice hard cock, which Paco quickly starts to suck. He is on his knees, sucking on that stiff cock, and kissing Otakar's nipples. Then he removes the jeans completely, so he can lick at the balls too. His mouth works well on Otakar's rigid pole. Then, as he rises up on his knees he allows Otakar to open his jeans too. Paco's dick is thick and quite hard too and Otakar is soon showing that he is up for sucking cock. His mouth closes tight around the thick shaft as he sucks on it. Then Otakar gets up on his knees too and Paco goes back down on that cock. His head bobs up and down as Paco's balls get nice and tight. Otakar holds Paco's head and fucks his face some. Then they wank each other's dick as they kiss again. Paco leans back and Otakar goes back to sucking on his, now rigid, cock. Paco uses a fucking motion to move that cock in and out of Otakar's mouth. Paco then moves, and bends over, exposing his hot ass, and Otakar starts to rim his tight hole. His tongue works on the hole and he slips a finger in there too. Then, with Paco on his stomach, Otakar slides his rock hard cock deep into that tight ass. He fucks that ass with nice long strokes, going in good and deep. They then move to a spoon position, with Otakar able to kiss Paco as he continues to fuck him. Paco is hard too and wanks himself as he gets a good, hard fucking. With Paco on his back, one leg up in the air Otakar fucks him deep. Paco wanks himself hard and fast and soon blows a big load of cum over his sexy body. Otakar continues to fuck that hot ass until he is ready to cum too and he drops his cum on Paco, milking his cock until it is completely drained. Then, as he leans over to kiss Paco, he slides his dick back inside. The guys then go off to the shower to clean up, with both of them still good and hard.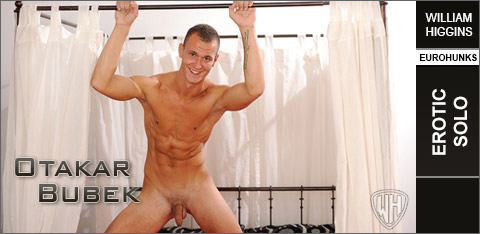 FULL CONTACT SCREEN TEST: PACO MLATICKA & OTAKAR BUBEK
Otakar Bubek is aged 21 and lives in Ostrava. He is currently unemployed and likes sports, particularly football. He is a great looking guy, with a very cheerful disposition. He smiles a lot, as he does his interview. Then Otakar kneels on the bed and removes his tee-shirt, to show off a very nice chest. He runs his hands over his body, opening his pants. His muscles ripple as he feels all over himself. Sitting on the bed Otakar then removes the pants, to reveal a big hard cock. He takes hold of the cock and begins to stroke it. He rests the cock on the frame of the bed, holding it in place with his hands as he starts a nice fucking motion. His big cock head shines as he fucks his cock against the metal frame. The foreskins wraps around the head with each thrust. Standing up Otakar then starts wanking his cock as he looks into the camera. Then he turns around and pushes his sexy ass towards the camera. He squats some, which spreads the cheeks to expose his hole. His hands then spread the cheeks to really show of that hole beautifully. As we enjoy that hot ass Otakar continues wanking on his hard cock. Next he lays on the bed and caresses his body as he continues to wank himself. As he wanks a helping hand arrives and moves Otakar down the bed a little. The legs are lifted into the air so that his sexy ass is exposed again, with the hands pulling the cheeks apart. That hole looks so inviting but the hand moves to take over the wanking of Otakar's throbbing cock. But Otakar like doing it himself and his hand resumes the wanking, soon producing a big creamy cumshot, as the wanking speeds up. The helping hand then milks the rest of the cum out of that cock and Otakar goes off for a well deserved shower.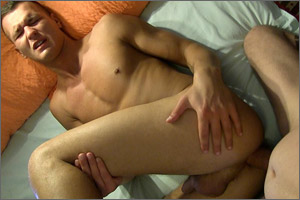 CZECH HUNTER 125
I am still a bit slow after my motorcycle-accident. That's why the public transport is one of the best spots for me to look for boys these days. Especially the metro. Boys are passing by and they usually have to wait for a while. On the other hand the people around get suspicious when they see a camera and hands full of money. So I always have to be a bit decent when approaching the guys. but then again the publicity makes me also feel a bit more safe. Otherwise I cannot explain myself why I approached such a muscular straight guy who had a rather aggressive appearance. I had to offer a lot of money to make him follow me to the hotel. Then suddenly he seemed to change his mind.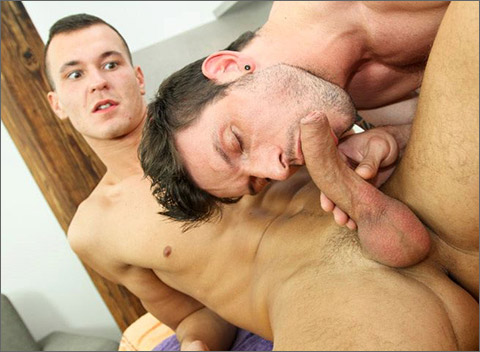 A MANS TOUCH
It's a good day when you go to get a massage and end up getting your dick sucked by the masseuse. To take it a few steps further he asks for you to fuck him and you agree since you're feeling so relaxed why the hell not!? Two men, one massage and a hell of a lot of oil. Nothing better.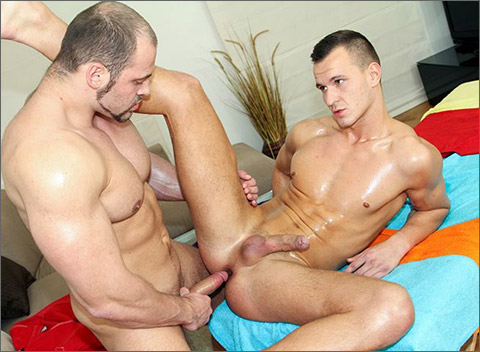 SEXY HUNKS HARDCORE ANAL MASSAGE
Mike and Tomm hook up for another sexual intense update of RubHim. This is non-stop massaging, cock sucking and anal pounding in this update. These are two sexy hunks lusting for each other. Ready for action. Enjoy!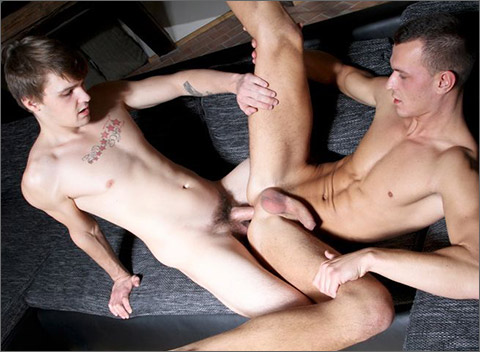 ANAL ATTACK!
You have to love this time of the week! It's Thursday and it's time for anal sex. These hunks look at each with pure lust. Ready to suck and fuck. No questions asked! Tony and Mike hit off well. Next thing I know. They were fucking. Non-stop anal sex.
BROMO
WILLIAM HIGGINS
STR8HELL
BADPUPPY
CZECH HUNTER
GAY WAR GAMES
CLICK HERE TO GO TO HIS WILLIAM HIGGINS BIO PAGE
CLICK HERE TO GO TO HIS STR8HELL BIO PAGE