William Higgins Czech Gay Porn Star, Anton Sanek / Rami Mickky
Known Aliases:
Years Active: 2015 – 2018
WILLIAM HIGGINS INFO:
Anton Sanek is aged 27. This good looking straight guy works as a warehouseman. In his spare time he enjoys sports, soccer and ice-hockey. He looks very good in this stills shoot as he poses for the camera, with a hint of a smile of his face. Removing his shirt Anton shows off his slim, fit, body. Then he turns, with his jeans pushed down, and shows off a lovely ass. Removing his jeans he then turns back to expose his soft cock and his balls. Turning again Anton gives us another look as his sexy ass. Then he sits on the sofa, cock in hand. That cock is soon hard and he stands up to show it off perfectly. What a beauty that cock is and Anton sits again as it stays nice and hard. He leans back and pulls his legs in the air to expose his hot, tight, ass hole. Then he finishes a very nice shoot with more posing to show off both the cock and the ass perfectly.
Age (2015): 27
Home Town: Brno show map
Height: 188cm/6'2″
Weight: 76kg/167.2lb
Foot Size: EU45/US9.1/UK8.6
Penis Size: 18cm/7.09″
Profession/Student of: Warehouseman
Hobbies: Sport
Favorite Sports: Soccer
Active Sports: Ice-Hockey
Movie/Music/Sport Stars: Nick Cave
Visited Coutries: France
Want to Visit Coutries: Italy
Dream of My Life: I don't know.
Zodiac Sign: Capricorn (December 22 – January 19)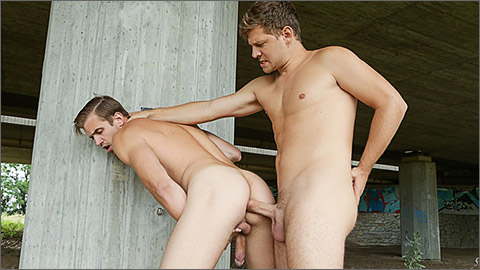 HOLE IS THE TOLL
Rosta Benecky is horse hung and not afraid to show it off. Not surprisingly, Rami Mickki is drawn to that big cock like a moth to a flame, offering his hungry holes as tribute. Rosta more than proves his talent as a forceful top in this smoking hot outdoor display of raw sexuality.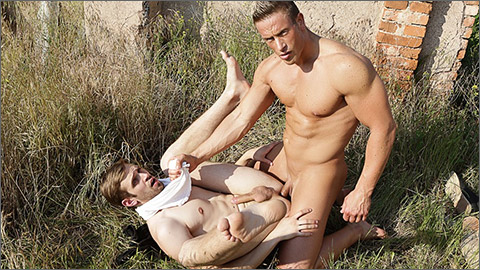 ROADSIDE BAREBACK
When Thomas DeCsatro spots Rami Mickky on the side of a country road, he decides to take him for a ride, whether he wants it or not. Thomas drives his captive to a secluded outdoor location so he can get down to business of using his body for his pleasure. Thomas stuffs all of Rami's holes with his big dick until they both blow massive loads.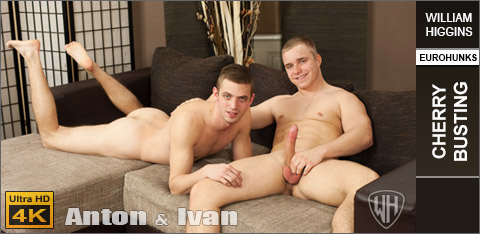 CHERRY BUSTING: IVAN MRAZ & ANTON SANEK
Anton Sanek came in to get his cherry busted by Ivan Mraz. The two of them sit on the sofa for a chat and then Ivan leans over to kiss Anton. Anton is happy to respond, returning the kisses. They remove each other's tee shirts and return to kissing. Ivan then leans over and kisses and licks Anton's nipples. He moves down to Anton's groin, opening his jeans and groping inside. Then Ivan pulls Anton's jeans off and starts rubbing his cock through the underwear. The underwear is removed and Anton's cock and balls are available for Ivan. He begins to rub and lick and then takes hold of the cock and begins to suck it. Anton responds, with his cock getting quite hard immediately. Ivan is very good at sucking and continues on the cock. Then Ivan gets naked as well with his cock nice and hard. He keeps up his sucking on Anton's stiff dick. He then gets up on his knees so that Anton can wank him. They look so good together as they wank and then Ivan sits and signals for Anton to come to him. He moves over, wanking on Ivan's cock and kissing him. Then he moves down to Ivan's rock hard cock and begins to suck on it. He wanks it as he sucks. Ivan moves onto his knees as Anton sucks the stiff cock and rubs the balls. He then lays back down and Ivan moves between his legs to suck on his balls and suck his cock again. Then he moves Anton so that he can rim his hot ass. He slips a finger into the hole as well. Then says he wants to fuck him. Anton agrees, but says to be careful, as it is his first time. Ivan then slides his hard cock into Anton's tight, virgin, ass. He starts to slowly fuck the ass, as Anton feels it. He breathes heavily as Ivan fucks his ass, going in deeper. Ivan is soon fucking him hard and fast and Anton wanks his hard cock as he takes the dick in his hole. He shoots his cum all over his belly as Ivan fucks him. Then Ivan pulls out and shoots his hot cum over Anton as well. Leaning over to kiss Anton Ivan asks if he liked being fucked. Anton responds that it was interesting. Then they go off to shower together and enjoy some more kissing.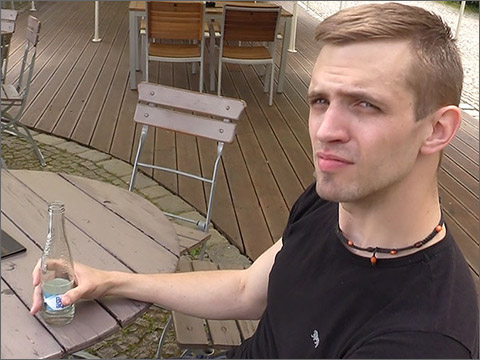 CZECH HUNTER 248
When young people from Prague want to go for a romantic date, they go to the Petrin hill. That's the place I went hunting today. There were so many cute boys! I tried two guys who were relaxing in a beer garden. We had a nice chat but when things got a bit more serious, they told me to go away. But I immediately started to chat with a boy sitting nearby. He was much more open-minded. Unfortunately, when I talked him into showing me his chest, we got kicked out of the restaurant. But the guy liked the scent of money. I managed to convince him to stay with me and he was more than willing to do what I want. His firm athletic body looked so nice. He was too scared to fuck outside. So we went to a nearby art gallery. To enjoy culture 🙂
WILLIAM HIGGINS
BADPUPPY
CZECH HUNTER
CLICK HERE TO GO TO HIS WILLIAM HIGGINS BIO PAGE