Sexy Columbian Power Bottom Gay Porn Star, Oskar Ivan
Known Aliases:
Years Active: 2021 – 2022
KRISTEN BJORN INFO:
Nationality: Colombia
Height: 5'8
Weight: 160 lbs
Dick: 7" (17.78 cms) uncut
Position: Bottom
Zodiac: Aquarius
Oskar Ivan hails from Colombia, the land that is as well known for it's lusty men as well as it's delicious coffee. Oskar is a sex magnet; hot men are drawn to him for sex, and he never gets too much of it!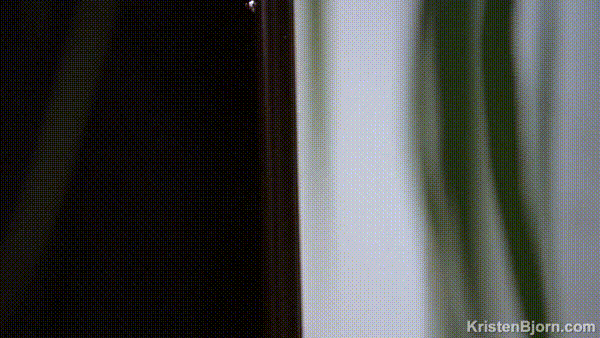 THE NIGHTSTICK
Louis Ricaute is working his usual beat when a call comes in about 2 suspects in his area, when he arrives to the location, he finds Marcos Oliveira and Oskar Ivan engaged in some tantalizing behavior. Not to miss out on an opportunity, Louis begins disrobing and instructs Oskar to suck Marcos' long, steely cock. Louis is impressed with Oskar's cock sucking skills and pulls out his burly cock and begins stroking it to attention. Marcos is then instructed to rim Oskar's furry ass as Louis continues stroking his massive cock. Enjoying the show, Louis continues stripping off his uniform and stroking his fat cock while exposing his huge, muscular body covered in a dense coat of fur as his nipple rings hang precariously from the tips of his nipples. Louis walks over to the action and both Marcos and Oskar are excited to explore the imposing, muscular body of the hot cop that works their neighborhood. Oskar and Marcos are eager cock sucking pigs as they eagerly swap turns sucking on the huge cock in front of them. Louis and Marcos take a seat on the sofa, but it is Oskar that takes the best seat in the house, on top of Marcos' throbbing cock. Oskar doesn't miss a beat as he leans over and begins sucking on the hot cop's cock while his buddy fucks his ass deep and hard. While Oskar is riding Marcos' cock, Louis shoves his nightstick up Marcos' ass. As the nightstick penetrates deeper, Oskar slams his ass down hard onto Marcos' rock-hard cock. Not to miss any of the fun, Oskar gets both the cop's nightstick and Marcos' cock shoved up his talented ass. Changing positions, Oskar mounts Marcos' back while the hot, hairy cop has his choice of two hot holes to fuck as he goes back and forth from one tight ass to the other. Marcos and Oskar can both feel that the hot cop's cock has reached it full girth and is about to explode when they jump off and position themselves to lap up the thick globs of cum erupting from the fat mushroom cock head of Louis. With the fresh taste of cum on his tongue, Marcos is the first to shoot a huge load of cum that flies everywhere. Oskar follows right behind Marcos as his giant load of cum coats his hairy thigh. This is one stop this hot cop will be making more frequently.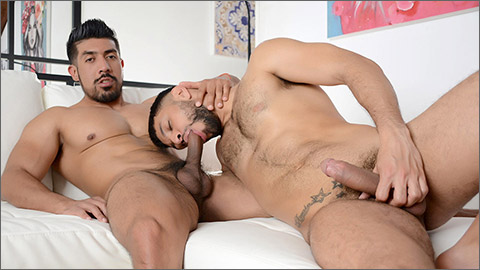 KRISTEN BJORN'S CASTING COUCH #462: AUGUSTO ARIAS & OSKAR IVAN
Another day, another adventure as the ever-sexy Oskar Ivan inducts the meaty muscle man and his bouncing pecs, Augusto Arias into the Kristen Bjorn Society of Select Men. Augusto has worked long and hard to gain all that muscle mass and is more than happy to flex and show all his splendor. All muscles does not mean a lack of sensuality as Augusto embraces Oskar and envelopes him is some passionate kissing and caressing. Augusto wants a taste of the delights in front of him and drops to his knees and begins sucking on Oskar's straining cock then just as quickly turns him around to get a taste of the delicacy of his hairy ass. Oskar is rotated several times before dropping down and feasting on the magnificent cock that is begging for his attention. Running his hot tongue up and down the strong cock shaft, Oskar makes sure to take time out to pleasure the bulbous cockhead at the crown of Augusto's cock, making Augusto moan and gasp with pleasure. With Augusto's cock saturated with his saliva, Oskar mounts Augusto and begins fucking himself, feeling the hot, wet cock filling his hungry hole. The guys flip and Oskar is on all 4's as Augusto slams his cock deep inside of his hairy hole, fucking him with an energetic yet sultry pace. Another flip and Oskar finds himself on his back with his legs spread wide as Augusto has clear access and drives his cock deeper and harder. Oskar grabs hold of his cock as the pressure and pleasure are building quickly deep within and strokes in unison with Augusto's pumping cock. The position has stroked Oskar's ass perfectly as he begins moaning aloud as his hot load of cum erupts all over his hairy thighs and abs. Augusto is on the verge and pulls out as Oskar spreads his perfectly spherical ass, giving Augusto a bullseye to hit. One more wink of that perfect hole and Augusto is creaming and coating it with his huge, thick globs of milky cum. The muscle man has given us a show and we want to see more!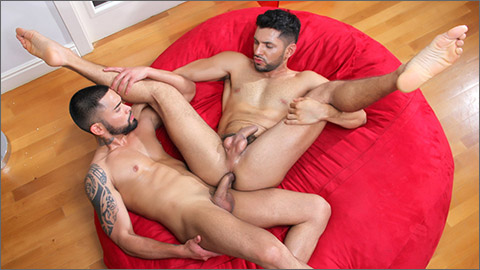 KRISTEN BJORN'S CASTING COUCH #446: OSKAR IVAN & GUIDO PLAZA
Guido Plaza introduces us to the talents of the newest member of the Kristen Bjorn Society of Select Men, Oskar Ivan. Sprawled across the vibrant red lounger, the color of love and lust, Guido and Oskar kiss their way through a romantic introduction. Of course, as the kissing heats up the underwear are ditched and the throbbing cocks are flirted with and engaged into play. Oskar quickly finds that the curve of Guido's cock makes it much easier to slip across his wet tongue and down his hungry throat. Demonstrating his magnificent cock sucking skills, Oskar consumes every centimeter of Guido's cock and does a little tug on his balls as they slip in and out of his mouth. Guido has been driven crazy with desire and inhales the sumptuous aroma wafting from Oskar's rock-hard cock as he leans in and begins sucking his incredible cock. With the aroma of Oskar's cock being so amazing, Guido cannot wait to get his oral gratification with Oskar's hairy ass. Guido wastes no time and immediately begins tongue fucking that perfect ass that fills all of his senses with joy and pleasure. Being flipped onto all 4's, Oskar's wet ass is open and ready as Guido slams his rock-hard cock deep within. Oskar backs his ass onto Guido and Guido goes wild with his fucking as pleasure floods his cock and throughout his entire body. Another flip and this time Oskar is on his shoulders with Guido on top of him shoving his cock balls deep into that perfect, hairy pleasure den. Guido knows that we love watching him fuck, so he pulls out, lets us admire that perfect ass then shoves his cock back in, driving each of us wild with desire. With another flip, Oskar in on his back, legs spread and Guido fucking him like there is no tomorrow. The pleasure is building quickly with each and every thrust of Guido's throbbing cock has Oskar grabbing hold of his own cock. The deep thrusts within his hairy ass has propelled Oskar to squeeze out his thick, milky load of cum. Oskar scoops up his cum and coats his ass as Guido plunges his cock and the cum deep inside of his ass. A few strokes later and Guido's cum is flying and washing Oskar's ass with his seed. Welcome to the Society of Select Men Oskar.

BRUTES DE SEXE

CLICK HERE TO GO TO HIS KRISTEN BJORN DETAILS
VIDEO ON-DEMAND: Oskar Ivan @ AEBN SMUTJUNKIES THEATER
NOW STREAMING: Kristen Bjorn Productions @ NAKEDSWORD