Handsome Spanish (Mexican) Gay Porn Star, Nicholas Bardem
Known Aliases:
Years Active: 2003; 2021 – 2022
KRISTEN BJORN INFO:
Nationality: Mexico
Height: 5'10
Weight: 171 lbs
Dick: 8" (20.32 cms) cut
Position: Versatile
Zodiac: Scorpio
Nicholas Bardem first shot some gay porn as a twink 20 years ago. Now he has made a come back as a handsome, muscular hunk of man. Nicholas is mostly a top, but he can also flip over and take it like a man.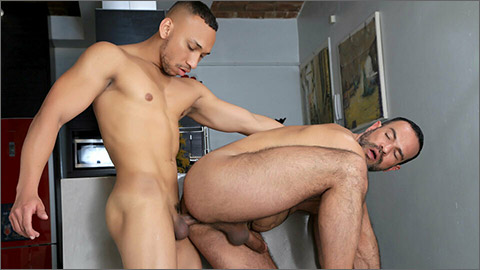 KRISTEN BJORN'S CASTING COUCH #460: DANI BROWN & NICHOLAS BARDEM
A tasty treat is in store for Dani Brown as the very handsome and sexy Nicholas Bardem inducts him into the Kristen Bjorn Society of Select Men. Dani demonstrates his cock sucking skills and quickly has Nicholas excited and quickly shedding his clothing. The guys lead off with some sensual kissing as Dani drops to his knees and begins servicing Nicholas' growing cock. Nicholas matches Dani's rhythm and begins fucking his mouth in unison and penetrating his throat. The guys swap up and Nicholas takes Dani's curved cock into his mouth as it easily glides across his tongue and down his hungry throat. With Dani's cock solid as steel, his balls drawn up tight and his legs lifting into the air, Nicholas knows that it is time to give it to him. Nicholas stands up and rams his raw cock full length into Dani's exposed ass. Dani then flips it on Nicholas, bends him over and shoves his handsomely curved cock deep into his furry ass. Slamming his cock balls deep into Nicholas, Dani gets some extra stimulation as his smooth ball sac is tickled by Nicholas' hairy ass. This position and all the stimulation have pushed Dani over the edge as he explodes a huge load of cum that shoots all over Nicholas' ass, his own ripped abs and then dumped deep inside of Nicholas drenched ass. Nicholas then turns around and feeds Dani his creamy load of cum. This has been a great performance by Dani, but I think we need to see some more hot action from that sexy, curved cock.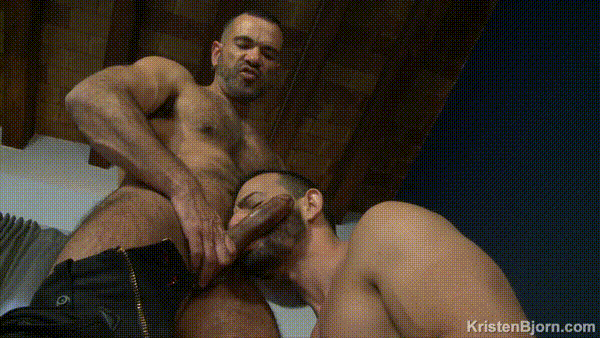 THE BOOT
That brisk autumn air brings out the horny in us all and today Nicolas Bardem straps on his black, leather boots, mounts his motorcycle and picks up his favorite fuck buddy, Francisco Ranniero. The guys take off for a fast-paced ride as the engine roars and rumbles beneath their ass and vibrates their already stimulated cocks. Upon arrival, it is a fight to rip away the clothing that is containing their hot, muscular bodies that are begging to be pleasured. Francisco tears his way through Nicolas' underwear to the throbbing prize that he has been anticipating to wrap his hungry mouth around. Francisco gives Nicolas a full and deep cock sucking that is only fueled by the smell of the sweat that has built up during their motorcycle trip. Nicolas drops to his knees and yanks Francisco's jeans and underwear away so that he too can savor the delicacy of a hot, throbbing, sweaty cock. Nicolas unleashes his tremendous cock sucking skills upon Francisco and finds his cock completely drenched in drool. Nicolas is relieved of his boots and both men take in the aroma of leather, man sweat and sex as they both find the smell intoxicating. With Francisco's cock still dripping in drool, Nicolas takes full advantage of the situation and lowers his hairy ass onto the throbbing cock and rides it as hard as he does his bike. The guys flip and Nicolas is on all 4's while Francisco fucks his furry hole from behind. This position is one of Francisco's favorites as his balls draw up tight and his cock becomes a granite shaft. Another flip and Francisco takes a whiff and taste of Nicolas' sweaty ass before ramming his raw cock deep inside. Francisco sucks and fucks Nicolas at the same time and finds he is ready to explode, but it is Nicolas that is exploding from all the hot stimulation. Nicolas grabs his boot as Francisco shoots his creamy load of cum all over the smooth, black leather. Nicolas laps up the cum from his boot and from Francisco's cock. The boot has been immersed with the juice of man sex.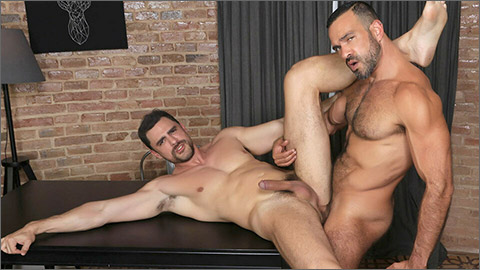 KRISTEN BJORN'S CASTING COUCH #454: NICHOLAS BARDEM FUCKS KYLE FOX
The sultry Kyle Fox is inducted into the Kristen Bjorn Society of Select Men by the incessantly handsome Nicholas Bardem. Nicholas walks up to Kyle with only his jeans on and begins working his hot mouth across Kyle's lips, bearded cheeks, smooth neck and down his long, muscular torso until he reaches the prize that he is after. Kyle's jeans are undone and his semi-hard cock jumps out demanding attention. Nicholas is right there to catch as it falls out and into his awaiting, hungry mouth. Working his mouth up and down the ever-growing cock shaft, Nicholas can feel the head of Kyle's cock jabbing at the back of his throat as it gains full strength. Nicholas' expert cock sucking skills has brought Kyle's lengthy cock to full attention and his heavy ball sac is full and fat. Stepping up and onto the table, Nicholas' thick cock is released and Kyle leans in to suck the fat cock demanding his attention. Nicholas presses his sneaker on Kyle's throbbing cock as Kyle presses it down even harder, stroking his cock between the sole of Nicolas' shoe and the hard table. Kyle gets a good face fucking before he flips Nicholas around and slips his vibrant cock deep into Nicholas' hairy ass. As Kyle slams his cock in and out of Nicholas' ass, Nicholas' cock remains steadfast and firm. Kyle realizes that he has fucked with such intensity that he has to back off before those fat balls explode. Nicholas flips him and begins eating his smooth ass, giving him a wet tongue fucking before ramming his thick cock into his slippery ass. Nicholas finds that it isn't wet enough for him and pulls out and begins tongue fucking again. Once Nicholas has had his fill of tongue fucking, he slips his cock back in and begins a hard fucking. Kyle's ass proves to be really sweet for Nicholas as he blows his load all over Kyle's bearded chin and Kyle laps the last of his load. With the hot cum lingering on his tongue, Kyle begins shooting his hot load and Nicholas drops to his knees and catches every drop on his hungry tongue. Welcome to the Society Kyle.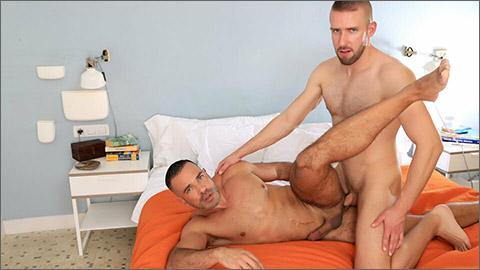 KRISTEN BJORN'S CASTING COUCH #459: HURRICANE DOMI & NICHOLAS BARDEM
Being inducted into the Society of Select Men, Hurricane Domi strips down as he slips into bed with the very handsome Nicholas Bardem. As the bulges in their jock straps rapidly grow, Nicholas begins chewing thru Hurricanes straining jock strap before releasing his fat, uncut cock and taking it into his hungry mouth. Hurricane is pinching and stimulating his nipples as Nicholas sucks on his cock, bringing it to its full length and girth. With his own straining cock demanding attention, Nicholas moves into position and shoves his cock into Hurricane's hungry mouth. Hurricane is being stimulated and aroused at every angle as his face is being fucked by a magnificent cock, pinching his nipple, and stroking his thick cock, feeling the pleasure radiate throughout his entire body. Swapping positions, Hurricane bends Nicholas over and rams his raw cock deep inside of his furry ass, immediately picking up his pace as he slams Nicholas' ass. Another swap and Nicholas is on his back and the Hurricane is blowing in with such force that there is only pleasure in this Hurricane. As Hurricane pumps his cock in and out of Nicholas' ass, he is also filling Nicholas' ass with such force that Nicholas grabs his cock and begins stroking it as the pleasure builds and consumes him until his balls draw up tight and flood his cock with his erupting load of cum. Hurricane feels the vice grip around his cock and unleashes his hot, milky load of cum all over Nicholas' starving tongue and lips. Hurricane shoves his hooded cock into Nicholas' mouth to be cleaned of all the cum then Hurricane leans in and laps up his own juice and kiss the cum away from Nicholas' face.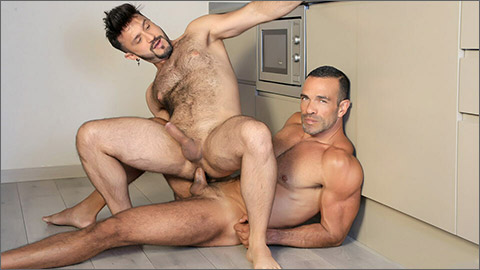 KRISTEN BJORN'S CASTING COUCH #452: NICHOLAS BARDEM FUCKS KIKE GIL
The sexiest cub in all the land; Kike Gil inducts Nicholas Bardem into the Kristen Bjorn Society of Select Men. As Nicholas enters the room, we can see that his natural scruffiness is equally matched by his more than impressive muscular body and a smile that will drop anyone to their knees. Kike enters the room, their eyes lock, and the chemistry between them pulls them together as their lips strike with intense passion and the flames ignite as their hips begin gyrating against one another. The guys strip down to their jock and underwear, revealing even more of their hairy, masculine bodies. Nicholas drops to his knees and liberates Kike's fat, hard cock and immediately consumes his entire cock shaft down his throat. Kike is overwhelmed with the pleasure as Nicholas bathes his cock and balls in pure pleasure. Not to miss a beat, Kike drops to his knees and releases the magnificently shaped and curved cock that awaits his talents. Kike luxuriates in the view, the smell, and the taste of the beautiful cock in front of him. Being a cock sucking pig pays off as Kike gorges himself on Nicholas' rock-hard cock. Nicholas is hungry and flips Kike around, spreads his hairy ass and plants his raw cock deep within that furry hole. Kike raises his foot to the countertop and exposes all the hot action to our gratification. Nicholas assaults Kike's ass with such power that Kike can only grit his teeth and beg for more. Slamming and slapping that hot muscle ass only drives Nicholas into a savage state and only deep pleasure is registering in his mind. Lost in his pleasures, Nicholas' cock explodes as his creamy load of cum melds into all that dark hair circling Kike's sexy ass. Kike is still very hungry and in need of more and Nicholas is more than eager to accommodate his good friend. Kike lowers his hairy hole down onto Nicholas' throbbing cock and Nicholas immediately thrusting his pounding cock deeper and harder. Kike grinds his ass down hard until he strikes the exact spot that will send him over the edge. Feeling the flames set ablaze deep within his ass, Kike gyrates down until his hot load of cum splatters all over his hairy thighs. Sex beasts at their best!

BRUTES DE SEXE

CLICK HERE TO GO TO HIS KRISTEN BJORN DETAILS
VIDEO ON-DEMAND: Nicholas Bardem @ AEBN SMUTJUNKIES THEATER
NOW STREAMING: Kristen Bjorn Productions @ NAKEDSWORD