Handsome Spanish Kristen Bjorn Gay Porn Star, Oliver Marinho
Known Aliases:
Years Active: 2012; 2020 – 2021
KRISTEN BJORN INFO:
Nationality: Spain
Weight: 180 lbs
Dick: 7.5" (19.05 cms) uncut
Position: Versatile
Zodiac: Sagittarius
Oliver Marinho made his porn debut back in 2012 with us in Casting Couch #260. For personal reasons, he decided not to pursue a porn career. Nine years later, we are glad to have him back. Oliver is as hot as ever, and his big dick and tight ass are back to delight us.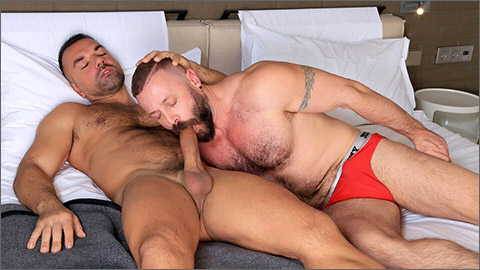 MANEUVERS: MARIO ROMA & OLIVER MARINHO
After a wild hook up last night, Mario Roma and Oliver Marinho are ready for some more tactical and sexual maneuvers. As Mario and Oliver awake to the feel of each other's furry pelts, Mario pulls out Oliver's thick, meaty cock and begins stroking him, making sure to pull back his foreskin and reveal his bulbous head. Mario moves in and can still smell the scent of their sex from the prior night, breathing in deeply, Mario's senses are filled with desire as he begins sucking on Oliver's huge cock. Oliver is extremely turned on as he begins sucking on Mario's cock, as he can taste their fuck juices still lingering on his cock. With the smell of sex wafting throughout the room, Oliver is ready to go again. Lowering his ass onto Mario's cock, Mario can still feel his hot load inside of Oliver's ass, lubricating him perfectly for this morning's sexual maneuvers. Oliver fucks his ass up and down Mario's throbbing cock as his cock flops around full of lust and desire. The guys flip positions and Oliver finds himself on his back with Mario above him fucking him deeper and harder. Mario's cock has massaged Oliver's ass perfectly, which triggers Oliver's cock to erupt with a creamy load of cum. Mario continues with his fucking and flips Oliver onto all 4's and slams his cock into that wet ass from behind. Mario's pace picks up a rapid pace and drives him to the edge as he showers his hot load all over Oliver's ass. Mario slips his cock back into Oliver's ass, adding the remainder of his load with his load from the night before. Now that is a top-notch mixologist.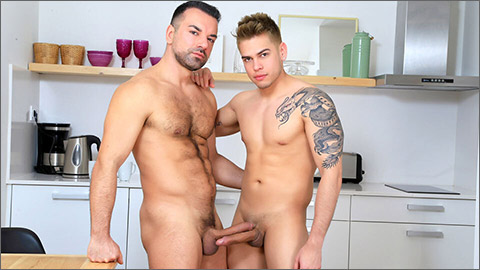 SEX BREAKFAST: OLIVER MARINHO & DELAN BENOBE
On a bright and cheery morning Oliver Marinho is the first to awake and heads to the kitchen to prepare the tea, but his mind is still in the bedroom as Delan Benobe rounds the corner and we see why. Delan enters the room seductively wearing only his jock strap and breakfast will have to wait a little longer. Delan reaches down and finds that Oliver's cock is already full of excitement, so the only thing to do is to drop to his knees and begin sucking on his growing cock. Oliver verbally encourages Delan as the cock sucking gets intense and moves onto a deep face fucking. Delan then takes a seat on the counter and maybe it is time for breakfast as Oliver wraps his lips around the fat cock shaft and brings it to full attention. Jumping off of the counter, Delan presents his ass to Oliver, who immediately plunges his hefty cock deep inside of that hot, raw ass. The guys switch things up and this time Delan squats his ass down onto Oliver's awaiting cock. As Delan slams his ass down onto Oliver's cock his own cock is flopping around and filling with pleasure. Another flip and Delan is now on his back with Oliver coming in hard and fast. The guys build a hot rhythm together, as both are rapidly approaching the edge of no return. Oliver's steady rhythmic fucking has massaged Delan perfectly as he grabs hold of his cock and strokes out a delicious, creamy load of cum. Oliver leans over and laps up the cum on Delan's abs then sucks his cock dry of any remaining cum. With the taste of hot cum fresh on his tongue, Oliver unleashes his hot load all over Delan's balls and ass, before shoving his cum soaked cock back inside of Delan's ass. A Sex Breakfast is always welcomed, followed of course by pancakes!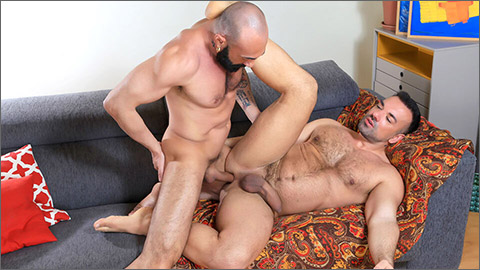 MATCH POINT: OLIVER MARINHO & GIANNI MAGGIO
Monster cock title holder, Gianni Maggio brings Oliver Marinho back to his flat after cruising each other at the gym. Both men's cocks are stretching their sweats to the limits when Gianni drops to his knees and yanks Oliver's sweats down and frees his throbbing cock. Gianni is a hungry cock sucker and immediately begins devouring Oliver's magnificent cock. Feeling Oliver's balls draw up tight, Gianni knows that he needs to back off to thwart off any premature explosions. Gianni's cock flops out as a sigh of excitement crosses the room in anticipation of what that monster cock will do. Still famished, Gianni spins Oliver around and begins feasting on his handsome, hairy hole. Gianni stands and teases Oliver with just the head of his cock probing inside of his luscious ass. Going back and forth several times from cockhead to probing tongue has excited Oliver to the point that he is ready for the full length of this massive anaconda. Oliver gets onto all 4's on the sofa and Gianni is ready for a full ass fucking. Gianni goes deep and hard on Oliver's exceptionally talented ass as both men work in unison for the pure pleasure of fucking.  Oliver gets flipped onto his back and Gianni slips his cock in before reaching a rapid-fire fucking. Gianni slips behind Oliver and continues with his deep dicking as Oliver grabs hold of his own cock and begins stroking it full of luxurious sensations. Gianni is unable to hold back any longer and creams Oliver's balls with his thick load of cum. Oliver scoops up Gianni's cum and continues stroking his cock and just as Gianni slips his cum slicked cock back into his wet ass, Oliver strokes out his own load of cum. Now that is some good motivation to go to the gym, there just might be a monster cock waiting for you at the gym.
CLICK HERE TO GO TO HIS KRISTEN BJORN DETAILS
VIDEO ON-DEMAND: Kristen Bjorn Productions @ AEBN SMUTJUNKIES THEATER
NOW STREAMING: Kristen Bjorn Productions @ NAKEDSWORD