Handsome Venezuelan Kristen Bjorn Gay Porn Star, Jonas Brown
Known Aliases:
Years Active: 2020 – 2021
KRISTEN BJORN INFO:
Nationality: Venezuela
Height: 5'11
Weight: 183 lbs
Dick: 6" (15.24 cms) uncut
Position: Bottom
Zodiac: Pisces
Jonas Brown is a masculine and muscular Venezuelan man who has an insatiable appetite for sex. Jonas loves taking huge cocks in his mouth as well as in his ass. The only thing that Jonas likes more than sex is more sex!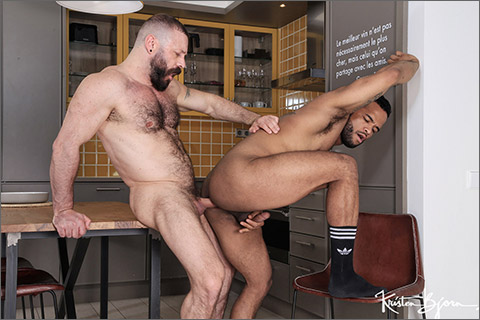 KRISTEN BJORN'S CASTING COUCH #440: JONAS BROWN & MARIO ROMA
Jonas Brown is the newest member to the Kristen Bjorn Society of Select Men and is being inducted by the very sexy daddy, Mario Roma. Mario and Jonas have been messaging each other for some time until finally Mario goes to visit Jonas in France. After a wild first night the guys get up and find that their carnal lust has yet to be satisfied. Bumping and grinding big bulges away in the kitchen, Jonas' cock springs free and is demanding more attention. Jonas jumps up on the counter with his cock fully erect with desire as Mario leans in and shows just how amazing daddy's cock sucking can be. Mario thoroughly works his wet lips up and down the chestnut-colored cock shaft, making sure to pay special attention to the bulging nob on top. Unable to contain his craving, Mario shoves his throbbing cock into Jonas' hungry and eager mouth. Jonas sucks, swallows and chokes down Daddy's cock as he opens wide for more. Jonas looks up at Mario with an animal desire and opens his mouth for Daddy's spit to keep him lubricated. Mario grabs hold of his hairy nipples and begins twisting and pinching them, raising his thirst for more to a new level. Jonas is bent over the table as Daddy Mario thrusts his hard cock into that perfectly sculpted brown ass. Mario rams his cock deep within Jonas' ass and Jonas meets his thrusts by backing his ass up onto the pleasure pole filling him up. Getting flipped onto his back, Jonas is able to look into the eyes of the man rocking his world. Mario has slowed up his pace and is now fucking Jonas's with a touch of passion and romance. Flipping again, but this time Jonas takes the lead as he backs up onto the furry beasts' pulsating cock. Jonas grinds his ass deep and hard onto Mario's cock, causing his own cock to reach its full fortitude. One last thrust back and Jonas' cock is erupting in flowing cum. Jonas feels the pulsating of Mario's cock in his ass and drops to his knees just in time to feel the hot load explode all over his face and especially on his starving lips and tongue. I think we will be seeing much more of our beginner.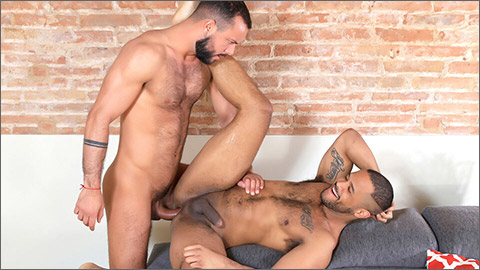 BIG DEAL: SIR PETER & JONAS BROWN
Jonas Brown has been in hot pursuit of Sir Peter and his legendary huge cock and tonight his persistence pays off. Sir greets Jonas with a kiss and the party begins. The passionate kissing leads to a slow, seductive striptease and then the massive, meaty cock of Sir's bursts forward and impresses all who view it, but for Jonas this is a big deal. Being the perfect host, Sir drops to his knees and begins sucking on Jonas' dark mahogany cock as Jonas takes Sir's head into his hands and begins fucking his mouth with his rock-solid cock. Sir's expert cock sucking skills has Jonas begging for more as he drops to his knees to service his dream cock. Jonas opens wide as Sir begins fucking his throat with his monster cock. Jonas chokes, gags and swallows as much cock as he possibly can and Sir backs off for him to catch his breath, but Jonas has waited too long to pleasure this dream cock. Sir turns Jonas around and begins by making a meal out of his  magnificent ass. Sir's pink tongue probes, penetrates and titillates that beautiful brown ass, amplifying both men's desires. As Sir stands up his raging hard-on slips the full length deep inside of Jonas' hungry ass. Jonas feels the sheer girth of Sir's cock splitting his ass open beyond anything he has ever felt before. Sir flips Jonas onto his back and continues with the onslaught of deep monster cock fucking. One last flip and Jonas is lowering his ass onto Sir's straining cock. The men enter into a union of pleasure as both service the other, Jonas with his tight, wet ass and Sir with his huge, fat cock at full strength and full girth pounding away in search of ecstasy. Jonas grinds his ass down hard onto Sir's monster cock as his own cock erupts with a thick, creamy load of cum. As Jonas unleashes his load his ass muscles grab hold of Sir's cock and milks his cock for his luscious load of cum. The onslaught of Sir's cum splatters all over Jonas' thighs, but Sir shoves his erupting cock back into Jonas and leaves him with an ass full of cum.
CLICK HERE TO GO TO HIS KRISTEN BJORN DETAILS
VIDEO ON-DEMAND: Kristen Bjorn Productions @ AEBN SMUTJUNKIES THEATER
NOW STREAMING: Kristen Bjorn Productions @ NAKEDSWORD