ChaosMen Amateur Gay Porn Guy, Oliver King
Known Aliases:
Years Active: 2016
BRIAN OCKERT / CHAOS MEN INFO:
Start Age: 27
Debuted: July 25, 2016
Height: 6′
Weight: 205 lbs
Cock: 6.5″ Cut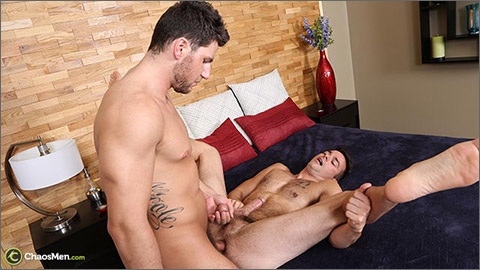 RAW: OLIVER KING & PHINEAS
Oliver likes to fuck aggressively, and after Phineas's first time with Vander, I knew he was the right man for the job.
   Phineas starts by servicing Oliver, getting him nice and hard. Oliver returns the favor, and with both guys revved up, they 69 suck each other.
   Next, Phineas climbs aboard and straddles Oliver's cock, slipping it nice and smooth. He grinds his ass up and down, pleasuring Oliver with his hole. He rides him reverse and strokes his own dick.
   Oliver bends him over the edge of the bed and pounds him extra hard. Phineas loves it!
   While on his back, Oliver fucks the cum out of Phineas. Vander had to work hard to pull the load out Phineas during the Edge video, and had I known Phineas would cum so easily with a dick in his ass, I would have tried to find a way to make that happen.
   Oliver juices his hole, breeding his boy like a pro!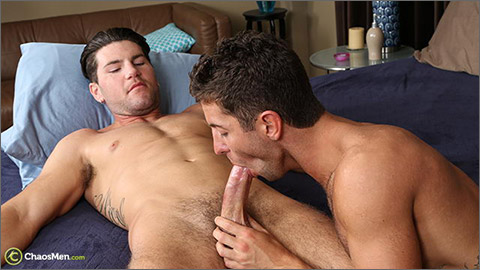 SERVICED: OLIVER KING & SEAN PEYTON
Since Oliver was down to swap oral, I had him sitting on the edge of the bed so he would have quicker access to Sean's cock.
   But he lay back and ended up in a traditional Serviced position. I slid some pillows in there on the sly to give him some support. Sean sets to work at getting Oliver hard and has him up and running in no time.
   Oliver really isn't watching the TV I had going for him, but seemed very interested in what Sean was doing to his cock.
   Eventually Sean stands up to give Oliver access to his cock, then he pulls it out and starts stroking it. Sean straddles his chests giving Oliver a chance to suck his cock. Sean reaches back, stroking his buddy's cock while getting serviced.
   Sean climbs off and goes full throttle on Oliver's cock. He then gets on his back so Oliver can face fuck him.
   Oliver busts a very small load, so I asked him if he could take a load to the face. While he is not super hungry to eat some cum, he actually does pretty good job of taking a load to the face!
   Thank goodness Sean's balls were full of cum!

SOLO: OLIVER KING
Oliver is a 27-year-old, self-described gym rat. He identifies as straight, but has worked in gay clubs and events, and has found himself messing with dudes on occasion.
   So he thought why not start filming it and make some extra cash?
   He is very gay friendly and was super eager to please you guys. He wanted feedback as to what he could do improve and make you all happy. He wants to make a go of this, so he is newly motivated to get shredded and even grow out that chest hair for us.
   It sounds like he has done pretty much everything with a guy, but bottoming seemed very limited to a couple failed attempts. But nothing seemed off the table.
   Oliver jerks his cock very fast, but occasionally slows down the action so we can see his thick 6.5 inch cock. He loves videos of girls squirting, and thankfully I have 5-6 of those videos on hand to help him out.
   His ass is also amazing, with a hot hairy hole!
   For his cum shot, he squeezed the heck out of his cock, and you can tell just how intense the orgasm was!
CLICK HERE TO GO TO HIS CHAOSMEN BIO PAGE