Blond Handsome ChaosMen Amateur Gay Porn Guy, Jonas
Known Aliases:
Years Active: 2014 – 2016
BRIAN OCKERT / CHAOS MEN INFO:
Start Age: 20
Debuted: November 4, 2013
Height: 5'7″
Weight: 145 lbs
Cock: 8″ Cut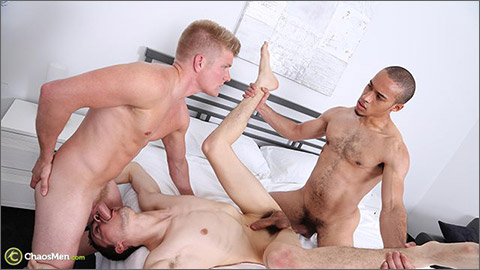 PURE: ANTONIO CERVONE & GERARD & JONAS
This has got to be one of the best TagTeam or Pure videos on the site!
With Jonas now being an Out gay guy, Gerard's sexual intensity, and Antonio's submissiveness, this made for a perfect blend of three hot guys really into each other.
   You will notice that Gerard is struggling to not cum through most of this video. I feel like he is a lot like Jet, a very quick cummer, but he is worried he might need 10-15 minutes of recovery.
   There is a great OutTake at the end, so stay-tuned for that.
   Even while getting head, Gerard would have to push either Antonio or Jonas away to avoid nutting too soon.
   Both Antonio and Jonas love sucking dick, so we started with that. Gerard is a sexual dynamo and took turns sucking both his buddies while he got serviced.
   They daisy chain suck each other, and there is a moment where Gerard realizes that Jonas did not get into the right position. He smiles up at me and I am making a motion to just grab him. It's cute and I left it in the movie itself.
   Not only is Antonio a professional cocksucker, but he is also a fantastic bottom. But with Gerard on the edge of cumming so quickly and having a massive cock, I gave Jonas first dibs at fucking Antonio's ass. Antonio is thrilled to have both his holes filled.
   Gerard was still having problems holding back from nutting, so he let his cock go down and switched places with Jonas. He sucks on Antonio's hole, rimming him like an expert, revving his cock back up to penetrate him.
   At this point, even stroking his cock slightly soft was getting him close. He goes to shove it in when a load just explodes out of him! Ooops!
   But once he creamed his hole, he got fully hard, and fucks his cum into Antonio! I guess he just needed to get his first load out of his system!
   With his cum dripping down his cock, he rams him really good then invites Jonas to come fuck Antonio's sloppy hole.
   Antonio cleans Gerard's cock, while Jonas then flips Antonio onto his back. This gives Gerard a chance to suck on Antonio's cock while he is getting fucked.
   Gerard's dick was spent by then, so he spun around and sat on Antonio's face. While getting rimmed, he reaches back and keeps Antonio hard. With a little recovery time, Gerard is back in the game, fucking Antonio's face.
   They spin Antonio in place so that Jonas could fuck his face, and with Gerard's reloaded cock, he fucks the hell out of Antonio.
   Jonas jerks his cock and unloads right into Antonio's mouth.
   Those of you who watch these videos know I love it when all the guys cum at once, so I kept my camera going. There is little hiccup as I pan up to give you a view of Jonas and Gerard kissing, but then decided that Antonio was going to bust and that I had better keep my camera aimed at Antonio's cock.
   With Jonas's load all over his face and Gerard pounding his hole, Antonio busts a huge load. Gerard keeps fucking and seconds later bust his second nut of the day!
   I feel so lucky when this happens, and I hope you can tell by my edit how fantastic the big finale is!
   Magic!

RAW: JET & JONAS
Jonas is finally totally in the game! I think he finally came to terms with messing around with dudes, and fucks Jet with wild abandon. It doesn't hurt that Jet loves to be fucked, and I think Jonas loves to have his cock worshiped, either orally or anally.
   We even got him to eat some ass!
   Jonas fucks Jet doggy-style on the bed, using his long curved dick perfectly to pound Jet's hole. Jet, as usual, is bone-hard and fighting to not nut through-out the entire video.
   He finally lets go as Jonas slides his cock in and out of him. Jonas is a pro at breeding his boy, dumping his load on and inside of Jet!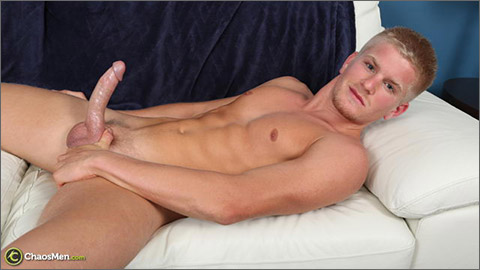 SOLO: JONAS
Jonas missed his outgoing flight, and instead of a nice 3 hour non-stop he ended up bouncing all over the country. Landing at about 10:30pm. I was not too eager to go pick him up, cram his solo in, then get up again the next day to film a Serviced video. But once he landed, I was blown away by how hot he was.
   We both were a little tired, but once the cameras were on him, BAM, he turns it on, and he totally brought his A game. Jonas is sexy, adorable, hung with a left hook, and those blonde pubes are hot! They exactly match his spiky blonde hair on his head. And the blue eyes, can't forget those! Amazing!
   His attitude seems to be that he is tired of doing manual labor jobs and wants to do porn as often as he can. So though he isn't experienced with guys, he is willing to try receiving and getting oral from the get go and even beyond.
   He of course only wants to top, but after he showcased his ass, I told him to be prepared for a lot of requests to see him bottom. He totally works it for us, like a hungry eager bottom boy would!
   Stay-tuned for next week, when he and Glenn get into it. After a little bit of sleep, he ramps his energy even more!
   As long as he can not miss his flights, this hot new dude is part of Team Chaos!
CLICK HERE TO GO TO HIS CHAOSMEN BIO PAGE