Sexy Hairy Gogo Boy ChaosMen, Noah Riley
Also See: Elder Riley
Years Active: 2014 – 2015
TWITTER @NoahRileyX
CHAOS MEN INFO:
Start Age: 22
Debuted: October 13, 2014
Height: 5'7″
Weight: 140 lbs
Cock: 6″ Cut
Noah has done video work before, so he is very smooth at doing his solo.
   He has a small frame, grew his pubes out and also let his chest hair come back. He also looks awesome with his scruffy. I think with his body hair all shaved-up he would fall into the twink category, but with the body hair, I feel, makes him a lot more masculine and mature. But everyone seems to have a different interpretation of what twink means.
   His cock leaks pre-cum during both his photo session and during the video. He is not shy about tasting it either! If you love dripping cocks, you will love this guy's faucet!
   Noah says he is versatile, but tends to bottom, and I can think of more than a few guys that would look amazing with him. His cum shot is tremendous and I am surprised so much cum came out of his cock. He unloads machine gun style, coating his entire torso.
   He will be back next week with Glenn, who takes a break from his busy day job, to swap facial with Noah!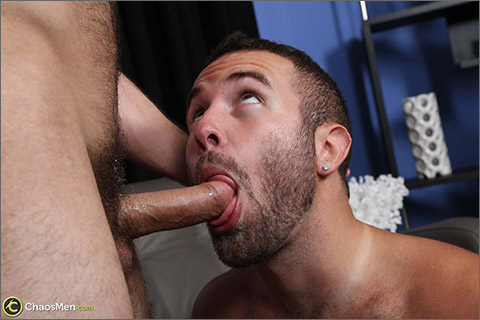 SERVICED: KIEFER & NOAH RILEY
If you like furry dudes, this video will surely please!
   Both guys are totally into each other, and both have amazing oral skills.
   They take turns servicing each other, then move on to rimming each other. Noah gets Keifer's feet up in the air to suck on his cock and rim him, so if you like feet, there are some great views.
   Kiefer said a standing position would be easiest to cum in, so Noah got down on his knees are receives a hot facial.
   Noah then blows his load on Kiefer's cock, then laps up the cum.
   They share their cum with an amazingly wet kiss! Nothing like scruff to hold all the cum in its place!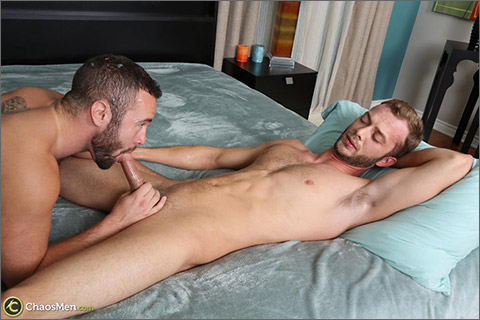 SERVICED: JENSEN & NOAH RILEY
Jensen was really nervous for his solo, and even more nervous to get head from a guy his first time. Thankfully, the solo went well, and he got more confident.
   I don't think his cock wilts but once during this video. He kept his hands in his sweats, playing with his cock, while we setup the camera and got Noah in position to start. He pops out of those sweats bone hard and ready to go!
   I gave Noah some tips on how he likes to stroke, so he gets right down to sucking it like he means it. He deep throats his cock a couple times, and I think it is the best Noah has done at this. His cock is a great length, and it can be put in any direction, so Noah could find just the right angle to go balls deep.
   Jensen doesn't pay too much attention to the video playing for him, so pretty much got lost in the sensation. He did say it was the best blowjob he had gotten. He also kept requesting Noah to play with his hole. Noah even fingers his hairless hole while sucking his cock.
   After getting his ass rimmed, Noah lays down so Jensen can fuck his face. He does lose firmness while fucking his face in an awkward position, but I think in this position it kind of needed to be bendy. Jensen sure liked fucking his face aggressively!
   Jensen lays back down, and Noah sets to the task of making him nut. He works real hard at it! Every time I thought he might give up, Jensen would make an encouraging noise, and then Noah would suck harder.
   And the hard work was worth it! Jensen starts shooting and Noah lets some fly in the air, but also makes sure to eat some as it come out of his cock.
   You may notice that it started raining really hard while Noah tried to make Jensen cum. So in a way, Jensen makes it rain all over Noah hair and face. Very fitting!
   It is raining cum inside today!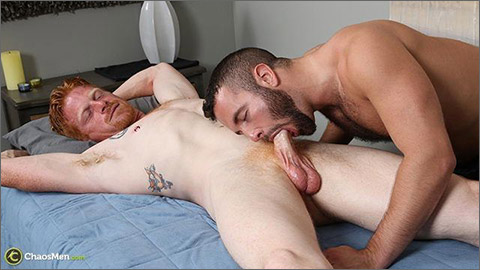 SERVICED: ARIC & NOAH RILEY
Aric had mentioned he had tried messing around with dudes when he was in his early 20's. I didn't think he would be that nervous to get a happy ending massage video, but he still wanted to keep things simple.
   He was not keen on anyone playing with his ass, but we snuck in some rimming to show-off his hot pink hole. As we suspected, it didn't help wake his cock up, and Noah's beard was tickling him. After this shoot, we scaled his beard way back. Noah didn't realize just how ticklish he was being.
   Once he gets Aric on his back, he tries jerking his cock to life, but it turns out it needed a warm mouth to perk up.
   Aric is hot listening to him whisper under his breath and watching him writhe around on the table in ecstasy.
   Noah works like a dog to pull the load out him. Aric said he could cum from a blow job. Once again, I pretty much left the full 2 minutes of Noah working on his cock to completion.
   Noah thinks he is going to cum and switches his angle of attach to get ready to eat his load. But it was premature, but he gets right back on it and about 20 seconds later he gets the full load out of his cock.
   Again, Aric's orgasms are so intense! Love making guys cum!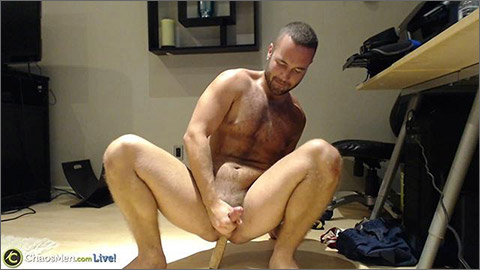 LIVE! 07-21-15: NOAH RILEY
Noah Riley was an open book and answered a lot of member questions.
   Thankfully, he was not filming a scene soon, and was able to take your requests and give us a nice happy ending that involved a dildo in his ass!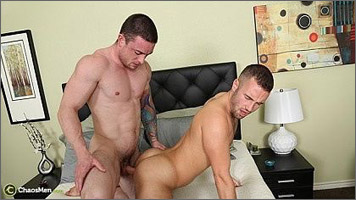 RAW: NOAH RILEY & PALMER
Noah has been doing a lot of Serviced videos, so it was time for him get his bubble-butt back into action! I asked him if he would be down to play with Palmer to which I got an eager, "Yes!"
   Palmer has been great as a Top, so I have been steering him towards just topping. He will bottom of course, but to me, he is just is taking it. Whereas when he is Topping, he is really loving it. After this shoot, Palmer claimed this was the easiest and most fun video he had shot. He really liked Noah, and him being gay made it easier for him. Score one for the pink team!
   You can also tell he loves how Noah is sucking his cock! He just sits back and lets Noah service him. He eventually gets up on his knees so he can play with the hole he is about to fuck. Noah nurses on his cock while his boy hole is toyed with.
   Palmer slides his fat cock in and fucks him nice and smooth. I love the power humping he does. His body looks amazing as he strains to the hold the position. How he manages to kiss Noah like that is beyond me. Seriously, the rear view of him humping him is awesome!
   Noah blows his load while Palmer fucks him. He sure squirts a lot!!
   Palmer breeds his boy good, cumming on and in his hole. You can see his cock spasm, and just when you think he is done unloading, he pulls out and squeezes out some more!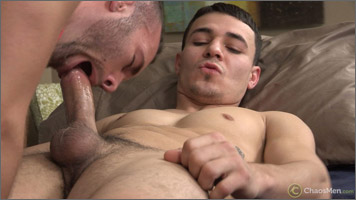 SERVICED: NOAH RILEY & NOEL ANTON
RAW: NOAH RILEY & PALMER
SERVICED: FRANCISCO & NOAH RILEY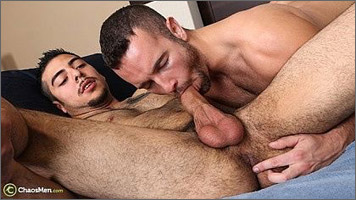 SERVICED: JAVIER IGLESIAS & NOAH RILEY
SERVICED: LORENZO & NOAH RILEY
SERVICED: NOAH RILEY & ZALE
RAW: JEREMIAH & NOAH RILEY
SERVICED: BLU & NOAH RILEY
RAW: NOAH RILEY & PAX
SERVICED: ADDISON & NOAH RILEY
SERVICED: GLENN & NOAH RILEY
SOLO: NOAH RILEY
CLICK HERE TO GO TO HIS CHAOSMEN BIO PAGE