MormonBoyz, Elder Riley
Known Aliases: NOAH RILEY
Years Active: 2014
MORMON BOYZ INFO:
Age 19
Cock Cut
Height 6′
Weight 150 lbs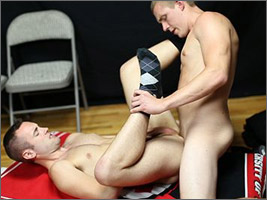 ELDER BUCKLEY & ELDER RILEY MEN BEHIND THE CURTAIN
Thinking they have the church building to themselves, Elder Buckley and Elder Riley find a secluded spot for a long fuck. But Brother Newman overhears them, and he hides behind a corner and watches them while he jacks off.
   Missionaries often spend a good deal of their time "tracking" — going door to door and asking people to let them into their homes to share the gospel message. Tracting can be very discouraging. Most people just don't answer their doors. Those who do usually turn the missionaries down, sometimes rudely. Only very rarely does someone invite the missionaries in. A day of tracting can be depressing and exhausting.
   This afternoon, Elder Buckley and Elder Riley have been turned away time and again. They're frustrated, and Elder Riley really has to pee. Elder Buckley tells him to hold it until someone invites them in. But when Elder Riley says he can't hold it any longer, they decide to swing by the stake center and use the bathroom there.
   While Elder Riley is in the bathroom, Elder Buckley leans against a wall and imagines his companion pulling his dick out of his pants and taking a long piss. He can't stop thinking about the time they fucked, and he wishes he were in the bathroom right now, holding Elder Riley's penis while he drained it. He starts to get hard, and he feels guilty for having thoughts like this in the church, but the building is silent. He and his companion are the only people there.
ELDER RILEY & BISHOP ANGUS
ELDER BUCKLEY & ELDER RILEY
ELDER BUCKLEY & ELDER RILEY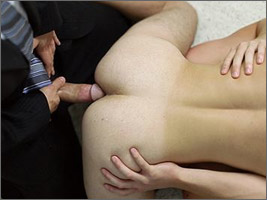 EPISODE 119: ELDERS BUCKLEY, RILEY, & BRO NEWMAN CORRELATION MEETING
EPISODE 118: ELDER BUCKLEY & ELDER RILEY MEN BEHIND THE CURTAIN
EPISODE 116: ELDER BUCKLEY & ELDER RILEY COMPANIONSHIP INVENTORY