Handsome Athletic Czech Gay Porn Star, Martin Polnak
Known Aliases / aka: Czech Hunter 272
Years Active: 2016
WILLIAM HIGGINS INFO:
Martin Polnak is from Prague. This hot, straight, 19 year old works as a cook and in his spare time he enjoys sports, jogging and parkour. The first striking thing we notice about Martin is his gorgeous smile, which lights up his sparkling eyes. Then he lifts his tee shirt to show off his slim, sexy, body. He takes off the tee shirt so that the chest is shown off to perfection, with a series of poses. The smile is ever present as Martin removes his jeans and lowers his underwear, slightly, to give a glimpse of ass. With the underwear off we see his pert ass as Martin stands with back to camera. He turns to face the camera, with his smile even broader as he shows his beautiful, soft cock. He sits and works on his cock, getting it nice and hard for some great views. To give a better view Martin stands as his hot, hard, cock pokes proudly out in front of him. He sits back down and lifts his legs in the air, pushing his cock forward and showing both dick and hairy ass hole at the same time. To ensure we get to enjoy the hole fully he then turns over, onto his knees, and spreads his ass cheeks to give another hot view. To finish a lovely shoot we get another winning smile from that handsome face.
Model Name: Martin Polnak
Age: 19
Home Town: Prague
Height: 185cm/6'0″
Weight: 75kg/165lb
Foot Size: EU44/US8.9/UK8.4
Penis Size: 17cm/6.69″
Profession/Student of: Cook
Hobbies: Sport
Favorite Sports: Jogging
Active Sports: Parkour
Movie/Music/Sport Stars: Kate Winslet
Visited Coutries: Croatia
Want to Visit Coutries: Australia
Dream of My Life: I don't know.
Zodiac Sign: Leo (July 23 – August 22)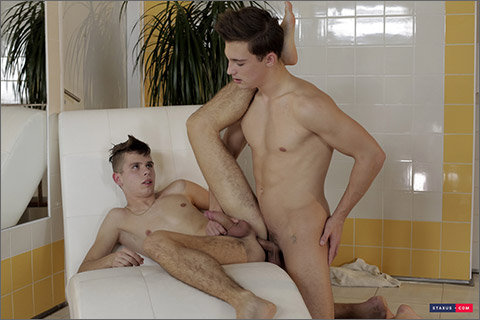 GIVE ME WOOD: WATER-SPORT LOVING NEIGHBOURS ENJOY POOLSIDE CUM-&-PISS-FEST!
Titus Snow continues to stroll through the woods, eyeing the antics of his horny neighbours – in this instance, Alex Goldwin and Milan Silver, who (according to Snow) have a taste for water-sports. Needless to say, we're not talking about swimming or water-polo – although admittedly their antics do begin harmlessly enough, with the two handsome buddies cavorting around in the house-pool. Being the bulkier of the two, it's perhaps not too surprising that Silver appears to take the lead in their frolics; tossing Goldwin playfully around, before lifting the boy onto the side to reveal Goldwin's fabulously curved hard-on for all to see.
   It's a revelation that immediately notches up the temperature in that room by about ten degrees at least; as Silver promptly dives down on that divinely swollen head and gobbles away for all he's worth. Not that he's alone in a taste for hard dick; as Goldwin then retires to a nearby lounger so that he can enjoy replicating the pleasure on Silver's now grossly engorged shaft, before eagerly parting his legs so that his mate can thrust every aching inch of manhood deep into his cute, hairless arse.
   Given the almost professional manner with which he takes the offering, it's hard to believe that this is a virgin display. But the sheer intensity of the occasion still clearly has an amazing effect on the young lad, who promptly pisses all over himself mid-fuck. Cue an absolutely breathtaking showpiece of top-notch twink action, that combines the joy of spunk and piss pleasure; and that leaves young Goldwin coated and soaked in equal measure!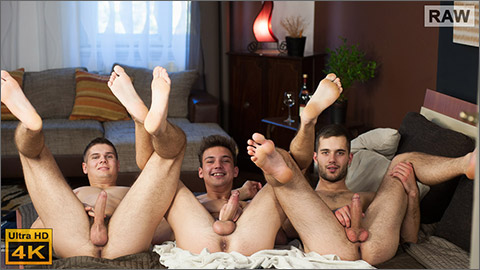 FULL CONTACT: MARTIN POLNAK & TOMAS FUK & ALAN CARLY
Martin Polnak is having a good time wanking himself as he works a dildo in and out of his ass. As he plays Tomas Fuk and Alan Carly come in to the next room and spy him doing it. They watch him through the open door for a while and Alan begins to rub Tomas' crotch. Tomas responds by kissing Alan. Then Alan lifts Tomas' tee shirt and kisses and licks his chest. He opens Tomas' jeans as he kisses down the chest, and pulls out the hard cock that is waiting for him. He takes the stiff dick in his mouth and sucks on it as we see Martin through th open door, still having his own fun. Tomas loves the feel of Alan's hot mouth and fucks his cock in and out. Then Alan stands and they kiss again before going in to join Martin. Alan kisses him as Tomas takes the hard dick in his mouth. He sucks on Martin's cock as Alan leans over to lick the shaft. Then Alan takes a turn at sucking as well. Tomas takes over sucking again as Alan pulls his throbbing cock out for Martin to suck. Tomas moves up to Martin's head and presents his cock as well. Martin takes turns on each cock as Tomas wanks him. Then Martin moves onto his knees and presents his ass to Tomas. The invitation is accepted as Tomas thrusts his cock in and out of Martin's eager hole. Martin sucks Alan's rock hard cock as he feels Tomas working his hole. Then Tomas withdraws from that hot ass and Alan's cock slides in. He fucks Martin deep and hard stretching the hole wide. Then Tomas lays on the bed and Alan climbs on, sliding his ass down on the throbbing cock. He rides that dick as Martin lays next to Tomas who reaches over to wank him. Alan's ass really works itself onto Tomas' dick, bouncing up and down on it. Alan turns around and slides his ass back down on the cock, wanking himself at the same time. His wanking it so hard that very quickly he shoots his creamy cum onto the bed. As Alan's ass comes off Tomas' cock Martin grabs hold and wanks it. That soon has Tomas' shooting his hot load too and Alan licks the sticky dick. Then Martin Kneels over both of them and wanks himself. His big balls tighten as he wanks and his cock erupts with a hot stream of cum, which shoots onto Tomas. Then Martin and Alan go off to the shower to clean up. They wash each other and then leave as Tomas also gets in the shower to wash all that cum off his hot body.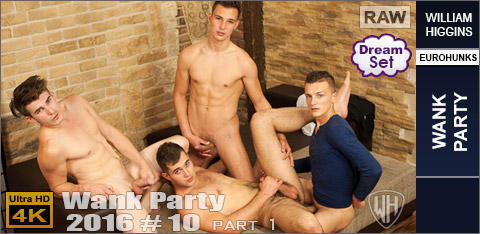 WANK PARTY 2016 #10 RAW
Wank Party 2016 #10 is a Dream Set and features Alan Carly, Petr Andre, Martin Polnak and Dusan Polanek. In this first part we see Peter Andre sitting on the sofa as Dusan and Martin arrive to wish him happy birthday. They tell him that the present should arrive shortly. As they wait Peter tells them of his other presents. Their wait is ended when the present arrives, in the form of Alan Carly. He dances around and Peter gets us to join him. He removes Alan's tee shirt and spanks his ass as Alan bends and backs into him. Then Peter sits and Alan straddles him as Dusan and Martin encourage them. Alan removes his jeans and, naked, straddles Peter again. As they watch Dusan and Martin have their cocks out, wanking. Then Martin takes Peter's place with Alan straddling him. Peter joins Dusan and starts wanking too. Alan feels Martin's body as he bounces up and down on him. Then Dusan replaces Martin to feel Alan rubbing himself against his cock. He pulls Dusan's thick, hard cock back so that it rubs against his ass as he gyrates his hips. Alan then goes down on Dusan's cock as the others lay next to him. Alan then moves over to suck Peter's cock as Alan and Martin wank. He moves back to Dusan's dick and then on to Peter's again. Dusan and Peter kiss and then Dusan grabs Martin's dick and wanks it. Alan sucks Dusan again and then moves over to taste Martin's. Having sucked on all three cocks Alan then climbs into a chair, presenting his sexy ass. Martin laps as the hot hole before making way for Dusan to do the same. He spanks the ass too as he rims it. Peter then takes a turn lapping as the hole and wanking Alan's cock as well. As the keep swapping around Martin goes back to rimming as Dusan and Martin wank. They have set things up for some great fucking in part 2.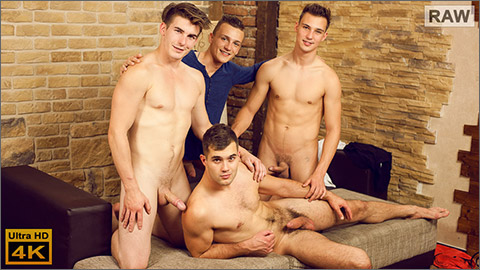 In part two we join Dusan Polanek, Martin Polnak, Alan Carly and Peter Andre ad Martin is rimming Alan's eager ass. He stands and slides his throbbing cock into Alan's hole as Dusan and Peter are watching. Dusan reaches over and rubs Alan's ass as he watches the cock fucking it deep. Martin fucks that ass real well and then pulls out, so that Peter's rigid dick can take a turn in the hot hole. Alan moans as he feels the cock pounding his ass. Dusan wants some of that ass too and wanks his hard cock as he watches Peter pounding the hole. Peter then pulls out, making way for Dusan to work his dick into the hole. He fucks Alan deep before moving aside for Martin to take his place. As they keep fucking that hole Alan really gets it good. Then he rims Peter and Dusan in turn as Martin fucks him hard. Peter then sits and has his cock sucked by Alan and wanks Dusan before it is all change again. Peter then fucks Alan while Dusan's dick gets sucked. Alan then lays on his back with Peter fucking him hard. Alan wanks his cock as his hole is fucked hard. Martin and Dusan kneel above him wanking themselves too. Alan's wanking gets hard and Peter pulls out of his ass. Alan's dick releases the creamy cum and the others all kneel over his head wanking hard. Peter is first to shoot his load, dumping the cum on Alan's chest. He milks his cock and rubs it over Alan's chin as Dusan gets ready . His hot cum spurts onto Alan's hairy chest too and he rubs the spent dick on Alan's face. Martin is close too and soon shoots his cum over Alan's face. Alan tells them all how much he enjoyed it and wants it again next year.
WILLIAM HIGGINS
STR8HELL
CZECH HUNTER
BOY FUN COLLECTION
STAXUS
CLICK HERE TO GO TO HIS WILLIAM HIGGINS BIO PAGE