Handsome Czech Gay Porn Star, Filip Vacek
Known Aliases / aka:
Years Active: 2016
WILLIAM HIGGINS INFO:
Filip Vacek is aged 20, this hot straight guy is from Libeznice and is a student. He enjoys sports, fitness and jogging in his free time. He is a good looking guy who impress from the outset in this shoot. Posing for the camera Filip lifts, and then removes, his tee shirt to show off his fit chest. It is nicely developed, as are his biceps which he flexes for us. Then Filip opens his jeans and as they slide down a little we are teased with the base of his cock. He turns around and lowers the jeans more to reveal his sexy ass. He poses to show his back muscles as we take in that sexy ass. When he turns again Filip's cock is rock hard and poking out in front of him. He does more posing, with that big dick looking great. Then he kneels, ass to camera, and shows off his hot, tight, hole. Reaching back he pulls on one ass cheek to spread further for a better look at the hole. Turning over he lays back with his big, hard, cock on show. Then the legs are lifted in the air for another view of his hot ass. To finish a great shoot we get more views of Filip's beautiful dick.
Model Name: Filip Vacek
Age: 20
Home Town: Libeznice
Height: 185cm/6'0″
Weight: 72kg/158.4lb
Foot Size: EU44/US8.9/UK8.4
Penis Size: 17cm/6.69″
Profession/Student of: University student
Hobbies: Sport
Favorite Sports: Jogging
Active Sports: Fitness
Movie/Music/Sport Stars: Linda Evangelista
Visited Coutries: Germany
Want to Visit Coutries: Canada
Dream of My Life: I don't know.
Zodiac Sign: Libra (September 23 – October 22)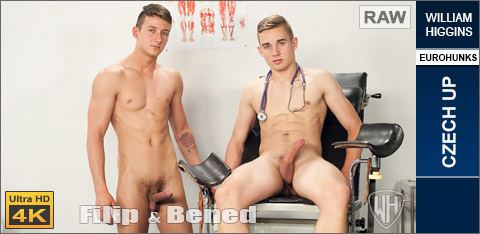 CZECH UP: DR. BENED FAUST & FILIP VACEK RAW
Filip Vacek visits Dr Bened Faust for a Czech Up. When he arrives Bened asks him about a previously injured knee, which has healed. But Bened decides to check it anyway. Filip sits on the examination table, chest bared, for Bened to check his legs. Everything is fine there, so Bened begins his full examination, using his stethoscope to check the chest and back. Then Filip explains that one issue he has is a failure to get hard when with his girlfriend. So Bened tells him to get naked and he will check things out. Filip lays on the table and Bened starts to check the cock and balls, taking some oil and rubbing it in. As he gently strokes Filip's cock it gets erect with no problem. Bened decides to go further and leans over to suck on the hard cock. As he sucks on that cock he takes Filip's hand and places it on his pants to feel his hardening cock. Bened takes off his top as Filip pulls the cock out of his pants. Bened moves up so that Filip can suck his cock. Filip does a good job at sucking so Bened climbs over him so they can 69. They suck each other for a while and then Bened decides to take things further. He lays Filip on his back and lifts his legs up, sliding his dick into the waiting ass. He fucks slowly at first, his dick going deep into the hole. Filip moans as his ass takes the stiff cock. Then Bened speeds up with his fucking as Filip takes hold of his own cock and starts wanking it. As Bened pounds his tight hole Filip wanks hard and shoots his creamy load over his belly. Then he stands and bends over the table for Bened to fuck him some more. Bened's dick slams in and out of the hot ass until he is ready to blow his load too. Then he pulls out to shoot his cum over that sexy ass.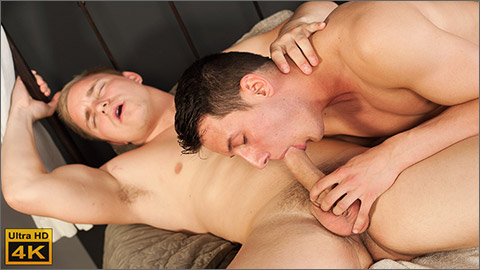 CHERRY BUSTING: FILIP VACEK & IVAN MRAZ
Filip Vacek is up for getting his cherry busted by Ivan Mraz. As they sit on the bed Ivan chats with Filip for a while, about trying sexy with a guy. Then he leans over and begins to kiss Filip. He feels Filip's chest as he kisses him and then helps him off with his tee shirt Ivan licks one of Filip's nipples and rubs his groin. Then Filip's jeans are opened to reveal his stiff cock. Ivan takes the cock in his mouth and sucks on it. He works the cock a while and then shucks his shorts down so that Filip can return the favor. Filip shows that he is up for sucking, doing a great job on Ivan's throbbing dick. Ivan then removes Filip's jeans and pushes his legs in the air. He rims the hairy hole and sucks on the cock some more. Then he slides his cock into Filip's virgin hole. He takes it slowly at first, fucking nice and gently. Filip takes it so well for his first time.As Ivan's fucking gets faster, and goes deep, Filip grabs his own cock and wanks it. He quickly shoots his hot cum onto his belly as Ivan's dick is deep in his hole. Ivan continues to fuck the tight ass and turns Filip over, onto his knees. He pounds that sexy ass and then pulls out to shoot his hot cum all over Filip's back. After a very hot cherry busting Ivan takes Filip to the shower to clean up.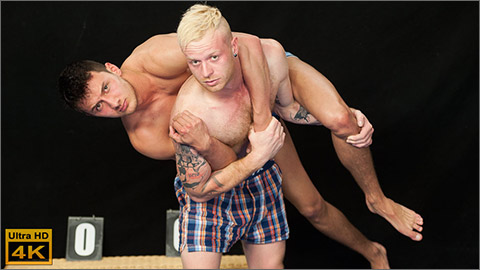 WRESTLING: TOM VOJAK vs FILIP VACEK
Tom Vojak and Filip Vacek are paired in a submission wrestling match. They start by doing some warming up exercises and stretches. Then it is on with the match. Then are soon on the mats grappling with each other, with Tom winning round one. Then they remove their underwear for the remainder of the match. As soon as they hit the mats Filip has Tom in a neck hold and gains the submission. With cocks flailing they move all over the mats trying to gain an advantage, which causes asses to spread nicely too. Despite Filip's best efforts it is Tom who gradually moves into a big lead, managing some good holds and even spanking Filip's ass too. Then take a break to oil each other's body. When they resume the match the points are shared but Tom manages to gain the victory. Then then sit on the mats for a wank off, with each wanking the other for a while too. Then they wank themselves hard to see who can cum first. Tom wins that too, shooting his hot cream all over the mats. Filip watches closely as Tom milks himself. Then Filip, with his cock rock hard, shoots his creamy load too. They each clean the other's cock before going off to the shower to clean up.

DEBT DANDY 144
It's not easy to get rid of your past. When you commit a crime, it is going to stick to you. This boy used to steal to fill his empty wallet. Eventually, he got caught. His family renounced him because of it, his friends stopped trusting him. It's almost impossible to start living an honest life again. But the boy did fine, for a while. He was really into music, he even tried to build some sort of a sound studio in his living room. Buying all the equipment and paying over time looked like a good idea. Until he lost the job. When he called me, his debts were unusually high. His criminal past caught up with him: no one was eager to lend money to a former criminal. I could tell the boy was desperate. He was very nervous but I was sure to get what I came for.
WILLIAM HIGGINS
STR8HELL
BADPUPPY
DEBT DANDY
RANDY BLUE
CLICK HERE TO GO TO HIS WILLIAM HIGGINS BIO PAGE