Handsome Blond William Higgins Czech Gay Porn Star, Martin Pesek
Known Aliases / aka:
Years Active: 2018 – 2019
WILLIAM HIGGINS INFO:
What a stunner str8 guy Martin Pesek is. He look fabulous in this erotic solo. When he opens his shirt we are shown what a stunner he is as his sexy chest is exposed. His good looks match his chest and Martin certainly knows how to pose to show himself off well. Wishing to impress even more he flexes his biceps before turning and lowering his underwear to show off his ass. Then he flexes again as we enjoy that ass. Turning again he shows off his lovely soft cock too. That cock looks great as he poses to show it off. Then Martin kneels on the chair and lets his ass cheeks part to expose his hot hole. Next he stands, with his cock rock hard and pointing skywards. He gives us lots more poses to show off the sexy body, hard cock and inviting ass. What a great shoot from a very sexy guy.
Model Name: Martin Pesek
Age: 19
Home Town: Prague
Height: 180cm/5'10"
Weight: 78kg/171.6lb
Foot Size: EU43/US8.7/UK8.2
Penis Size: 17cm/6.69″
Profession/Student of: Motor mechanic
Hobbies: Sport
Favorite Sports: Soccer
Active Sports: Fitness
Movie/Music/Sport Stars: Natali Dormer
Visited Countries: Portugal
Want to Visit Countries: France
Dream of My Life: I do not know.
Zodiac Sign: Libra (September 23 – October 22)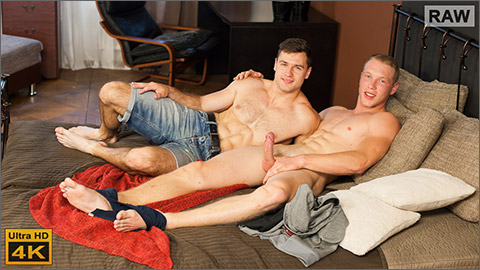 CHERRY BUSTING: MARTIN PESEK & TOMAS SALEK
Sexy str8 guy Martin Pesek gets his cherry busted today. The lucky guy who gets to fuck that hot ass is handsome str8 guy Tomas Salek. They sit on the bed as Tomas chats to Martin and then starts to kiss him. He soon has Martin bare-chested and kisses that hot chest. Then Martin removes Tomas' tee shirt to show off his hot body too. Tomas kisees down Martin's body, removing the shorts and then the underwear too. He sucks on Martin's big, hard, cock That hot mouth sucks on Martin's dick so well, taking it deep. Then Tomas licks up and down the throbbing shaft before sucking some more. Then Tomas moves onto his knees presenting his own stiff cock for Martin to wank. He wanks the dick and them positions himself to suck it. He takes hold of the cock, licking and wanking it. Then his mouth starts to suck on the head of the cock as he keeps up the wanking. Tomas pulls Martin's head onto his cock for sucking. Then, for added encouragement Tomas invites Martin to fuck him. He moves onto his knees and Martin's big, stiff, cock slides deep into the hot ass. He fucks Tomas' ass deep, with long thrusts. Then it is time to give up his cherry. Martin lays on his back, with his legs in the air. Tomas slides his stiff cock into that hot hole and starts to fuck. He fucks the ass deep as Martin wanks himself. Martin's cock throbs in his hand as his ass enjoys the cock working in and out of it. Martin's dick erupts, shooting the hot cum all over himself as Tomas keeps fucking that hot ass. Tomas' fucking continues until he is ready to cum too. Then he pulls out and shoots his cum all over Martin's cock and balls. He milks his cock dry and leans forward to kiss Martin again.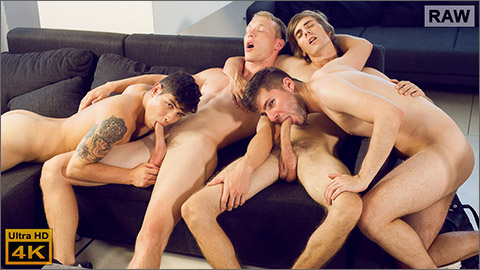 WANK PARTY #99
We have a great line-up for Wank Party #99, with some very sexy str8 guys. Part one sees Tomas Berger, Igor Zobor, Vadim Covrescu and Martin Pesek. Their thoughts soon turn to sex and everyone gets bare chested as they kiss each other. In this Wank Party video we get to enjoy them and we watch them set up for the scene and interact with each other. Then we see some action as well as they make the scene that became the complete video.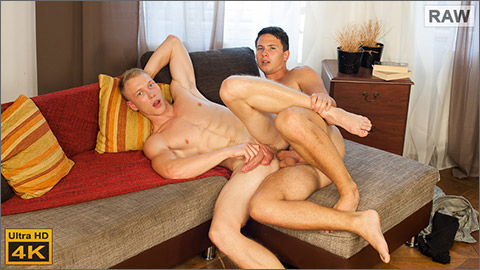 FULL CONTACT: MARTIN PESEK & MIRO DALEK RAW
Martin Pesek is a very hot str8 guy who is busy enjoying himself at his computer. His str8 buddy Miro Dalek interrupts him, tickling him and closing the computer. He kisses Martin and feels over his body. Martin is very turned on and is quickly sucking on Miro's rock hard cock. That big cock fills Martin's mouth as he sucks, wanks and licks it. He enjoys that huge dick for a while as Miro pulls his head onto it. Then Martin stands up and they kiss again as Miro helps Martin off with his tee shirt before dropping to his knees to release a lovely stiff cock. He takes that dick into his mouth and sucks it so well. The . move to the sofa and kiss some more. Then Miro resumes sucking on Martin's dick. He then pushes the legs up to get at Martin's hot hole. He rimes that sexy ass hole and rubs it before sliding his big cock deep inside. In spoon position hie fucks that hot ass deep, with long, slow strokes. Martin plays with his own dick as he feels that cock in his ass. The smooth fucking goes deep into that sexy ass as soon Miro speeds up. He fucks that ass hard and fast as Martin wanks himself. As he wanks Martin shoots his creamy cum while Miro continues to fuck his hot ass. Moving onto his knees Martin then gets fucked hard from behind. Miro spanks the ass too as he fucks the hole as hard as he can. When he is ready he pulls out and shoots his hot cum onto that sexy ass. Then they kiss again.
CLICK HERE TO GO TO HIS WILLIAM HIGGINS BIO PAGE
CLICK HERE TO GO TO HIS STR8HELL BIO PAGE